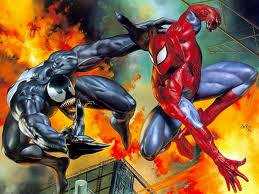 Hello
Greetings fellow true believers! I'm SonicSpeedster912, but you can just call me Sonic if you want. I have been a huge marvel fan all of my life, escpecially Spider-Man, who I practically lived on as a child. He was my hero, and really, a part of me. I hope to use my knowlage to better help this Wiki, and have a little fun along the way!
Favorite Heroes
-- Spider-Man (Peter Parker)
Perhaps because he is really alot like me. He is a science nerd, and a bit of a geek, but he is always cracking jokes, and is Witty and funny, something I've always seen myself as.
-- Venom (Eddie Brock) Mainly from the 90's
I love that guy. And I love Venom potrayed as a hero, working along side Spidey. If you have ever read Venom: Letal Protector, it is one of my alltime favorite comic book mini series "Strangers in the Niiiiiiight!" If you've read the series, you'll get that.
-- Scarlet Spider (Ben Reilly)
He is pretty cool. I always loved his costume. Rest in peace, or uh... peices. Considering he, well, turned to dust.
-- Spider-Woman (Jessica Drew)
Probably my favorite Spider-Woman. Maybe because I watched the old TV show a bit when I was a kid. Plus, in the comics, the rivalry between Spidey and Jessica can be pretty funny sometimes.
-- Toxin (Patrick Mulligan)
A very cool symbiote. I love the constant arguing between the two. Sigh, I'ts a shame.
Favorite Villains
Spidey has some great villains, So many, that I can't really pick a favorite! So, heres a few off the top of my head.

-- Green Goblin (Norman Osborn)
The dual pesonality was always awesome. I always loved how you wanted to let Norman live, but Goblin to die. Plus, he killed Gwen Stacy, which really puts him in front as one of the best.
-- Doc Ock (Otto Octavius)
It's funny, when I was little, I actually pretended I had those arms. I just thought they were awesome.
-- Chameleon (Dmitri Smerdyakov)
I love the possibility, that "they may not be who they say they are".
-- Shocker
I always thought he was cool. If you'd asked me who my favorite villain when I was little, I probably would have answered "Shocker".
-- Carnage (Cletus Cassidy)
I always loved his powers, and his Insanity.
Favorite Films
-- Spider-Man
The 2002 film. I LOVED that movie. It helped make me into the Spidey fan that I am today, and it will always have a special place in my heart as one of my alltime favorite movies.
-- Spider-Man 2
A very good movie, and an excellent sequal. The action in the movie was incredible, and belivable. A true masterpiece.
-- The Amazing Spider-Man
The 2012 film. It was an excellent movie, and I absolutely fell in love with the cast.
-- Spider-Man 3
Having not seen the 70's film, this one falls in last. I will admit, the movie had it's high points... and it's extremely low points... I would like to remind you of Peter Parker dancing. Don't get me wrong, I still loved the movie, I just don't find it to be as good as the others.
Favorite TV Series
-- Spider-Man: The Animated Series
When I was a kid, this was probably my favorite TV show. I watched it all the time. It didn't really follow close to the comics, but the artwork and the way the characters looked was spot on.
-- Ultimate Spider-Man
I really do like this show. It is absolutely hilarious! Not to mention it has great action, and life lessons throughout.
-- Spider-Man
The 1960's one. Yes, I know its old, and kinda cheesy sometimes, but I love it anyway. Plus, it gave us that iconic theme song.
Favorite Quote
"With great power, there must also come- great responsibility"
There is a lesson for each of us there. Hands down, Spidey has the best origin story out there. We use our potential for the good of makind, and I truly believe that if we all followed this rule, there could be no evil in the world.
DC Favorites
I am also a huge DC Comics fan!
-- The Flash (Barry Allen)
Another one of my all time favorite Super Heroes.
-- Batman (Bruce Wayne)
The last one on my list of favorites.
-- Nightwing (Dick Grayson)
-- Green Lantern (Hal Jordon)
-- Blue Beetle (Jaime Reyes)
-- Hawk and Dove (Hank Hall and Dawn Granger Respectively)