Greetings fellow true believers! I'm SonicSpeedster912, but you can just call me Sonic if you want. I have been
SonicSpeedster912
Real name:
Tristan
Age:
16
Nicknames:
Sonic
Ethnicity:
White
Talent(s):
Singing

I'm pretty knowledgeable with comics.

Place of Birth:
Kentucky
Current Location
Kentucky
Hobbies:
Movies,

Music, Comics, Hangin' with friends

Current Level of Education:
Junior Year of High School
Marital Status:
Single
Citizenship:
American
Height:
5'8"
Weight:
135 lbs
Eye Color:
Brown
Hair Color:
Brown
Current Occupation:
Singer-Songwriter.
Favorite Music Artist(s):
Garth Brooks, Bon Jovi, George Strait, Journey, Richard Marx, Lonestar, Poison, Diamond Rio, REO Speedwagon, Randy Travis, Doug Stone, Huey Lewis & The News, Martina McBride, Phil Collins, Rascal Flatts, Stevie Nicks, Whitesnake, Aerosmith, Chicago, Foreigner, Def Leppard, Cinderella, Collin Raye, Queen, Led Zeppelin, Third Day, Casting Crowns. Just to name a few. I could go on, but no one has the time.
Favorite Television Shows(s):
I don't really watch a lot of TV...I like a lot of old TV shows, but not anything current really.
Favorite Video Game(s):
Spider-Man 2, Star wars:Battlefront 2, Dragon Ball Z: Budokai Tenkaichi 3.
Favorite Film(s):
Jaws, Terminator 2: Judgement Day, Rocky, Aliens, Spider-Man 2, Star Wars Episode IV: A New Hope, Die Hard.
a huge marvel fan all of my life, especially Spider-Man, who I practically lived on as a child. He was my hero, and really, a part of me. I'm a Staff member/ admin here, so if you have any questions about the wiki, Spider-Man, or if you need my help with anything, please let me know, and I'll do my best to help. I hope to use my knowledge to better help this Wiki, and have a little fun along the way!
A little about me
Edit
Well first off... I'm awesome. But that aside, I am a 16 year old guy who lives in Kentucky (and yes, to those who are wondering we do wear shoes, no, I do not have a ridiculous hick accent, and yes I do love country music, But I also have a passion for 60's, 70's and 80's rock.) You'd be surprised at the stereotypes. I'm a pretty easy going guy. I'm fairly laid back and just kinda go with the flow, but once I've made up my mind on something, I become one of the most stubborn, argumentative people you could talk to. I like to have a good time and joke around as much as I can, but when there's work to be done, I tend to follow the rules and put all the jokes to the side until the job is done. (I'm a lot more fun to talk to on chat, than in an important project discussion.)
So, to my fellow editors, and to all my friends I have met, and will meet here: Happy editing, and always remember that "with great power comes great responsibility." Please note that I am not a hedgehog.
--Sonic
Favorite Heroes
Edit
-- Spider-Man (Peter Parker)
Perhaps because he is really a lot like me. He is a science nerd, and a bit of a geek, but he is always cracking jokes, and is Witty and funny, something I've always seen myself as.
-- Venom (Eddie Brock) Mainly from the 90's
I love that guy. And I love Venom portrayed as a hero, working along side Spidey. If you have ever read Venom: Lethal Protector, it is one of my all time favorite comic book mini series "Strangers in the Niiiiiiight!" If you've read the series, you'll get that.
-- Scarlet Spider (Ben Reilly)
He is pretty cool. I always loved his costume. Rest in peace, or uh... pieces. Considering he, well, turned to dust.
-- Spider-Woman (Jessica Drew)
Probably my favorite Spider-Woman. Maybe because I watched the old TV show a bit when I was a kid. Plus, in the comics, the rivalry between Spidey and Jessica can be pretty funny sometimes.
-- Toxin (Patrick Mulligan)
A very cool symbiote. I love the constant arguing between the two. Sigh, It's a shame.
Favorite Villains
Edit
Spidey has some great villains, So many, that I can't really pick a favorite! So, here's a few off the top of my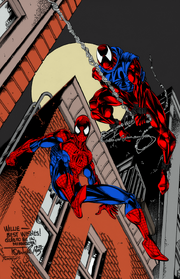 head.

-- Green Goblin (Norman Osborn)
The dual personality was always awesome. I always loved how you wanted to let Norman live, but Goblin to die. Plus, he killed Gwen Stacy, which really puts him in front as one of the best. Not because I dislike Gwen Stacy, mind you, it just shows that this guy means business.
-- Doc Ock (Otto Octavius)
It's funny, when I was little, I actually pretended I had those arms. I just thought they were awesome.
-- Chameleon (Dmitri Smerdyakov)
I love the possibility, that "they may not be who they say they are".
-- Shocker
I always thought he was cool. If you'd asked me who my favorite villain when I was little, I probably would have answered "Shocker".
-- Carnage (Cletus Cassidy)
I always loved his powers, and his Insanity.
Favorite Films
Edit
-- Spider-Man
The 2002 film. I LOVED that movie. It helped make me into the Spidey fan that I am today, and it will always have a special place in my heart as one of my all time favorite movies.
-- Spider-Man 2
A very good movie, and an excellent sequel. The action in the movie was incredible, and believable. A true masterpiece.
-- The Amazing Spider-Man
The 2012 film. It was an excellent movie, and I absolutely fell in love with the cast.
-- Spider-Man 3
Having not seen the 70's film, this one falls in last. I will admit, the movie had it's high points... and it's extremely low points... I would like to remind you of Peter Parker dancing. Don't get me wrong, I still loved the movie, I just don't find it to be as good as the others.
Favorite TV Series
Edit
-- Spider-Man: The Animated Series
When I was a kid, this was probably my favorite TV show. I watched it all the time. It didn't really follow close to the comics, but the artwork and the way the characters looked was spot on.
-- Ultimate Spider-Man
I really do like this show. It is absolutely hilarious! Not to mention it has great action, and life lessons throughout.
-- Spider-Man
The 1960's one. Yes, I know its old, and kinda cheesy sometimes, but I love it anyway. Plus, it gave us that iconic theme song.
Favorite Quote
Edit
"With great power, there must also come- great responsibility"
There is a lesson for each of us there. Hands down, Spidey has the best origin story out there. We use our potential for the good of mankind, and I truly believe that if we all followed this rule, there could be no evil in the world.
DC Favorites
Edit
I am also a huge DC Comics fan!
-- The Flash (Barry Allen)
Another one of my all time favorite Super Heroes.
-- Batman (Bruce Wayne)
The last one on my list of favorites.
-- Nightwing (Dick Grayson)
-- Green Lantern (Hal Jordon)
-- Blue Beetle (Jaime Reyes)
-- Hawk and Dove (Hank Hall and Dawn Granger Respectively)