Alrighty then! You've arrived to Bighead910's user profile!
Bighead902
Real name:
David Eugene Hanna
Age:
17
Nicknames:
Dave, Davey, Bighead
Ethnicity:
African American and Puerto Rican
Talent(s):
Hmm... None I can think of. I'll get back to you on that.
Place of Birth:
Brooklyn, NY
Current Location
Brooklyn, NY
Hobbies:
Playing video games, Wiki editing, playing Facebook games, online shopping, making money
Current Level of Education:
High School (currently in 11th grade)
Marital Status:
Single
Citizenship:
American
Height:
A little over 5 feet
Weight:
Over 110 pounds for sure
Eye Color:
Dark Brown
Hair Color:
Black
Current Occupation:
Working with children, at Good Shepard Services in Brooklyn, NY
Favorite Music Artist(s):
Nicki Minaj, Bad Religion, Beyoncé, Big Time Rush, Big Sean, Cash Cash, Chris Brown, Crush 40, Drake Bell, Rihanna, Lil Wayne, Far East Movement, Fun., Glee, Green Day, The Hives, Jay-Z, Kanye West, Jet, John Legend, Katy Perry, Kesha, Lady Gaga, LMFAO, the Lonely Island, Madonna, Ok Go, Passion Pit, Pitbull, Plain White T's, PSY, Starship Amazing, Taylor Swift, Usher, The Wanted, Young Money and Zebrahead
Favorite Television Shows(s):
Dragonball Z, Ultimate Spider-Man (2012 TV series), The Spectacular Spider-Man (2008 TV series), Spider-Man (1994 TV series), MAD, The Regular Show, Teen Titans, Family Guy, Jimmy Neutron, The Bad Girls Club, Futurama, Drake and Josh, Ben 10 (all series), The Inbetweeners (USA MTV version), Tosh.0, The Big Bang Theory
Favorite Video Game(s):
Street Fighter X Tekken, Ultimate Marvel vs. Capcom 3, Marvel: Avengers Alliance, Skullgirls, Dragonball Z: Budokai 3
Favorite Film(s):
Spider-Man (Sam Raimi trilogy), The Amazing Spider-Man (2012 film), The Son of Mask, Terminator 2, The Avengers, Bruce Almighty, X-Men Origins: Wolverine, Iron Man (first trilogy), The Incredible Hulk (film), Captain America: The First Avenger, X-Men (first trilogy), X-Men: First Class, I Am Legend, Hancock, Rise of the Planet of the Apes
"Whatever life holds in store for me, I will never forget these words: "With great power comes great responsibility." This is my gift, my curse. Who am I? I'm Spider-Man."
— Peter Parker, Spider-Man (2002 film)
About myself
Edit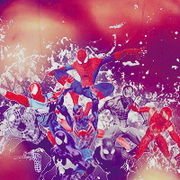 Introduction
Edit
Hello there! My name is David Hanna. I am 16 years old, and I have been a loving Spider-Man fan for as long as I can remember.
Hands down, Spider-Man is one of my absolute favorite comic book superheroes and fictional characters of all time next to Wolverine and Deadpool. I know there are stronger, and more popular superheroes out there in the DC and Marvel universes, but Spider-Man has always been one of my personal favorites growing up, and always will be.
One of my earliest memories of loving Spider-Man as a kid was going to see my first Spider-Man film in theaters. Meanwhile, later that Halloween (I was about five years old), I got a classic Spider-Man costume with a web shooter (foam sprayers), I was jumping all over the livingroom my stepfathers house saying "Who am I? I'm Spider-Man." Oh memories.
Spider-Man 3 is my personal favorite out of the Sam Raimi trilogy, yes, I am aware of its flaws, but it is still the best, maybe a bit long, but the best in my heart none the less. The Amazing Spider-Man was a great film. A little more dark, but great, no nitpicks. Both Tobey and Andrew are both still ugly sobbers/cryers though, lmaooo.
But anyway, please keep in mind, I'm a bureaucrat and Spider-Man wiki staff member on this site! So any questions you may have, feel free to ask me, or any of the other active admins or staff members on the wiki!
Remember, make sure to follow the policies and guidelines, please read the Manual of Style! It will teach you how we edit here. And remember, the only dumb questions are the questions not asked.
Happy editing true believers, and remember to enjoy the wiki and stay frosty! ≧✯◡✯≦✌
My Favorite Spider-Man Quotes (In No Order)
" Ahem, you know, if you're going to steal cars, don't dress like a car thief."
— Spider-Man, The Amazing Spider-Man (2012)
"Time for a butt-whooping supreme! "
— Spider-Man to Doctor Strange in Ultimate Marvel vs. Capcom
"If it's souls you're looking for, there's a guy named J. Jonah I'd like you to meet... "
— Spider-Man to Ghostrider in Ultimate Marvel vs. Capcom 3
"So... any relation to JJ?"
— Spider-Man to Firebrand in Ultimate Marvel vs. Capcom 3)
"My slimeball sense is tingling."
— Spider-Man to Wesker in Marvel vs. Capcom 3
"Huh... You kiss your mother with that face? Yeesh."
— Spider-Man to Taskmaster in Marvel vs. Capcom 3
"You got a black belt in stupid if you think you're gonna beat me."
— Spider-Man to Ryu in Marvel vs. Capcom 3
"He is no mere mortal! For he is the man of the spiders! "
— Thor (To Loki, at the end of Field Trip (Ultimate Spider-Man episode))
"You're not thinking of a number. You're thinking of flapjacks."
— Dr. Strange (To Spider-Man when he asks Dr. Strange to read his mind in Strange (Ultimate Spider-Man episode))
--Bighead 910 18:05, February 3, 2013 (UTC)