Tom Kenny
Born:
Thomas James Kenny
July 13, 1962 (age 52)
Syracuse, New York
Died:
N/A
Cause of death:
N/A

Occupation(s):

Actor, comedian, voice artist, singer

Years active:

1989 – present

Spouse:

Jill Talley (1993 - present)

Children:

Mack and Nora

Thomas James "Tom" Kenny (born on July 13th, 1962) is an American actor, voice-artist, singer, and comedian. He is best known for his long-running-role as SpongeBob SquarePants in the television series of the same name.
Involvement with Spider-Man media
Edit
Television
Edit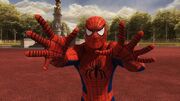 Ad blocker interference detected!
Wikia is a free-to-use site that makes money from advertising. We have a modified experience for viewers using ad blockers

Wikia is not accessible if you've made further modifications. Remove the custom ad blocker rule(s) and the page will load as expected.