Adrian Toomes (Earth-616)
Talk

0
1,310pages on
this wiki

So, as someone once said, --- Up --- Up --- and AWAY!

-Peter Parker (Earth-616)

This article is plagiarized. It seems another editor of the Spider-Man Wiki has added information directly copied from another website/database. Please edit this article to make it more original.
Please users, remove this template ONLY if the article has updated with original content.
Vulture
Real name:
Adrian Toomes
First Appearance:
The Amazing Spider-Man #2 (May 1963)
Created by:
Stan Lee, Steve Ditko
Universe:
Earth-616
Alignment:
Bad
Status:
Alive
Place of Birth:
Staten Island, New York
Citizenship:
American
Base:
New York City
Affiliations:
"Vulture robbers"
formerly Sinister Six
Abilities:
Heightened physical attributes and flight, which derives from electromagnetic tailored body-harness
Height:
5' 11"
Weight:
175 lbs.
Hair Color:
None
Eye Color:
Hazel
Unique Features:
Often depicted as frighteningly thin, with oddly formed nose.
"I fought Daredevil. I was in the Sinister Six. I'm faster, stronger, and smarter than a hundred men my age. No flunky with a pistol gets the drop on me."
— Vulture
Adrian Toomes (of Earth-616), also known as Vulture, is a villain in the Marvel Comics universe, and adversary to Spider-Man.
Early life
Edit
Adrian Toomes was born in Staten Island, New York. He is a former electronics engineer who was once the business partner of a man named Norman Osborn; Osborn handled the finances whilst Toomes handled the inventions.
Becoming the Vulture
Edit
One day, after creating a flight harness, Toomes eagerly rushed into Osborn's office to share the happy news. However, Osborn was not there, and Toomes discovered that Osborn had secretly been embezzling funds and that Toomes had no legal recourse (Months later, Norman would use these funds to found Oscorp Industries). Enraged, he discovered that the harness also granted him superhuman strength. He then decided to turn to crime professionally as Vulture.
Toomes employs a special harness of his own design that allows him to fly; his flight is directed by a pair of wings worn on his arms. The harness also endows him with enhanced strength and (according to some sources) increases his lifespan. Although Toomes is advanced in age, he is a strong fighter and a remorseless killer. On one occasion, he restored his youth through biochemical means, though this wore off after exposure to the corpse of an elemental superhuman. At one point he had used a device to steal Spider-Man's youth, leaving Vulture young and Spider-Man elderly, but this effect wore off within hours.
The Vulture first encountered Spider-Man when he was trying to kill Osborn because Osborn stole his finances. The Vulture modified his harness, and attempted to rob the Daily Bugle payroll He joined Doc Ock's first Sinister Six. He later teamed with Kraven against Spider-Man. Toomes ultimately defeated Spider-Man in battle, forcing him to retreat. Toomes later humiliated the racketeering mobster, Mr. Morgan, who hired the Hitman to kill Spider-Man, trying to rob Toomes of his revenge. Vulture then arranged the murder of New York's top mobsters to become New York's new crime lord.
He became involved in Atlantic City casino racketeering to prepare for his own ostentatious funeral, but was thwarted by Hobgoblin. He moved his gambling operations to Las Vegas, where he attacked Snake Diamond in the middle of the desert for stealing his formula for a special embalming fluid. On more than one occasion Toomes has been in league with several other Spider-Man villains in order to destroy the wall crawler. Vulture has been in every incarnation of the Sinister Six, and appeared in the Sinister Twelve. He has a strong friendship with fellow villain Electro.
During one of his many periods of ill health, Toomes struck an unlikely friendship with Doc Ock, who at the time had become the new love of May Parker's life. He encouraged the injured criminal to take his chances with life and not to let handicaps drag him down. Toomes followed Octavius' advice and doublecrossed him, attempting to take over his laboratory as Vulture, but ultimately failing.
During another conflict with Spider-Man, Vulture sought to use a hostage as a shield, and selected May Parker from a crowd. Little did he suspect though that Octavius was also with May. Octavius proceeded to beat Toomes within an inch of his life, and warned him never again to cross him. Toomes was later diagnosed with cancer, caused by frequent exposure to the essentials needed to power his flying apparatus. In an attempt to be forgiven for all of his previous sins, Vulture visited the Parker household, pleading that May Parker forgive him for assaulting her.
An enraged Peter Parker attacked Toomes, forcing Vulture to capture him and take him back to his old lair. After escaping, Peter donned his Spider-Man costume and brutally assaulted Toomes. In the ensuing battle, Vulture's power pack malfunctioned and exploded, setting his wings ablaze. Spider-Man successfully ripped the burning pack off of Toomes, and the two crash landed in a muddy ditch. After being arrested, Toomes was returned to the Parker home so May, reunited with Peter, could identify him. May hoped that Toomes' death would be slow and full of suffering. The next day, she visited Toomes in prison and apologized to him for her cruel remarks, but also stated that she could not forgive him, and that any kind of redemption would be left up to him.
Aside from his daughter, Toomes also has a son, whom he has dismissed, and a grandson from that son. Vulture has come to care deeply for both his grandson and his mother, committing a series of robberies to finance a cure for his grandson's terminal illness. He once had a nephew, Malachai Toomes, and flew into a killing rage when he was murdered by a gang-lord.
Toomes is later seen in a S.H.I.E.L.D prison cell speaking with his cellmate, Multiple Man, of the Brotherhood of Mutants, and commenting on Spider-Man's inherent weakness, that being his unwillingness to use his powers for personal gain. Multiple Man steals back his flying harness from S.H.E.I.L.D and encourages him to hunt down Spider-Man. Later, Vulture attacks Spider-Man at a book signing, and manages to slash him with a powerful sedative. Toomes, however, falls unconscious and, sensing something is wrong, Peter rushes him to the hospital.
Toomes wakes up a few hours later, where a doctor reveals that he has suffered a stroke, and many of his muscles on the left side of his body have been paralyzed. When the doctor leaves, Spider-Man sneaks in and Toomes asks him to kill him because he is weak. When Spider-Man refuses to do so, he says that Spider-Man is also weak, and always has been. After making remarks about Uncle Ben, Spider-Man takes a pillow and begins suffocating him. He fights back, and Peter removes the pillow, commenting that "For somebody who's begging to die, you fight for life pretty hard."
When Calypso Kravinoff began collecting a zoo of animal-themed super villains, Vulture was one of her captives. To stop Vulture from using his intellect to find a way to remove his bomb collar, Calypso broke his hands repeatedly, but with the help of Rhino, Vulture escapes.
Equipment
Edit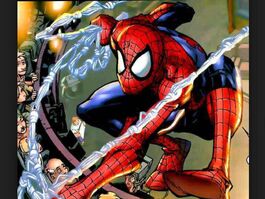 Toomes wears a high-tech flight suit that amplifies his strength to superhuman levels, enabling him to lift 700 lbs. Also, the wings on his suit are razor sharp and thus can serve as weapons. He upgraded his wings to swords in the Spider-Man web of shadows video game.