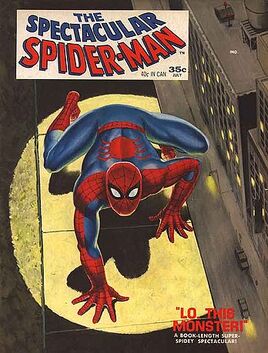 The Spectacular Spider-Man is the name of two comic books and one magazine series starring Marvel Comics' Spider-Man.
Publishing History
Edit
Following the success of Spider-Man's original series, The Amazing Spider-Man, Marvel felt the character could support more than one title. This led the company in 1968 to launch a short-lived magazine, the first to bear the Spectacular name.
Another comic book series, Peter Parker, The Spectacular Spider-Man on its December 1976 debut, was shortened to The Spectacular Spider-Man with #134 (Jan. 1988). The monthly title ran 263 issues until 1998.