The Amazing Spider-Man (2012 video game)
Talk

0
Share
The Amazing Spider-Man
Developed by:
Beenox (Xbox 360, PS3, Wii, PC, 3DS, Wii U)
Other Ocean Interactive (DS)
Gameloft (Android, iOS, Mobile)
Released on:
Activision

Available on:

Xbox 360
PlayStation 3
Microsoft Windows
Nintendo 3DS
Nintendo DS
Wii
iOS
Android
Mobile
Wii U

Mode(s):

Single-player

ESRB Rating:

{{{ESRB rating}}}

Predecessor:

None

Sequel:

The Amazing Spider-Man 2

The Amazing Spider-Man is a video game based on the film of the same name. The game is developed by Beenox, the development team behind the previous two Spider-Man games, Spider-Man: Shattered Dimensions and Spider-Man: Edge of Time.
The game was released on June 26, 2012 and is compatible with the Playstation 3, Xbox 360, Wii, PC, Nintendo DS, and Nintendo 3DS. A Wii U version was released on March 5, 2013, and the PlayStation Vita version was released in November 2013 for a late launch.
Story summary
Edit
Set a couple of months after the events of the film of the same name, Oscorp has secretly been continuing Dr. Curtis Connors' Cross-Species experiments. Spider-Man must stop Oscorp from creating Cross-Species and avoid the Robots made by Alistair Smythe to save the city and protect his girlfriend, Gwen Stacy.
A new feature called Web Rush, which players can use to perform a series of incredible acrobatic feats to reach a single destination with the press of a button.
Combat in the game is similar to Batman: Arkham City with a freeflow system and dodge counters. Players can also use Web Rush to silently take down opponents by Rushing behind them and wrapping them up in a cocoon of webbing. If players are spotted, they can use the named Web Rush Back to escape and hide.
Side missions will play a large role in the game. One, Police Deadlock, features the NYPD chasing a group of criminals in a car. Spider-Man must Web Rush to the top of the car and web up the windscreen to stop the crooks.
Spidey's suit is also degradable. It will take damage over time and will not repair automatically. Players must visit Peter's apartment to have it repaired.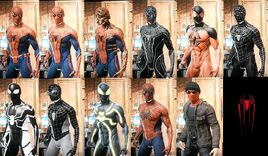 The game is capable with Sony's Playstation Move for the Playstation 3 version.
By finding and taking pictures of spider-symbols throughout the city (symbols will appear during a specific month) you will unlock alternate costumes that Spider-Man can wear, Spider-Man 3's symbiote suit, vigilante Spider-Man among others.
Once only available as a pre-order, the "Classic Suit" is the suit worn by Tobey Maguire in the first three Spider-Man films. 
All together there are currently 11 costumes that can be unlocked in the video game with two being DLC, as shown in the picture above. These include:
Default Suit (Original Amazing Spider-Man red and blue costume)
Cross Species costume
All black costume
Vilgilante costume (DLC)
Sam Raimi trilogy costume (DLC)
2012 Scarlet Spider costume
Reception
Edit
The Amazing Spider-Man received mixed to positive reviews from critics. GameInformer was very critical of the game, saying it, "not only fails to deliver, it may also diminish my enjoyment of this summer's film." They scored it 6.75 out of 10. Metacritic gave the game a 76 out of 100 rating, signifying "generally favorable reviews". GameSpot praised its controls, giving it a 7.5 out of 10. They did, however, criticize the game's easiness. The game received 4 out of 5 stars from G4.
Many critics praised the game's new features such as the 'Web Rush' ability, as well as the voice actors. However, the game was stated to have 'repetitive gameplay' by some reviewers.
Ad blocker interference detected!
Wikia is a free-to-use site that makes money from advertising. We have a modified experience for viewers using ad blockers

Wikia is not accessible if you've made further modifications. Remove the custom ad blocker rule(s) and the page will load as expected.