Symbiote Costume
Talk

0
1,292pages on
this wiki
Symbiote Costume
Aliases:
Black Suit, Venom Suit, Symbiote Suit
Lead Designer:
N/A (symbiote);
Felicia Hardy (cloth)

Additional Designer(s):

N/A

Current Owner(s):

Flash Thompson (symbiote)

Peter Parker (cloth)

Previous Owner(s):

Peter Parker (symbiote)
The Symbiote Costume, also known as the Black Suit by fans, is the first new suit dawned by Peter Parker in Amazing Spider-Man #252 and Secret Wars #8.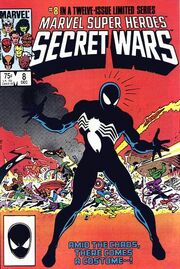 In the Marvel Secret Wars series, Spider-Man's costume was torn during battle 
and he was sent to a machine that would repair it. Unknown to Spider-Man, the machine was actually a prison that contained an alien symbiote, which copied Spider-Man's thoughts about the costume worn by Spider-Woman (Julia Carpenter), and created a duplicate of it.
During and after the Secret War, Spider-Man learned that the costume 
could respond to his thoughts, change its shape, and create a seemingly unlimited amount of organic webbing. However, after wearing the suit for some time, he began to feel unusually tired and consulted his friend, Mr. Fantastic. Mr. Fantastic said that the suit was actually an alien creature and that it was taking him web-swinging every night while he slept. Spider-Man then had Mr. Fantastic remove the costume using a sound wave generator, as its only weaknesses are loud sound waves and intense heat, and locked it in a protective case.
The suit eventually escaped and hung itself in Peter's closet, disguised as one of his red and blue costumes. Unfortunately, Peter grabbed the symbiote and it reattached itself to him, which forced Spider-Man to use the bells of the Our Ladies of Saints church to remove the suit. Many issues later, the suit secretly found and bonded to Eddie Brock, who became Venom.
The symbiote costume was created when the symbiote merged with Spider-Man's suit, turning it into a black and silver version of his original suit. However, as his personality began to be taken over, it changed to have a large spider and the silver lines vanished soon after a battle with the Sinister Six that Peter slept through. He eventually removed the symbiote from his suit by destroying it within his mind with aid of Uncle Ben's memory and tried to destroy it by freezing it, but it thawed out and bonded with Eddie Brock, creating Venom.
In Ultimate Spider-Man, the suit is worn by Harry Osborn instead of Spider-Man and is in the same form as the comics. Eventually, Harry transformed into Venom. The suit was briefly worn again when Harry, possessed by Venom, beat up Batroc, but became Venom soon after.
Appearance
Edit
The costume is black, has a large white spider design on the chest area, slightly larger eye pieces and white organic web-shooters on the back of each hand.
Involvement with Spider-Man
Edit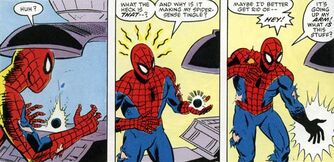 Unbeknownst to Spider-man, the costume was actually an alien
Symbiote
that was able to copy and enhance his abilities the symbiote also learned the composition of Spider-man's webbing, the frequency of his spider sense (which allows
Venom
to dampen Spideys precognitive abilities) and his ability to adhese to most surfaces.
Also having copied Spider-man's movements (this gives Venom a way of knowing what spider-man is going to do unless Spidey thinks about what would be the best move instead of fighting instinctually which he now usually does when battling Venom) the symbiote sneaked back onto Peter's body after he had taken it off and gone to sleep. It would then carry the unconcious body of Peter through a typical session of fighting street crime (albeit without speaking a word). Thus for as long as he had the black suit he would be inexplicably tired in the morning as his brain would rest but his body would be getting no rest at night. Upon discovering the true nature of the suit, Peter rejects the creature using high frequency sonicwaves. The creature then finds Eddie Brock bonds with him and creates Venom.
Powers and abilities
Edit
Enhanced strength (With the suit on Spidey can lift 70 - 75 tons).
Enhanced speed, agility and Spider-Sense.
Can stick to any surface (even wet and/or crumbling).
Organic and stronger webbing.
Shapeshifting into other clothing.
Cloth Version
Edit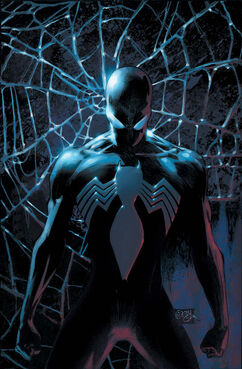 After Spider-Man abandoned the Symbiote, he was given a cloth version by Black Cat. He wore it for a time, but after Mary Jane was kidnapped by Venom, he abandoned this version as well at his wife's request.
During the latter part of the Marvel Civil War, after Aunt May had been shot by a sniper, he returned to this costume for the Back In Black storyline. The costume was retired once again after One More Day, and his original costume was reinstated for the entirety of Brand New Day. This version of the black suit has not been used since.    
The symbiote suit/black suit is a fan favorite as it has appeared in many forms of Spider-Man related media over the years.
In Spider-Man 3, the symbiote attaches to Peter's bike early in the film. Later on, the symbiote covers his entire suit while he is asleep in the original red and blue costume. Much later in the movie, Peter takes off the symbiote, and as Eddie Brock is watching, get ingulfed by the symbiote to become Venom.
Video Games
Edit
In 2000's Spider-Man, the symbiote is a wearable costume once unlocked. It provides unlimited webbing and the ability to turn invisible and move past enemies.
In 2001's Spider-Man 2: Enter Electro, the symbiote costume is still unlockable with the same abilities as before.
In 2005's Ultimate Spider-Man (video game), the symbiote suit is unlockable and wearable for Spider-Man. Also, Venom has the symbiote suit, on and is a playable characters.
In 2006's Marvel Ultimate Alliance, Spider-Man is playable character, and unlocked from the start of the game. His symbiote suit is wearable when unlocked.
In 2007's Spider-Man 3 (video game), the symbiote is apart of the game and is wearable, and features new rage moves.
In 2008's Spider-Man: Web of Shadows, the symbiote is wearable as a part of the game. It grants new moves, and is apart of the story.
In 2009's Marvel Ultimate Alliance 2, Spider-Man is once again a playable character from the start and the symbiote suit is wearable once unlocked.
In 2010's Spider-Man: Shattered Dimensions, Ultimate Spider-Man is a playable character in the 4th dimension/Ultimate universe. Madam Web gives him the symbiote suit, and has control over Ultimate Spider-Man's mind so the symbiote does not take over his mind.
In 2011's Spider-Man: Edge of Time, the symbiote suit is also an unlockable alternative suit available (and exclusive) to Amazing Spider-Man.
In 2011's Marvel vs. Capcom 3, Spider-Man is a playable character and symbiote suit is a wearable alternate costume.
In 2011's Ultimate Marvel vs. Capcom 3, Spider-Man is still a playable with the symbiote suit a default alternate costume.
In 2012's Marvel: Avengers Alliance, the symbiote suit is buyable, and wearable costume when the player has enough player points. It was recently enhanced so when the costume is worn by Spider-Man he does more damage to "Webbed" enemies.
In 2012's The Amazing Spider-Man (video game), the symbiote suit from Spider-Man 3 (film) although slightly changed is unlockable, and wearable. 
The black costume stemmed from an idea submitted by a then 22-year-old fan named Randy Schueller, after Marvel in 1982 had asked its readers for ideas for new Spider-man stories. Schueller's idea was purchased by Jim Shooter for the sum of 220 US dollars. Randy Schueller later tells his involvement with the black costume and Marvel in an article at Comic Book Resources.