Spider-Man and His Amazing Friends
Talk

0
1,295pages on
this wiki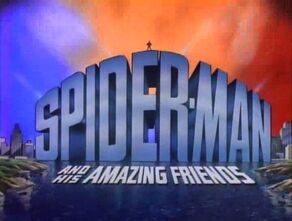 Spider-Man and His Amazing Friends is an 1981 animated TV series produced by Marvel Productions starring established Marvel Comics characters Spider-Man and Iceman and (at the time) a original superhero, Firestar.
Peter Parker (Spider-Man), Bobby Drake (Iceman), and Angelica Jones (Firestar) are all college students at Empire State University. After working together to defeat the Beetle and recovering the "Power Booster" he stole from Tony Stark (a.k.a. Iron Man) the trio decide to team-up permanently as the "Spider-Friends". They live together in Peter's Aunt May's home with her and a pet dog, Ms. Lion, (adopted from Firestar) a Lhasa Apso. Together, the superheroes battle various supervillains.
Some stories featured team-ups with other characters from the Marvel Universe, including Captain America, Iron Man, Sunfire, and the mid-1970s X-Men.
Adaptation
Edit
The first comic book that directly referenced the Amazing Friends show was Spider-Man and His Amazing Friends #1 (December 1981), a one-shot that adapted the pilot episode, "The Triumph of the Green Goblin". Though the comic version altered the story to bring it in line with established Marvel Universe continuity (such as making the Green Goblin identity a costume as in the comics, rather than a physical transformation as in the episode), it was not considered part of said continuity. It is notable as the first appearance of Firestar in a Marvel Comics story, though the version of Firestar that exists within Marvel continuity would not appear until Uncanny X-Men #193 (May 1985). The story was later reprinted as Marvel Action Universe #1 (January 1989), released to coincide with the airing of Amazing Friends reruns on the television series of the same name.
Neil Ross provided the voice for Norman Osborn in both Spider-Man and His Amazing Friends and the 1994-1998 Spider-Man animated series.
The makers of the show had originally intended the stars to be Spider-Man, Iceman, and the Human Torch. However, legal issues about the rights to the Human Torch character (which had also plagued Marvel once before for the 1978 Fantastic Four cartoon) led to the Human Torch being replaced by a new character, Firestar, who had similar powers, but was a mutant like Iceman. Due to Firestar's popularity with fans, she has since become a part of the mainstream Marvel universe.
In pre-production, Firestar's codename changed frequently; the unused names include Firefly, Starblaze, and Heatwave.