Welcome to the Spider-Man Wiki!
Welcome to the Spider-Man Wiki, your #1 source for all things about the web-slinging, amazing Spider-Man!
We are currently editing 5,758 pages and 13,479 images, and have been growing since October 3rd, 2005! Need help? Check out our about page. Still need help? Feel free to ask any of our admins. Also, be sure to check out our Manual of Style and List of Policies before you edit. And before you use the chat-room, make sure you read our Chat Policies. Happy editing, true believers!
Please beware of spoilers and mature content on the wiki!
Characters
Featured Article for May 2018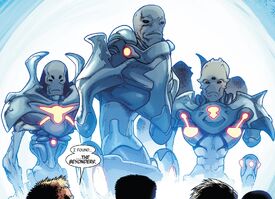 The Beyonders are a near omnipotent alien race that hail from a dimension that exists outside of the Multiverse who frequently conduct experiments on those who dwell within the Multiverse to satiate their curiosity. Read more?
Did You Know?
Did you know Peter Parker's parents, Mary and Richard Parker, were actually SHIELD agents?
Did you know that Spidey once teamed up with the Hulk, Wolverine, and Ghost Rider to form the New Fantastic Four?
Did you know Peter is a New York Mets fan?
Did you know Spider-Man's webbing disintegrates after about an hour?
Did you know Peter Parker was once a high school science teacher?
Recent Blog posts
Create blog post
Blogs

I believe that if Spider-Man Unlimited was done in the following manner, it would've been a much b…


Read more >

I have discoverd the issue in question in the last post. I was unaware of the categorical nature of…

Read more >

So it seems that some of my edits are not a part of the profile I am currently using, despite that …

Read more >
See more >
Monthly Poll for May 2018
Thoughts on the first Spider-Man: Into the Spider-Verse trailer?
Need help?
If you need help, please contact any of our active Staff Members:

This Month in Comics! (May 2018)