Home
Talk

48
1,310pages on
this wiki
Welcome to the Spider-Man Wiki!
Welcome to the Spider-Man Wiki, your source for all things about the web-slinging, amazing Spider-Man! We are currently editing 1,310 pages and 4,419 images, and have been growing since October 3rd, 2005! Need help? Check out our about page. Still need help? Feel free to ask any of our admins. Also, be sure to check out our Manual of Style and List of Policies before you edit. And before you use the chat-room, make sure you read our Chat Policies. Happy editing, true believers! Please beware of spoilers, and mature content on the wiki!
Characters
Featured Article for May 2013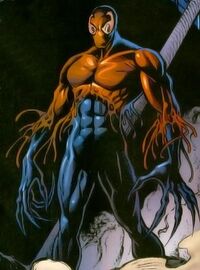 Patrick was one of New York's finest, though his life was beginning to take its toll. Like many police officers, his job was causing him incredible amounts of stress, which was only compounded by his wife's pregnancy. Read More!
Did You Know?
Did you know Black Cat was once gifted with the power to spread bad luck?
Did you know Betty Brant was married to Ned Leeds?
Did you know Kingpin first appeared in The Amazing Spider-Man #50 in July of 1967?
Did you know Peter Parker's favorite breakfast was wheatcakes?
Did you know Aunt May and Uncle Ben gave Peter a microscope in Amazing Fantasy 15?

Monthly Poll for May 2013
What did you think of the outcome of Superior Spider-Man #9?

This Month's Comics (April 2013)
Need help?
If you need help, please contact any of our active Staff Members:
Recent Blog posts
Create blog post
Blogs
Hey guys,

I'm here to do a little advertising. I have a blog and would love some followers. I recent…

Read more >

Well its been long sence I got banned from chat for trolling.

During that time I did something good.…

Read more >







1

Details:

2

Review

2.1

Pros:

2.2

Cons:

2.3

Final Thoughts:




Written by: Matthew Robinson

Directed by: Dan Faus…



Read more >
See more >