Home
Talk

49
2,758pages on
this wiki
Welcome to the Spider-Man Wiki!
Welcome to the Spider-Man Wiki, your source for all things about the web-slinging, amazing Spider-Man! We are currently editing 2,758 pages and 8,202 images, and have been growing since October 3rd, 2005! Need help? Check out our about page. Still need help? Feel free to ask any of our admins. Also, be sure to check out our Manual of Style and List of Policies before you edit. And before you use the chat-room, make sure you read our Chat Policies. Happy editing, true believers! Please beware of spoilers and mature content on the wiki!
Characters
Featured Article for August 2014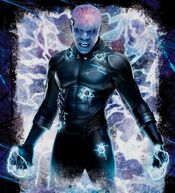 Maxwell Dillon was a fan of Spider-Man and employee of Oscorp. One day, while carrying blueprints he dropped them all, and a few in the street. While picking them up, he did not notice a flying car coming his way. Spider-Man did, and saved him in time. Max was so surpised to see Spider-Man and he knew his name, thanks to his badge. After fixing his hair, Spider-Man leaves Max, stunned that he was saved by his favorite hero of all time. Read More!
Did You Know?
Did you know during the 1970's, Spider-Man regularly defeated criminals with Hostess products?
Did you know Spider-Man freely offered sex advice to teens?
Did you know Spider-Man made the Fantastic Four have to change their outfit?
Did you know Spider-Man was almost not about spiders?
Did you know Spider-Man was one of the very first true teen superheroes?
Monthly Poll for August 2014
What did you think of The Amazing Spider-Man 2?

This Month's Comics (July 2014)
Need help?
If you need help, please contact any of our active Staff Members:
Recent Blog posts
Create blog post
Blogs
Depressingly, summer's only got one more month. August is just about here, so here's the monthly bl…

Read more >

June's already reaching it's end. Which, of course, means you have to listen to me again. 




Perhaps I…


Read more >

Face front, true believers! We'll be interviewing Stan Lee, and we're going to ask him YOUR QUESTIO…

Read more >
See more >