Spider-Man: The Animated Series (video game)
Talk

0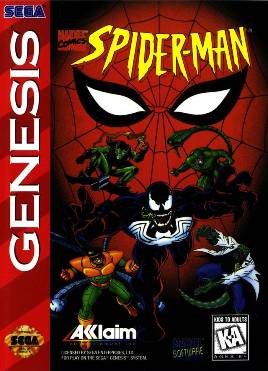 Spider-Man: The Animated Series is a video game developed by Western Technologies and published by Acclaim in 1995, incorporating elements from the critically acclaimed 1990s Spider-Man cartoon series.
The game was released for the Super Nintendo and the Sega Mega Drive/Genesis.
Gameplay
The gameplay was similar to most titles of this decade, it was a side scrolling action platformer. The game features six levels in the SNES version: a Laboratory, Construction site, Brooklyn Bridge, Coney Island, a showdown in a Penthouse, and Ravencroft Asylum, and 5 in the Genesis version: Laboratory, Coney Island and the Funhouse, The Deconstruction Zone, The Mean Streets of the City, and The Ravencroft Prison for the Insane.
Featured heroes
Owl
Mysterio
Beetle
Jack O'Lantern
Shocker
Hammerhead
Chameleon
Venom
Scream
Carnage
Vulture
Rhino
Lizard
Three Spider-Slayers (Alien, Tri-Head, and the combination of Black Widow, Tarantula and Scorpion)
Alistair Smythe
Scorpion
Doctor Octopus
Hydro-Man
Kraven the Hunter
Calypso
Tinkerer
Green Goblin
The game also featured the Fantastic Four.