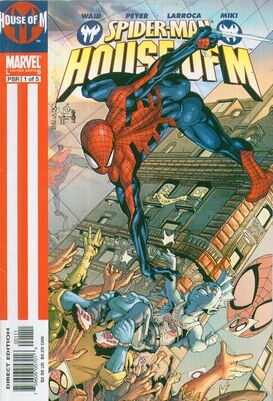 Spider-Man: House of M
is a five-issue comic book limited series that was in line with
Marvel Comics
'
House of M
comic book series in 2005.
For this story to fit in with the larger story told in the House of M miniseries, the Parker family would have had to return to New York at some point, as it was there that Wolverine and the rest of the memory-restored heroes introduced him to Layla Miller.
The Spider-Man: House of M is a standalone story that takes place in the House of M universe, but the events do not affect the story of the actual House of M series. However, it is shown in the House of M series that the Peter Parker of the mainstream Marvel Universe remembers the life he had in this universe.
Ad blocker interference detected!
Wikia is a free-to-use site that makes money from advertising. We have a modified experience for viewers using ad blockers

Wikia is not accessible if you've made further modifications. Remove the custom ad blocker rule(s) and the page will load as expected.