Spider-Man: Edge of Time
Talk

2
1,294pages on
this wiki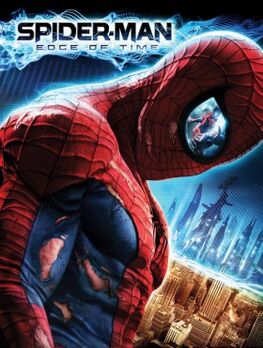 Spider-Man: Edge of Time is a video game developed by the Activision-owned developer Beenox, based on the superhero Spider-Man. It was released on October 4, 2011 in North America and on October 14, 2011 in Europe.
Plot
The game opens with Spider-Man and Anti-Venom locked in mortal combat near a glowing portal. Spider-Man tries to reason with Eddie Brock and remind him he is not a killer anymore. However, Anti-Venom pays Spider-Man no mind and succeeds in draining the radiation from his body. Spider-Man tells Anti-Venom he had not right, but Anti-Venom viciously tells him he didn't need a reason, turning his arm into a blade and preapres to bring it through Spider-Man's chest.
In the future, Miguel O'Hara, Spider-Man 2099, has discovered that Walker Sloane, whom he admits is a personal rival, has rebuilt the Virtual un-reality lab into a time machine.
Knowing that time travel technology is dangerous, especially in the hands of a greedy psychopath like Sloane, Miguel proceeds to stalk Walker through Alchemax and discovers that he is planning on using the machine to open Alchemax years ahead of schedual and dismantle their rivals before they begin, essentially putting all corporations under his control and a large portion of the earth with them.
Dispite Miguels efforts, Walker succeeds in his plan and jumps into the past. Miguel goes in after him, but finds himself trapped in the vortex, seeing the past change; the Daily Bugle is replaced with the Alchemax corporation and Peter Parker is working directly under Doctor Octavius in the genetics department. As part of Dr. Octavious's genetic trials Peter has already uploaded his DNA into the system.
At the same time in the future everything has changed too: all of New York City has become a part of Alchemax. Worst yet Miguel sees a figure he can't make out kill Spider-Man. Once free of the portal Miguel desperately tries to escape robotic sentinels and plans to come back later to deal with the chaos created by Walker's plans.
Once free to think Miguel is able to use the sample of Peter 's DNA from the Genetics program to create a "Chronal link" a telepathic link between himself and Peter. ("Are the other mes in my head, too?") Miguel tries to explain the situation to Peter however Peter believes that if there's a crazed killer loose in the building then he has to stop him before he kills anyone.
He soon discovers that the killer is Anti-Venom who is only able to muster enough will power to warn that he's under someone's control. The Spidermen soon discover that as a result of the new time portal Sloane is building anything done in the past has a immediate effect on the future and vice versa (Anti-Venom destroys a elevator and that Elevator sease to exist in the future).
Undetered, Peter makes his way to the 66th floor of Alchemax where both Sloane is building the new time portal to the future and the final showdown between himself and Anti-Venom is suppose to take place. Deciding that plan A has failed Miguel decides to meet Peter on the 66th floor hoping that he'll be able to help him defeat Anti-venom.
Peter arrives first, meeting with Doctor Octavious, Walker Sloane, and Anti-Venom all at once. Walker activates all the control Chips planted within Anti-Venom unleashing his bestial side, with his rage induced strength Anti-Venom depowers and nearly beats Peter to death. Miguel is able to narrowly save Peter and put him into a regenerative pod while he goes to the past to fight Anti-Venom.
Since Miguel 's powers aren't radiation based he is able to hold his own, finally defeating Anti-Venom by making his Symbiote regurgetate the control chips. Once in full control of his actions Anti-Venom gets his revenge on Sloane by pushing him and Doctor Octavious into the portal, seemingly trapping all three of them between the Present and future.
Peter wakes up in the future, the Spider-Men determine that while the time portal in the future is fully functional the one in the past has suffered Damage. As a result Miguel can't go back to the future because the Technology to fix the portal doesn't exist yet, Peter has to send the parts back to the past before going back himself.
As a result of the Damage to the portal Doctor Octavious's mechanical tentacles start popping up around the building albeit distorted, enlarging them in the process. Miguel theorizes that Doctor Octavious is trapped between dimensions and the tentacles are either his way of getting out or his attempt to take the Spidermen down with him.
On his way back to the time portal with the Quantom batteries needed to fix the portal Peter hears a familiar female voice over the PA system begins to taunt him, calling him a "blast from the past". Miguel tries to access the Archives for Data on fixing the portal, however as expected his Past code doesn't work because he won't be a employee for Alchemax for another hundred years.
Instead Miguel guides Peter to the future Archives where he'll hopefully be able to access the needed Data and send it back. While in the Library Peter continues to hear the voice over the PA system taunt him. Peter finally reaches the archives and in addition to the data for the time machine he also discovers that Mary Jane will be killed the day he left in the Alchemax building, though do to the chaos created by the tentacles and the Quantom causality the cause of death keeps changing.
Admittedly against his best judgement Miguel chases after Mary Jane and saves her from a falling elevator. Now with all the Data they need the two Spider-Men go back to the Time portals to fix the damage and go back to their proper time periods. On his way back Peter comes face to face with Alchemax's CEO, whom he realizes is actually his future self, kept alive by a powerful anti-aging drug.
The future Peter states that he has been acquiring power non-stop in order to live up to his perceived inabillity to keep his responsibillity. This is confirmed when Peter stumbles upon his personal Archives which contains newspaper clippings of himself, all his costumes stuffed and mounted, and several newspapers that show him walking a distinctly Dark path.
Terrified of his own future Peter flee's and on his way back to the portal is ambushed by a army of Cybernetically enhanced Black Cat 2099 clones, they claim that Peter did something "unforgivable" to the original Black Cat and thus they're seeking revenge for her. Peter chases and defeats the head clone and once she calms down Peter states that she was "excellent" and "better then the original".
Peter gets the key he needs and goes off to meet Miguel. Once back in their proper timelines a hulking amalgam of Doctor Octavious, Sloane, and Anti-Venom Peter dubs "Atrocity" follows him back. Miguel proceeds to make his way to the Para-science labs in order to find a way to defeat Atrocity. Once in the Para-labs Miguel states that he needs Peter to acquire some DNA samples from Atrocity so that he can figure out a way of defeating it.
Once finished Miguel determines that Atrocity is the center of a growing time storm and if it isn't stopped it will trigger a new big bang. The future Peter contacts Miguel and states that he plans to harvest the energy from the time storm and remake reality into a "Perfect Universe". Miguel strongly disagrees with the future Peter and is dumped into the incinerator to perish.
In the Past, on instructions from Miguel, Peter tries luring the Atrocity back to the time lab, a run through the fixed portal will negate the time storm and seperate Atrocity back into Doctor Octavious, Sloane, and Anti-Venom. Miguel escapes the incinerator and goes to Peter's office to finish what they started. Instead he is greeted by a holographic communication from Peter, neither able to make the other see their point of view Peter invites Miguel to the time lab intending to finish their disagreement once and for all.
In the past, Peter arrives with Atrocity in tow, Peter successfully reverses the polarity on the time machine and all thats left to do is push Atrocity through. Peter proceeds to electrocute Atrocity and send him through the portal bit by bit in order to seperate him into his orriginal form. Meanwhile in 2099, the future Peter has aquired the Iron Spider technology developed by Tony Stark and has rebuilt the technology into a massive exo-suit.
Peter informs Miguel that he would never rely on such measures if he wasn't 100% confident in his own abilities, and tells him, that while his Spider-Sense may give his future self an advantage of Miguel (who lacksa a Spider-Sense), Captain America once told him that he always leaves himself open for a few moments after his combo attacks, saying "I know I shouldn't but I do, you can use that against him.
Remembering how Peter died in the timeline created by Sloane, Miguel tricks the future Peter into attacking Atrocities tentacles thereby slowly depowering him. In the Past Peter is able to force Atrocity back into the portal all that's left to do is "Lock it down" on Miguel's end thereby ending the timestorm and completely undoing all tampering with the Timeline.
In the future Peter is fully depowered and the exo-suit is beginning to overload with power, Miguel is able to lure the future Peter in front of the portal and kick him into it, finally ending the madness. Both Spider-Men discovered that they both retained the chronal link and knowledge of both of the timelines once the quantam storm ended, and reality was restored to it's normal timeline.
Peter asked Miguel if this would make them crazy. Miguel responded by saying "Crazy? We already dress up in skintight costumes, fighting bad guys for free!".
Characters
Anti-Venom (first video game appearance)
Walker Sloane (game exclusive, main antogonist)
Gameplay
Amazing Spider-Man retains focus on web based combat combining the environment with webbing to create heavy hitting weapons. In addition there is now a increase focus on Amazing's spider-sense creating "Hyper sense" which will allow Spider-Man to move so fast that he runs through security lasers unharmed and easily dodge attacks that he couldn't on his own speed.
&nbsp Spider-Man 2099 retains focus on Speed based combat retaining sky diving sequencies and accelerated vision. Also there is the new "Accelerated decoy" feature: Spider-Man moves so fast that he can leave behind a body double for enemies to attack
&nbsp In game players may collect Chronal energy, a form of energy created by time Travel this will allow for the generation of time paradox's which will freeze enemies for short periods of time allowing you to beat them up unoppose.
In addition the Two Spider-Men share a "Chronal link" a telepathic bond spanning the vastness of time and space created using their DNA allowing them to communicate.
Finally there is "Quantam Causality" as a result of the Two time portals connecting anything that happens in the past immediately effects the future, for example Anti-Venom destroys a elevator in the past, causing the elevator to cease to exist in the future. This also randomly replaces hallways, doorway's, and beams in enemies which hampers the Spider-Man currently in the future.