| | |
| --- | --- |
| | Please note that this article is about the very first Spider-Man from Amazing Fantasy #15. For alternative versions of this character, click here. |
"You can live every day of your life trying to think of something more profound or more on the nose... but for us, for people like us, who suddenly find themselves looking out at a crazy world and not knowing what the hell we're supposed to be doing in it... I can tell you that just remembering that with great power comes great responsibility... can completely define you."
— Peter Parker
Spider-Man
Full name:
Peter Benjamin Parker
First Appearance:
Amazing Fantasy 15
Created by:
Stan Lee and Steve Ditko
Home Universe:
Earth-616
Alignment:
Good
Status:
Alive
Place of Birth:
New York City, New York
Citizenship:
American
Base:
Formerly Horizon Labs, New York City, New York
Affiliations:
Formerly Horizon Labs, The DB!, Daily Bugle, Daily Globe, Tricorp Research
Avengers, Future Foundation, Heroes For Hire, New Avengers, Secret Avengers, Superhuman Task Force (Pro-Registration Superheroes), Outlaws, New Fantastic Four, Secret Defenders, mentor to the Misfits, Frightful Four
Powers/Abilities:
Spider Powers
Height:
5' 10"
Weight:
167 lbs
Hair Color:
Brown
Eye Color:
Hazel
Unique Features:
None
Peter Benjamin Parker (of Earth-616), also known by his superhero alter-ego Spider-Man, is a fictional comic book character who has appeared in all forms of Spider-Man media, and other comic book series published by Marvel Comics.
He was created by writer-editor Stan Lee and writer-artist Steve Ditko. He first appeared in the Amazing Fantasy #15 in August of 1962.
History
Early life
Peter Parker was orphaned at the age of six when his parents were killed in an airplane crash overseas. He went to live with his uncle and aunt, Ben and May Parker, in Forest Hills, New York. Peter was extremely bright and became a honors student at Midtown High School. Peter's shyness and scholastic interest often made him a social outcast, being overshadowed by the likes of highschool bully, Flash Thompson.
While attending a public exhibition demonstrating the safe handling of nuclear laboratory waste materials, sponsored by the General Techtronics Corporation, Peter was bitten by a spider that had been irradiated by a particle accelerator used in the demonstration. Making his way home afterwards, Peter discovered he had somehow gained incredible strength, agility, and the ability to cling to walls; spider-like traits that he immediately associated with the spider bite.
Becoming Spider-Man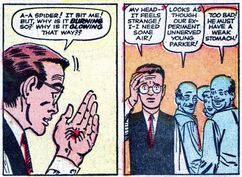 After seeing an ad offering a cash prize to anyone who could last three minutes in the ring with a professional wrestler, Peter decided this would be the perfect way to test his powers. Wearing a mask to avoid potential embarrassment, Peter easily defeated his opponent. A telvision producer observed his performance and convinced him to go on television with his 'act.' After designing a red and blue costume and some wrist-mounted web-spinners, Peter appeared on the show calling himself Spider-Man and became an immediate sensation.
Following his first television appearance, Peter failed to stop an escaping thief, claiming that it was not his responsibility to do so. Peter forgot the incident as his fame rose, but one night he returned home to discover that his Uncle Ben had been murdered while trying to stop a burglar.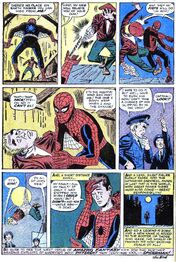 Learning the police had the burglar responsible holed up in a warehouse, Peter donned in his Spider-Man costume and went to avenge his uncle. After cornering the criminal in the warehouse, Peter unmasked the robber, only to find it was the same man who he let escape earlier. After knocking the criminal out and lowering him to policeman via webline, Peter returned home and thought about how he could've stopped the man when he had the opportunity.
Filled with remorse, he realized that with power comes responsibility. Peter eventually found himself consumed by the concept of adventure and heroism. That, along with the lesson in responsibility that was recently drilled into his head, inspired him to take that fateful step into the shoes of heroism. 
Taking on Great Responsibility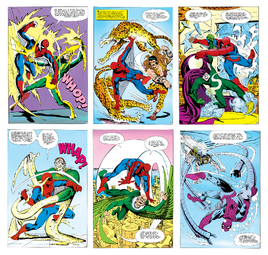 With the choice to become a hero, thought it was a good idea to join the
Fantastic Four
because he thought they were paid for their deeds.
As Spider-Man, Peter gave up a good portion of his own personal life. He had less time to spend with his family and friends, and as a result, less time was devoted to his school work. During this time, Peter's grades began to suffer, as did his relationships with others.
However, the one person who found him to be a "swell fellow" was Betty Brant of the Daily Bugle. Peter met her on one of his first visits to the Bugle, where he was introduced to her and Spider-Man's number one critic, J. Jonah Jameson.
Her boss was determined to make Spider-Man public enemy #1, unaware of the fact that Spider-Man and Peter Parker were one and the same. Betty and Peter developed an almost instant connection with one another, and soon started a relationship with one another that did not last long.
During this time, Peter would meet some of his infamous foes as Spider-Man. He would face and defeat the likes of  Doctor Octopus, Electro, Kraven the Hunter, Mysterio, Sandman, the Green Goblin, Scorpion and Vulture. One day, Doctor Octopus would bring together six of them in a new supervillian group called the "Sinister Six" and kidnap Aunt May and Betty Brant to end Spider-Man's life once and all, but didn't work since Spider-Man picked them off one by one. A man named Spencer Smythe would help J. Jonah Jameson in trying to defeat Spider-Man by building a "Spider-Slayer" robot with Jonah's face on the robot.
Spider-Man would also meet Daredevil and team-up with the Fantastic Four's Human Torch from time to time to fight crime.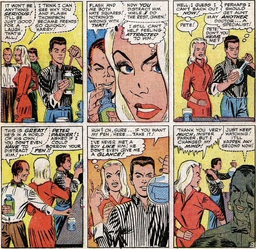 College Life
Peter evenually graduated from Midtown High School and enrolled at Empire State University with a science scholarship. Also, Peter would finally meet Mary Jane Watson, someone that eluded him for so long. After becoming friends, Mary Jane would start to date Harry Osborn.  At ESU he met new classmates, Harry Osborn and Gwen Stacy. Even though he got off to a bad start with Harry, The two eventually warmed up to each other. Peter showed an interest in Gwen and started to date her. Peter also made amends with his ex-school bully, Flash Thompson who was drafted to the army, but came back for visit every now and gain.
Old faces, new foes
Meanwhile, the Green Goblin starts to come up with a plan to discover Spider-Man's secret identity and reveal it to the entire world after upgrading his flying broomstick to a glider. The Green Goblin devised a plan to have some goons release a gas that would weaken Spider-Man's spider-sense that would allow the Green Goblin to follow Spider-Man find out who he was.
After a successful plan via a rooftop battle, Goblin stalked Spider-Man to an alleyway and discovers that Peter Parker and Spider-Man were the same person, and was surprised that a mere "kid" was the one taking him down all the time.
Green Goblin then kidnaps Peter after a battle where Peter lost. After tieing Peter up in his Spider-Man costume, Norman Osborn unmasked himself as the Green Goblin and Harry's father all along. After Peter got loose during Norman's speech, a battle started between the two of them where Norman ended up suffering trauma to his head and forgot he was the Green Goblin and Spider-Man's secret identity. 
After Norman's unmasking, Spider-Man fought new foes such as the the Rhino (a man named Aleksei Sytsevich in a Rhino like suit) who kidnapped John Jameson, with Spider-Man coming to save the day. Also, a man named Herman Schultz who dubbed himself as the "Shocker" used shock wave gauntlets to commit crimes. Both became crime commiters that Spider-Man defeated regularly.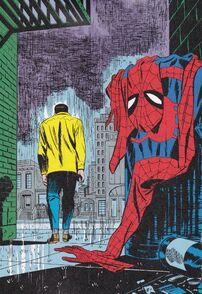 Peter eventually started wondering if he may be better off not being a normal civilian and leaving behind his Spider-Man costume and crime fighting, since no one seemed to appreciate the good deeds Spider-Man did. After much thinking, a man named Wilson Fisk known as the
Kingpin
, abducted J. J. Jameson. Peter decided it was his responsibility to be a hero for any and everyone, no matter what people said about Spider-Man and saved J. Jonah Jameson.
A mystic object called the Tablet of Life and Time, that was in Peter's college at the time, was taken by Kingpin. After being in the possession of many people, the Tablet got to the Maggia boss, Silvermane, who forced Curt Connors to translate the tablet's ancient writings. Connors was also forced to create a powerful youth serum from it for Silvermane. After Silvermane drank the serum, it appeared to work and he became a young man again. However, the serum made Silvermane's body to degenerate pass a human's baby stage. After this, Connors turned into the Lizard again and escaped. Spider-Man then teamed up with the Human Torch to take him down.
Spider-Man also meets the Prowler and a new costumed Black Widow, people who he would meet and clash with regularly in the future.
Another version of the Spider-Slayer would come about in the form of a "Mark II" with J. Jonah's face on the robot that Spider-Man once again defeated.
The Death of the George Stacy
Using his mental sync with his tenticles, Doc Ock controlled his tenticles from prison to free him. They freed him and he started to hijack a plane. Spider-Man prevented Doc Ock from hijacking the plane and destroying the city's power plant. Spider-Man thought he stopped Doc Ock, only to be caught by surprise the very next day. Spider-Man and Doc Ock took their fight to a rooftop where the intense battle caused the building to fall apart. Some of the falling debris from the battle was closing in on  a child, and at the last second, George Stacy saved the child, at the cost of his own life. 
After defeating Doc Ock, Spider-Man ran over to George to see if he was okay. George then admitted that he knew Spider-Man and Peter Parker were the same person (much to the surprise of Peter) then died in Spider-Man's arms.
Afterwards, Peter faced many superheroes, thinking he was one who killed George Stacy. Such as the X-Men's Bobby Drake (Iceman) and the Prowler (Hobie Brown). After proving himself to them, he went to London to try to prevent Gwen from leaving New York because of hers father's death.
Four arms, more baddies and helping Hulk
With his life as Spider-Man only causing him trouble, Peter starts to make a formula that will take away his Spider-Powers. After going to sleep, then waking up, Peter saw that he had an extra four arms on his sides. Stressed for help, Spider-Man went to Curt Connors for help to make a cure for his extra four arms, while trying to help Connors to become the Lizard again. Spider-Man encountered a more villains such as a man called 
Michael Morbius
, a vampire who wanted to kill Spider-Man, the Beetle and more Spider-Slayers.
Peter evenually returned to normal, shortly after helping the Hulk fight Doc Ock and Hammerhead in Canada.
The Death of Gwen Stacy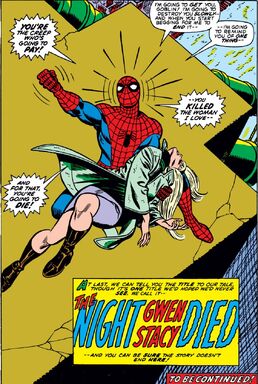 All seemed normal for both Peter Parker and Gwen Stacy, as well as Peter's life as Spider-Man doing his job as usual. Seeing that none of his friends were paying attention to him, Harry fell to LSD. However, Norman Osborn's alter-ego as Green Goblin resurfaced, and he suited up as the Green Goblin to kidnap Gwen Stacy. Spider-Man found them at the top of the
Brooklyn Bridge
, where the Goblin was holding Gwen. After a few words, Goblin dropped Gwen off the bridge to kill her.
Naturally, Spider-Man dived after her and after seeing his speed could not match hers, he spun a web to catch her by her leg. Due to the fast stop, Gwen's neck snapped and she died right as she was stopped. Goblin then told Spider-Man that it was impossible for him get Gwen, since she was falling to fast and he knew the web would kill her. Holding her dead body, Spider-Man was enraged and took after Gobin. In an ally, Spider-Man was so angry he started to beat Goblin, almost to near death with Goblin being surpised that Spider-Man snapped and unleashed his full strength upon him.
Up against a wall, Goblin activated his glider to impale Spider-Man. However, he did not account for Spider-Man's Spider-Sense and he jumped out of the way and the Goblin impaled himself and died. With Goblin dead, Peter reflected on how he could have killed Goblin since he was using his full strength. Afterwards, Mary Jane consoled Peter after the death of Gwen.
Having fingers pointed at him for the death of both Stacys, Spider-Man was confronted by Luke Cage and the Punisher, only to prove himself and befriend them both. Soon after, Harry Osborn (Norman Osborn's son) took the mantle of the Green Goblin and kidnapped Flash Thompson, Mary Jane and Aunt May. Spider-Man found Harry at his father's old home and had him arrested and freed his friends.
The Clone Saga
A "friend" from outer space
The Second Clone Saga
Spider-Phoenix
The Final Chapter
A New Lease on Life
Deal with the Devil
24/7 Hero
Secret Wars (2015)
Powers and abilities
Powers
Current
Spider Physiology: Spider-Man possesses the proportionate powers of a spider, granted to him from an irradiated Common House Spider (Achaearanea tepidariorum) which bit Peter Parker that was apparently already mutated from prior exposure to certain frequencies of radiation and received a final, lethal dose during Parker's attendance of the exhibition. The radioactive, complex mutagenic enzymes in the spider's blood that were transferred at the time of the bite triggered numerous body-wide mutagenic changes within Parker, granting him superhuman strength, speed, toughened flesh, and numerous arachnid-like abilities. Like many superhuman powers, the effectiveness of Spider-Man's abilities varies based on the author and the needs of the story. His powers include:

Wall-Crawling: Spider-Man's exposure to the mutated spider venom induced a mutagenic, cerebellum-wide alteration of his engrams resulting in the ability to mentally control the flux of inter-atomic attraction (electrostatic force) between molecular boundary layers. This overcomes the outer electron shell's normal behavior of mutual repulsion with other outer electron shells and permits the tremendous potential for electron attraction to prevail. The mentally controlled sub-atomic particle responsible for this has yet to be identified. This ability to affect the attraction between surfaces is so far limited to Spider-Man's body (especially concentrated in his hands and feet) and another object, with an upper limit of several tons per finger. At one point, Spider-man was able to prevent Anti-Venom from taking his mask off by making it stick to his face.

Mark of Kaine: Kaine, the formerly villainous clone of Spider-Man, has shown the ability to use his wall-crawling abilities in a more offensive manner, burning distinctive scars, known as the Mark of Kaine in the face of his victims. Later Spider-Man himself used a variation of the same ability to escape from The Green Goblin by making his fingertips cling to his face and tearing them away, digging five deep wounds in Norman's face. Despite the obvious offensive potential of such an ability, Peter claims that it is unlikely he will use it again, as it was a move born out of anger and desperation. In later events during the Grim Hunt arc, due to Peter's rage at Sasha Kravinoff over everything she put him and his 'spider family' through, he used his version of the Mark of Kaine on her, ripping the skin off her face in the shape of a hand print, proclaiming "This is from my brother." Limits to this ability seem to be psychosomatic, and the full nature of this ability has yet to be established.

Superhuman Strength: Spider-Man possesses superhuman strength enabling him to press lift approximately ten tons. Spider-Man's physical strength is sufficient enough to enable him to lift and throw objects as heavy as a big rig semi truck with ease. He must also pull his punches and kicks unless fighting someone of similar or greater physical durability. Otherwise, his blows would prove fatal to a normal human being. He has demonstrated that he is strong enough to enable him to knock out people with normal durability with as little as a tap to the head. Also during the Secret Invasion, Spider-Man was shown to be able to knock a Tyrannosaurus Rex into unconsciousness in one punch. Spider-Man's physical strength also extends into his legs, enabling him to be able to jump to a height of several stories in a single bound. Spider-Man demonstrated this when he leaped over thirty feet vertically into the air when he first leaped out of the way of an oncoming car; it should also be noted that when he first discovered his powers as a teenager, they had not developed to that of his prime.
Superhuman Speed: Spider-Man is capable of running and moving at speeds that are far beyond the natural physical limits of the finest human athlete. Spider-Man has showed to be fast enough to catch up to an accelerating car while on foot, but prefers to travel by webs.
Superhuman Stamina: Spider-Man's advanced musculature produces less fatigue toxins during physical activity than an ordinary human. This allows him to exert himself physically for much longer periods of time before fatigue begins to impair him. At his peak, Spider-Man can physically exert himself at his peak capacity for several hours before the build up of fatigue toxins in his blood begins to impair him. Several accounts depict Spider-Man as able to hold his breath for eight minutes or more.
Superhuman Durability: Spider-Man's body is physically tougher and more resistant to some types of injury than the body of a normal human. His body is more resistant to impact forces than anything else. He can withstand great impacts, such as falling from a height of several stories or being struck by an opponent with super strength, that would severely injure or kill a normal human with little to no discomfort. Spider-Man's body is durable to the point where tensing his super-strong muscles while being punched in the torso by a trained heavyweight boxer caused the attacker's wrists to break; also, Spider-Man has stated that he must roll with punches thrown by people without similar strength or durability to avoid breaking their wrists. He could also 'tank' a semi being tossed right into him by an out of control Venom to protect an innocent bystander without taking any damage.

Superhuman Agility: Spider-Man's agility, balance, and bodily coordination are all enhanced to levels that are far beyond the natural physical limits of the finest human athlete. Spider-Man is extraordinarily limber and his tendons and connective tissues are twice as elastic as the average human being's, despite their enhanced strength. He has the combined agility and acrobatic prowess of the most accomplished circus aerialists and acrobats. He can also perform any complicated sequence of gymnastic stunts such as flips, rolls, and springs. He can easily match or top any Olympic record at gymnastics apparatus such as flying rings, climbing ropes, horizontal bars, trampolines.
Superhuman Equilibrium: Spider-Man possesses the ability to achieve a state of perfect equilibrium in any position imaginable. He seems able to adjust his position by instinct, which enables him to balance himself on virtually any object, no matter how small or narrow.
Superhuman Reflexes: Spider-Man's reflexes are similarly enhanced and are currently about 40 times greater than those of an ordinary human. In combination with his spider-sense, the speed of his reflexes allows him to dodge almost any attack, or even gunfire, if he is far enough away. Spider-Man has even been shown in some cases, to be able to dodge gunfire using just his reflexes without his Spider-Sense.
Regenerative Healing Factor: Spider-Man has a limited healing factor. While not on Wolverine's level, it is sufficiently powerful enough to recover from severe injuries from broken bones and large amounts of tissue damage in a matter of days. After getting his powers, he soon found that his eyesight was repaired, discarding his glasses. During a battle with a villain called the Masked Marauder, Spider-Man is rendered completely blind, however after about 2 days his sight was perfect, albeit sensitive for about a day after.
Foreign Chemical Resistance: Due to his accelerated metabolism, Spider-Man has a higher tolerance for drugs and diseases than normal humans, and he can recover from the effects of larger doses rapidly. During an encounter with the Swarm, Spider-Man was incapacitated by thousands of bee stings, but recovered in less than 24 hours. His resistance and recovery time to other toxins and diseases varies, but is typically significantly higher than normal. Spider-Man's unique physiology even allowed him to recover from the effects of vampirism. Spider-Man was able to recover completely from acid being spat into his eyes by the new Vulture although the extent of the damage may have been restricted due to his superhuman durability. However, Spider-Man has the normal human tolerance for alcoholic beverages.

Spider-Sense: Spider-Man possesses an extrasensory "danger" or "spider" sense which warns him of potential immediate danger by the manifestation of a tingling sensation in the back of his skull, and links with his superhuman kinesthetics, enabling him to evade most any injuries, unless he cognitively overrides his automatic reflexes. The precise nature of this sense is unknown. It appears to be a simultaneous clairvoyant response to a wide variety of phenomena (everything from falling safes to speeding bullets to thrown punches), which has given several hundredths of a second warning, which is sufficient time for his reflexes to allow him to avoid injury. The sense also can create a general response on the order of several minutes: he cannot discern the nature of the threat by the sensation. He can, however, discern the severity of the danger by the strength of his response to it. Spider-Man's spider-sense is directional and can guide him to or away from hidden weapons and enemies. Sudden and extreme threats can cause his spider-sense to react with painful intensity. Spider-Man can also sense and dodge attacks directed randomly or by an artificial intelligence. Using his spider-sense to time his enhanced reflexes, Spider-Man can casually dodge attacks up to and including automatic-weapons fire, provided there is sufficient distance. His spider-sense is sufficiently well-linked to his reflexes to the point that a threat can trigger them even when Spider-Man is asleep or stunned. His spider-sense has helped him preserve his secret identity since it alerts him to observers or cameras when changing into or out of his costume. The spider-sense does react to those who Peter does not consider to be a threat, such as Aunt May. Spider-Man can choose to ignore his spider-sense, and distraction or fatigue diminish its effectiveness. Spider-Man's fighting style incorporates the advantage that his "spider-sense" provides him. His body begins to produce more adrenaline after the sense is triggered, an extension of the 'fight or flight syndrome.' Even when he does not have the use of his eyes Spider-Man can still use his Spider Sense in a similar fashion to Daredevil's Radar Sense to help him see by sensing the direction the danger is coming from by listening on the loudest noise around him. This was first used after Spider-Man was temporarily blinded by a device, but was recently used again to help see the Vulture after his acidic breath blinded him. While he temporarily lost it during his battle with the Spider-Slayers, it was restored during the Spider-Island story-line.

Radio Frequency Detection: Peter's spider-sense also enables him to track certain radio frequencies, which he has used to his advantage via his Spider-Tracers.
Former
Spider-Man received several upgrades in recent years as a result of two different adventures, the first via the genetic manipulations of the Queen, and subsequently during the Other's evolution. These powers were later presumably removed following the One More Day saga.
Queen's Mutation: Following an encounter with an enemy known as the Queen, and her genetic manipulations of Peter's body, his Spider powers were augmented to varying degrees.

Enhanced Superhuman Strength: Originally able to lift 10 tons he could now lift about 15 tons.
Psychic Alignment with Arthropods: Peter's spider-sense improved, creating a psychic alignment with his environment, specifically a more empathic and sympathetic relationship with spiders and insects. While connected to the varying populations of spiders he was unable to communicate with them directly or command them. In one instance, spiders voluntarily covered his unconscious body, concealing him from Shathra's predation.
Biological/Organic Webbing Generation: Spider-Man was also gifted with the ability to organically produce his own silk webbing from glands within his forearms, limited by his body's health and nutrition. These organic webs had many of the same properties as Spider-Man's artificial webbing, so he had no trouble utilizing them, though they required a week to decay rather than two hours. The silk was released through a spinneret near each wrist containing a central web spigot orifice used for web-slinging and drag lines, supplemented by several radial minor spigots for other types of webs connected to specialized glands.
The Other Evolution: After a near death experience fighting Morlun, Spider-Man's body underwent a metamorphosis that granted him greater power than ever before, having literally shed his skin.

Enhanced Superhuman Strength: Spider-Man's superhuman strength was enhanced as a result of his evolution by the Other, allowing him to lift up to 20 tons.
Enhanced Superhuman Durability, Speed, Agility, and Reflexes: Spider-Man's durability, speed, agility, and reflexes were all enhanced even further as a result of his evolution, allowing him to run fast enough to chase an automobile, perform even greater feats of agility, and react much quicker than even before.
Psychological Awareness of Environment: Perhaps as an upgrade to his spider-sense and his psychic alignment with arthropods, Spider-Man received psychological awareness of his environment as a whole, allowing him to traverse across any environment without fear, even when blinded or in extremely dark conditions. Spider-Man could ascertain non-threatening information, such as detecting the concealed presence of loved ones.
Night Vision: Spider-Man received enhanced night vision as a part of his evolution by the Other, allowing him to see in pitch-black conditions.
Vibration and Air Current Sense via Hair and webbing : Along with night vision, Spider-Man gained superhuman sensitivity via touch, allowing the hairs on his body to sense air currents around him and vibrations via his webbing.
Enhanced Regenerative Healing Factor Spider-Man gained the ability to rapidly recover from severe injuries such as broken bones and large amounts of tissue damage in a matter of hours. Ambushed by the Rhino he received heavy bodily damage, only to heal before the issue was over without medical attention. Peter was heavily beaten and drugged, suffering multiple fractures and blood loss by the Jack O' Lantern and Jester in "Civil War," yet was almost completely healed in the next issue.
Hibernation Healing: Only used once. Peter was able to come back from near death due to making a cocoon with his webbing, and hibernating with in it. He also shed his skin to heal, as most spiders due once in their life time.
Stingers: Spider-Man developed retractable, razor-sharp stingers that were located within his arms beneath his wrists. They released a polyamine venom, causing direct trauma and/or flaccid paralysis via interference with nerve impulse transmission. While a typical injection could paralyze a normal adult human for several hours, the impalement proved fatal to the nigh-invulnerable Morlun. How it pierced Morlun's skin is yet unknown, and may have involved mystical factors. Parker had subconsciously extended his stingers in response to stress later on.
Fangs: Spider-Man grew a mouth full of razor sharp fangs that he used to land the fatal blow to Morlum.
Captain Universe: When Loki created the Tri-Senitel, Peter gained greater powers.

Enhanced Superhuman Strength: Spider-Man's superhuman strength was enhanced as a result of his evolution by the Other, allowing him to throw the Hulk all the way to space.
Enhanced Superhuman Durability, Speed, Agility, and Reflexes: Spider-Man's durability, speed, agility, and reflexes were all enhanced even further as a result of becoming Captain Universe.
Flight: Spider-Man gained the ability to fly. His speed was so fast, he was able to get the hulk from space in some minutes.
Energy Blasts: Spider-Man gained the ability to shoot energy blasts from his hand.
Enhanced Spider-Sense: Spider-Man's Spider-Sense got so enhanced it actually was able to sense everything.
Superhuman Sight and Hearing: Spider-Man was able to hear and see danger from far away.
Molecular Change: Spider-Man could use this ability to make his webbing as hard as Adamantium or simply change its shape.
Mindwipe after "Brand New Day": Although not technically a power, the worldwide mindwipe of Spider-Man's identity as Peter Parker was part of Mephisto's deal to save Aunt May in "Brand New Day" and Dr. Strange's spell in "One Moment in Time". Spider-Man is aware that the whole world has forgotten his secret identity, and describes it to Mister Fantastic as a "psychic blind spot," where any evidence which could lead to Spider-Man being Peter Parker, people would not be able to connect the dots, or they would come up with the wrong solution, but would accept it as the right one regardless. Not only people's memory was affected, also every electronic and paper file was modified to have "inexplicable" gaps wherever any data useful to identifying him or his family members would otherwise be. If Spider-Man was to unmask himself - or be unmasked, then any related people witnessing the incident, would have their memories returned. Mister Fantastic claims to be able to duplicate the "firewalls" for himself and the Fantastic Four, allowing Spider-Man to safely tell them his identity without fear of compromising his secret. Due to the events of the Spider Island arc, (when Peter put a video of him having spider-powers on the Internet) while Spider-Man's identity is still kept secret from the mindwipe, the effects of the psychic blindspot supplied by Dr. Strange has been weakened, making it possible for someone to correctly suspect that Peter Parker is Spider-Man if they are able to which led Carlie Cooper to suspect this resulting in her breaking up with Peter.
Abilities
Indomitable Will: Spider-Man has a strong Force of Will, completely free of evil and temptation. For years, he has struggled to balance his life as a student and his superhero duties. He is able to emerge from defeat even stronger. His mental strength is also shown when he successfully wrestles control of nanobots from Doctor Octopus.
Genius-level Intellect: Academically gifted, Peter displays an uncanny affinity for science that is nothing short of genius. According to Parker his IQ is north of 250. Peter Parker is even able to hack Tony Stark's technology, as he once managed to hack a fail-safe program Tony Stark put into an suit he gave to Peter.
Science Major: He is a brilliant individual, with exceptional skill in practically every field of science, and is an excellent inventor.
Skilled Photographer: Peter is a very skilled photographer.
Master Acrobat: Thanks to his great strength and phenomenal equilibrium, Parker is an excellent athlete, excelling in all gymnastic fields and being able to perform every acrobatic stunt ever performed, including others that can never be performed by even an Olympic acrobat.
Master Combatant: Due to his life being bullied and pranked as a young teenager to acquiring amazing superhuman capabilities and combining them with his scientifically adept and creative mind, Parker has through time become an excellent hand-to-hand combatant utilizing a fighting style that directly complements his superhuman abilities. His methods are volatile, enabling him to rival practically all types of combatants. He has also received martial arts training from Captain America in his own fighting style. As a means to compensate for the temporary loss of his spider-sense, Parker also received formal combat training from Shang-Chi through the recommendation of the new Madame Web (Julia Carpenter). Together, they created a new martial art style, the 'Way of the Spider', and Peter's skill with it has substantially increased following the return and amplification of his Spider-Sense. During the Ends of the Earth, he was able to defeat Spider-Woman despite her own training from S.H.I.E.L.D. and HYDRA..
Weaknesses
Unlike many superheroes, Spider-Man does not have a weakness he is automatically vulnerable to, but in recent years methods have been created to render him vulnerable.
Current
Spider-Sense Disruption: Spider-Man's Spider Sense can lose its effectiveness if it is blocked or temporarily weakened by specialized equipment or certain drugs. It also would not trigger if it detects something that is not registered as a threat like the Spider-Man clones or the Venom symbiote and its offspring and Anti-Venom. When deprived of his spider-sense, Spider-Man becomes vulnerable to surveillance and attack, and web-slinging requires most of his concentration.
Ethyl Chloride: Perhaps as a side effect of gaining his powers, Spider-Man is susceptible to the pesticide ethyl chloride. This chemical is frequently used as a weapon by the Spider-Slayers.
Bad Luck: Not exactly a flaw or a disadvantage in his crime-fighting, Peter Parker's life is generally a complicated one. Peter has been forced in numerous occasions to lie to people close to him, be late in his commitments, get away from people and so on for the sake of his secret identity. This inherent difficulty to get his superhero life a secrecy, matched with the number of superhuman events and beings in New York and simply coincidence has in turn, lead Peter to aggravate people around himself, even ones close to himself, and to, more often than not, run into trouble and embarrassment. As Peter often remarks whenever he misses an opportunity to better his social life, improve his finances, or even get to work on time, (due to his super-heroics), "Typical Parker Luck."
Former
Anti-Venom's Proximity: Anti-Venom's failed attempt to cure Spider-Man of his radioactive blood resulted in Spider-Man's powers slowly canceling out whenever Anti-Venom is too close to him. Also if Anti-Venom binds him with his own webbing abilities it will also negate Spider-Man's powers until Spider-Man can get it off his body. This weakness no longer applies due to Eddie Brock sacrificing the Anti-Venom Symbiote to cure the population of New York during the Spider-Island story-line.
Paraphernalia
Equipment
Current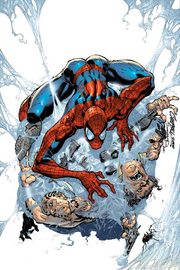 Web-Shooters: Parker's brilliance at physical science allowed him to create web-shooters for use when he became Spider-Man. The twin devices worn on his wrists are able to shoot thin strands of a special "web fluid" at high pressure.

Web Fluid: A shear-thinning liquid, virtually solid until a shearing force is applied to it, rendering it fluid, whose exact formula remains unknown, but is rumored to be related to nylon. The web line's tensile strength is estimated to be 120 pounds per square millimeter of cross section.
Utility Belt: Spider-Man keeps a utility belt holding web cartridges and his signature Spider-Signal.
Former
Black Suit: During the Grim Hunt arc, Peter finds a coffin with Kaine's corpse in it along with a black suit resembling the symbiote costume he used to wear with a note from Kraven reading "Hunt Me". He then puts it on and goes on to take revenge on the Kravinoff family for killing his "brother", but he eventually stops himself. This suit was last seen in storage in Peter's office at Horizon Labs.
Spider-Armor MK II: Peter created version 2.0 of his Spider-Armor to compensate for the loss of his Spider-Sense, due without this ability he can be easily wounded by bullets.
Future Foundation Costume: A special outfit designed by Reed Richards for Spider-Man's use as part of the Future Foundation. The costume is designed with third generation unstable molecules, allowing him to alter its styling by thought, permitting him to change his costume from the classic to the Future Foundation one. Beyond that, it still functions the same way the normal costumes do.
Spider-Armor MK III Created by Peter with Horizon Labs's resources to fight the Sinister Six if needed.
Horizon Labs identi-card: As Horizon Labs creative engineer, Peter has his own indenti-card.
Spare Fantastic Four Costume: When Reed Richards first examined the alien symbiote and separated it from Peter, he was left without a costume and could not simply go web-slinging undisguised as it could reveal his identity. At the mercy of the Human Torch, he was given a spare Fantastic Four costume and a paper bag as a mask, temporarily becoming what Johnny dubbed: "The Bombastic Bagman!" The suit itself was made of unstable molecules, insulated the wearer from electrical assaults and performed all other functions any of the Fantastic Four's own suits would.
Spider-Armor MK I: In order to fight the New Enforcers, who were heavily armed, Peter developed a steel-plated version of his costume; The "steel plates" were actually derived from a pseudo-metallic composition that Peter created while in the laboratory of Empire State University. Unfortunately for Peter, it was destroyed by acid, and was never recreated or duplicated again.
Iron Spider Armor: Tony Stark developed an armored suit for Spider-Man in light of events. Supported by a system similar to that of Stark's classic Iron Man design, it featured many gadgets. It was used for the majority of the Superhero Civil War until Spider-Man defected, going back to his classic red & blue threads after the armor was destroyed in battle.
Stealth Suit Created to combat the Hobgoblin's sonic Screams, the suit warps light and sound around him, rendering him invisible. Used by Spider-Man's clone Kaine to defeat Spider-Queen during Spider-Island. After the events the costume was never returned to Peter.
Electro Proof Costume This suit was created by Spider-Man in order to protect himself from the villain Electro and his powers in a battle alongside the X-Men against the villain.
Tranportation
Current
Spider-Man's main form of transportation is "web slinging" with the aid of his spider-webs. Spider-Man was able to keep pace with Captain Marvel at his best speed, surprising the Kree warrior, although Spidey mentioned it was mostly due to his practice with web slinging over his career.
Former
Media
Films
Spider-Man/Peter Parker has played been in 5 live action films to date, and has been played by 3 different actors.
Video Games
To date Spider-Man/Peter Parker has been in all Spider-Man related video games.
1980's
1990's
2000's
2010's
Marvel vs. Capcom 3 (2010 video game)
Ultimate Marvel vs. Capcom 3 (2011 video game)
Marvel: Avengers Alliance (2012 facebook video game)
Marvel Avengers: Battle for Earth (2012 video game)
Marvel Heroes (2013 video game)
Lego Marvel Super Heroes (2013 video game)
The Amazing Spider-Man 2 (2014 video game)
In Television
1970's
1980's
1990's
2000's
2010's
Notes
Spider-Man is a possible Protestant.
Trivia
Peter Parker is smart enough to hack Tony Stark's technology, since once Peter managed to hack a fail-safe program Tony built into the Iron Spider Armor he made for Peter during the Civil War event.
In Avengers (Volume 4) issue #12.1, Peter Parker states and jokes toward Captain America that he plays World of Warcraft (also known as WoW) and is a Level 27 rogue.
Spider-Man was ranked 3rd on IGN's Top 100 Comic Book Heroes in 2011, the highest ranking of any Marvel character that was on the list.
Ever since Peter's Uncle Ben took him to see a science fiction movie when he was little, Peter since then, has always been amazed by and loved science.
The first super-powered villain Spider-Man ever encountered was Supercharger in Amazing Fantasy #18.
J. Jonah Jameson was the guest speaker at Peter Parker's high school graduation ceremony.
On several occasions, Spider-Man has been mistaken as a mutant. At one point, J. Jonah Jameson actually sent him to the X-Factor for confirmation, and another, he was hunted down by the Hellfire Club until the misunderstanding was corrected. If he was a mutant, Spider-Man would likely have belonged to the mutant sub-species Homo Insectus (that of the Spider-Queen) or a sub-sub species, homo arachnis. In an alternate reality where mutants where the dominant species culturally and demographically, Peter Parker posed as a legitimate mutant to achieve fame.
Spider-Man's famous mantra "with great power, comes great responsibility" is often attributed as a quote from Uncle Ben, however it was originally the concluding lines of narration to his first appearance in Amazing Fantasy #15, the anonymous narrator explaining the moral of the story, not advice from his beloved uncle. As this was the lesson he learned from his uncle's death, it slowly became associated with Uncle Ben, and the 2002 film chose to have the famous phrase come directly from Ben Parker as advice to the newly powered Peter and this is how the origin of the phrase is commonly misunderstood now.
Once Spider-Man attacked Iron Man And was able to hold him in his web securely for a very long time
See Also