| | |
| --- | --- |
| | Please note that this article is about the very first Spider-Man from Amazing Fantasy #15. For alternative versions of this character, click here. |
"You can live every day of your life trying to think of something more profound or more on the nose... but for us, for people like us, who suddenly find themselves looking out at a crazy world and not knowing what the hell we're supposed to be doing in it... I can tell you that just remembering that with great power comes great responsibility... can completely define you."
— Peter Parker
Spider-Man
Full name:
Peter Benjamin Parker
First Appearance:
Amazing Fantasy #15
Created by:
Stan Lee and Steve Ditko
Home Universe:
Earth-616
Alignment:
Good
Status:
Alive
Place of Birth:
New York City, New York
Citizenship:
American
Base:
New York City
Affiliations:
CEO of Parker Industries; formerly Horizon Labs, The DB!, Daily Bugle, Daily Globe, Tricorp Research
Avengers, Future Foundation, Heroes For Hire, New Avengers, Secret Avengers, Superhuman Task Force (Pro-Registration Superheroes), Outlaws, New Fantastic Four, Secret Defenders, mentor and ally to the Misfits, Frightful Four
Powers/Abilities:
Spider Powers
Height:
5' 10" (1.78 m)
Weight:
167 lbs (76 kg)
Hair Color:
Brown
Eye Color:
Hazel
Unique Features:
None
Peter Benjamin Parker (of Earth-616), also known by his superhero alter-ego Spider-Man, is a fictional comic book character who has appeared in all forms of Spider-Man media, and many comic book series published by Marvel Comics.
He was created by writer-editor Stan Lee and writer-artist Steve Ditko. He first appeared in the Amazing Fantasy #15 in August of 1962.
History
Early life
Peter Parker was orphaned at the age of six when his parents were killed in an airplane crash overseas. He went to live with his uncle and aunt, Ben and May Parker, in Forest Hills, New York. Peter was extremely smart and worked his way to become an honors student at Midtown High School. However, Peter's shyness and scholastic interest often made him a social outcast, being overshadowed by the likes of high school bully, Flash Thompson, among other popular kids.
While attending a public exhibition field trip demonstrating the safe handling of nuclear laboratory waste materials, sponsored by the General Techtronics Corporation, Peter was bitten by a radioactive spider that had been irradiated by a particle accelerator used in the demonstration. Making his way home afterwards, Peter discovered he had somehow gained incredible strength, agility, and the ability to cling to walls; spider-like traits that he immediately associated with the spider bite.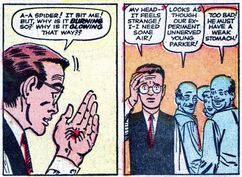 Becoming Spider-Man
After seeing an ad offering a cash prize to anyone who could last three minutes in the ring with a professional wrestler, Peter decided this would be the perfect way to test his powers. Wearing a mask to avoid potential embarrassment, Peter easily defeated his opponent. A television producer observed his performance and convinced him to go on television with his 'act.' After designing a red and blue costume and some wrist-mounted web-spinners, Peter appeared on the show calling himself Spider-Man and became an immediate sensation.
Following his first television appearance, Peter purposely neglected to stop an escaping thief, claiming that it was not his responsibility to do so. Peter forgot the incident as his fame rose, but one night he returned home to discover that his Uncle Ben had been murdered while trying to stop a burglar.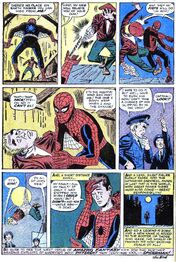 Learning the police had the burglar responsible holed up in a warehouse, Peter donned in his Spider-Man costume and went to avenge his uncle. After cornering the criminal in the warehouse, Peter unmasked the robber, only to find it was the same man who he let escape earlier. After knocking the criminal out and lowering him to policeman via webline, Peter returned home and thought about how he could've stopped the man when he had the opportunity.
Filled with remorse, he realized that with great power, there must also come great responsibility. Peter eventually found himself consumed by the concept of adventure and heroism. That, along with the lesson in responsibility that was recently drilled into his head, inspired him to take that fateful step into the shoes of heroism, as the Amazing Spider-Man, New York's newest street level hero.
Taking on Great Responsibility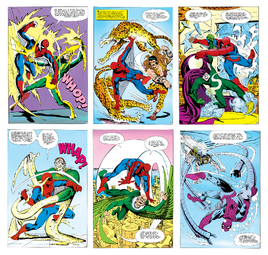 With the choice to become a hero, Peter thought it was a good idea to join the
Fantastic Four
because he thought they were paid for their good deeds.
As Spider-Man, Peter gave up a good portion of his own personal life. He had less time to spend with his family and friends, and as a result, less time was devoted to his school work. During this time, Peter's grades began to suffer, as did his relationships with others.
However, the one person who found him to be a "swell fellow" was Betty Brant of the Daily Bugle. Peter met her on one of his first visits to the Bugle, where he was introduced to her boss and Spider-Man's number one critic, J. Jonah Jameson.
Her boss was determined to make Spider-Man public enemy #1, unaware of the fact that Spider-Man and Peter Parker were one and the same. Betty and Peter developed an almost instant connection with one another, and soon started a relationship with one another that did not last long.
During this time, Peter would meet some of his infamous foes as Spider-Man. He would face and defeat the likes of  Doctor Octopus, Electro, Kraven the Hunter, Mysterio, Sandman, the Green Goblin, Scorpion and Vulture.
One day after being beaten many times in a row by Spider-Man, Doctor Octopus would bring together six of them in a new supervillian group called the "Sinister Six" and kidnap Aunt May and Betty Brant to end Spider-Man's life once and all, but didn't work since Spider-Man picked them off one by one.
Along Peter's adventures, Spencer Smythe would come to help J. Jonah Jameson in trying to defeat Spider-Man by building a "Spider-Slayer" robot with Jonah's face on the robot.
Spider-Man would also meet Daredevil and team-up with the Fantastic Four's Human Torch from time to time to fight crime.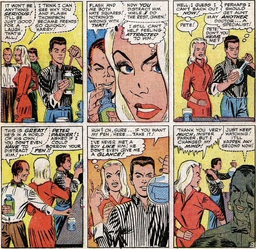 College Life
Peter evenually graduated from Midtown High School and enrolled at Empire State University with a science scholarship. Peter would also finally meet Mary Jane Watson, someone that eluded him for so long. After becoming friends, Mary Jane would start to date Harry Osborn.  
At ESU, Peter met new classmates, Harry Osborn and Gwen Stacy. Even though he got off to a bad start with Harry, The two eventually warmed up to each other. Peter showed an interest in Gwen and started to date her. Peter also made amends with his ex-school bully, Flash Thompson who was drafted to the army, but came back for visits every now and gain.
Old faces, new foes
Meanwhile, the Green Goblin starts to come up with a plan to discover Spider-Man's secret identity and reveal it to the entire world after upgrading his flying broomstick to a glider. The Green Goblin devised a plan to have some goons release a gas that would weaken Spider-Man's spider-sense that would allow the Green Goblin to follow Spider-Man find out who he was.
After a successful plan via a rooftop battle, Goblin stalked Spider-Man to an alleyway and discovers that Peter Parker and Spider-Man were the same person, and was surprised that a mere "kid" was the one taking him down all the time.
Green Goblin then kidnaps Peter after a battle where Peter lost. After tieing Peter up in his Spider-Man costume, Norman Osborn unmasked himself as the Green Goblin and Harry's father all along. After Peter got loose during Norman's speech, a battle started between the two of them where Norman ended up suffering trauma to his head and forgot he was the Green Goblin and Spider-Man's secret identity. 
After Norman's unmasking, Spider-Man fought new foes such as the the Rhino (a man named Aleksei Sytsevich in a Rhino like suit) who kidnapped John Jameson, with Spider-Man coming to save the day. Also, a man named Herman Schultz who dubbed himself as the "Shocker" used shock wave gauntlets to commit crimes. Both became crime committers that Spider-Man defeated regularly.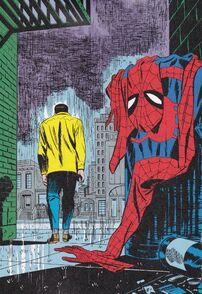 Peter eventually started wondering if he may be better off not being a normal civilian and leaving behind his Spider-Man costume and crime fighting, since no one seemed to appreciate the good deeds Spider-Man did. After much thinking, a man named Wilson Fisk known as the
Kingpin
, abducted J. J. Jameson. Peter decided it was his responsibility to be a hero for any and everyone, no matter what people said about Spider-Man and saved J. Jonah Jameson.
A mystic object called the Tablet of Life and Time, that was in Peter's college at the time, was taken by Kingpin. After being in the possession of many people, the Tablet got to the Maggia boss, Silvermane, who forced Curt Connors to translate the tablet's ancient writings. Connors was also forced to create a powerful youth serum from it for Silvermane. After Silvermane drank the serum, it appeared to work and he became a young man again. However, the serum made Silvermane's body to degenerate pass a human's baby stage. After this, Connors turned into the Lizard again and escaped. Spider-Man then teamed up with the Human Torch to take him down.
Spider-Man also meets the Prowler and a new costumed Black Widow, people who he would meet and clash with regularly in the future.
Another version of the Spider-Slayer would come about in the form of a "Mark II" with J. Jonah's face on the robot that Spider-Man once again defeated.
The Death of the George Stacy
Using his mental sync with his tentacles, Doc Ock controlled his tenticles from prison to free him. They freed him and he started to hijack a plane. Spider-Man prevented Doc Ock from hijacking the plane and destroying the city's power plant. Spider-Man thought he stopped Doc Ock, only to be caught by surprise the very next day. Spider-Man and Doc Ock took their fight to a rooftop where the intense battle caused the building to fall apart. Some of the falling debris from the battle was closing in on  a child, and at the last second, George Stacy saved the child, at the cost of his own life. 
After defeating Doc Ock, Spider-Man ran over to George to see if he was okay. George then admitted that he knew Spider-Man and Peter Parker were the same person (much to the surprise of Peter) then died in Spider-Man's arms.
Afterwards, Peter faced many superheroes, thinking he was one who killed George Stacy. Such as the X-Men's Bobby Drake (Iceman) and the Prowler (Hobie Brown). After proving himself to them, he went to London to try to prevent Gwen from leaving New York because of hers father's death.
Four arms, more baddies and helping Hulk
With his life as Spider-Man only causing him trouble, Peter starts to make a formula that will take away his Spider-Powers. After going to sleep, then waking up, Peter saw that he had an extra four arms on his sides. Stressed for help, Spider-Man went to Curt Connors for help to make a cure for his extra four arms, while trying to help Connors to become the Lizard again. Spider-Man encountered a more villains such as a man called 
Michael Morbius
, a vampire who wanted to kill Spider-Man, the Beetle and more Spider-Slayers.
Peter eventually returned to normal, shortly after helping the Hulk fight Doc Ock and Hammerhead in Canada.
The Death of Gwen Stacy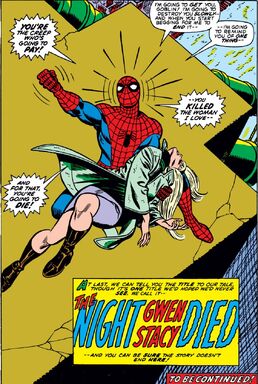 All seemed normal for both Peter Parker and Gwen Stacy, as well as Peter's life as Spider-Man doing his job as usual. Seeing that none of his friends were paying attention to him, Harry fell to LSD. However, Norman Osborn's alter-ego as Green Goblin resurfaced, and he suited up as the Green Goblin to kidnap Gwen Stacy. Spider-Man found them at the top of the
Brooklyn Bridge
, where the Goblin was holding Gwen. After a few words, Goblin dropped Gwen off the bridge to kill her.
Naturally, Spider-Man dived after her and after seeing his speed could not match hers, he spun a web to catch her by her leg. Due to the fast stop, Gwen's neck snapped and she died right as she was stopped. Goblin then told Spider-Man that it was impossible for him get Gwen, since she was falling to fast and he knew the web would kill her. Holding her dead body, Spider-Man was enraged and took after Goblin. In an ally, Spider-Man was so angry he started to beat Goblin, almost to near death with Goblin being surprised that Spider-Man snapped and unleashed his full strength upon him.
Up against a wall, Goblin activated his glider to impale Spider-Man. However, he did not account for Spider-Man's Spider-Sense and he jumped out of the way and the Goblin impaled himself and died. With Goblin dead, Peter reflected on how he could have killed Goblin since he was using his full strength. Afterwards, Mary Jane consoled Peter after the death of Gwen.
Having fingers pointed at him for the death of both Stacys, Spider-Man was confronted by Luke Cage and the Punisher, only to prove himself and befriend them both. Soon after, Harry Osborn (Norman Osborn's son) took the mantle of the Green Goblin and kidnapped Flash Thompson, Mary Jane and Aunt May. Spider-Man found Harry at his father's old home and had him arrested and freed his friends.
The original Clone Saga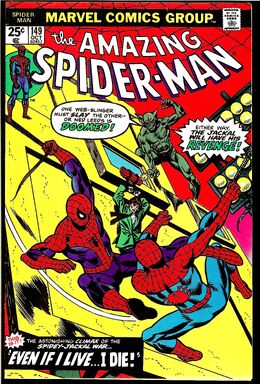 After the death of Gwen Stacy, Peter was in a state of depression that almost led him to quit being Spider-Man altogether as he regularly blamed himself for Gwen's death. 
After many months of grieving, Gwen Stacy pops up, seemingly alive with no real explanation. Peter as Spider-Man investigated this sudden return of Gwen, and would come to find out that her return was the work of a new villain called the "Jackal" who was actually Miles Warren, one of Peter and Gwen's biochemist professor at Empire State University where they both studied.
It was revealed that Miles had fallen in love with the young Gwen Stacy when she was alive. But when Gwen died, Miles was driven into insanity and sought to clone her, to bring her back to life, while blaming Spider-Man for her death.
After many failed attempts, Miles made perfect clones of Gwen Stacy and even Spider-Man. With this new clone of Spider-Man made, Miles tells the clone that he is the original Peter Parker and kidnaps the original Peter Parker to do battle with Miles' clone who thought he was the original Peter Parker.
After much battle, the two Spider-Men decide to team-up against Miles, while he was planting a bomb nearby. After attempts to prevent Jackal from escaping, the bomb goes off, seemingly killing one of the Spider-Men and Jackal.
Peter drops the body of the dead Spider-Man in an incinerator and starts to perform a genetics test on himself to see if he is the first and original Peter Parker. However, nervous from the entire experience and what the result will be, Peter does not look at the test results and claims that he is the real Peter Parker because he remembers having feelings for Mary Jane before the clone appeared, and comes to a conclusion that he is the first and original Peter Parker, and continues his role as Spider-Man. 
The clone of Gwen Stacy hopes to move on with her life by leaving Empire State University to start over somewhere new.
A "friend" from outer space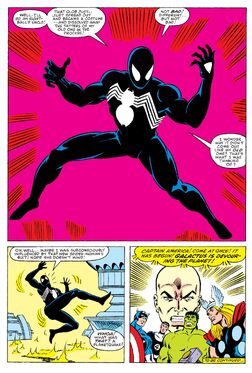 While reading a newspaper about certain heroes going missing, Spider-Man was zapped out of New York and into Battleworld, created by the Beyonder.
Spider-Man fights alongside the heroes, but during a battle of heroes vs. villains, Spider-Man's costume is ripped and damaged. The heroes point out the base where Spider-Man can get a new costume of some kind and he head over. Spider-Man then witnesses a black floating ball that morphs around himself, getting rid of the rips in his costume, but making it completely different and entirely black with a giant white spider on the chest and eye pieces.
Spider-Man takes the costume and continues to fight alongside the heroes to stop Galatcus from devouring the planet.
After the first Secret Wars is over, most are sent back to where they came from including Spider-Man, who popped up back in New York. Every noticed Spider-Man's new costume and he decided to keep it. However, he started to notice some new features about the costume that his old one didn't have. This new black costume had it's own stronger and organic webbing and it was able to turn into regular clothing on command.
During his time with the black suit, Spider-Man caught a murderer the "Sin-Eater" whom Edward Brock was writing about in the paper. After publishing the man's identity in the paper and the supposed dialogue he had with him, but after Spider-Man discovered the real Sin-Eater and brought him to justice, it was revealed that Eddie was making the entire thing up and was blackballed from all media outlets. This made Eddie angry and made him grow a deep hate for Spider-Man for ruining his life.
Meanwhile, Spider-Man had questions about his new suit, since it made him web Black Cat back into his arms and the suit was taking out Spider-Man at night while he was asleep to fight crime. Unaware of the latter but still tired, Spider-Man web swung to the Baxter Building to enlist the help of Reed Richards of the Fantastic Four who was eager to study the costume.
After some testing, it was found out that the black suit that Peter was wearing actually an alive symbiote and was trying to permently bond with Peter, the host. Peter tried to get the suit off, but the symbiote was only getting tighter around him. 
Mr. Fantastic finally decided to blast it off Peter using a Sonic Blaster he had and keep the symbiote for study. Peter swung back home in a spare Fantastic Four costume, happy that the symbiote was off him.
Meanwhile later that night, the symbiote snuck out of Reed Richards' lab and got itself back onto Peter by changing transforming into Peter's classic red and blue classic costume. Peter put it on, and the symbiote made itself apparent once more. Worried, Peter gambled that the Our Lady of Saints Church bells would produce a sound intense enough to get the symbiote off him once again.
However, Peter passed out before the symbiote did. Feeling sorry for Peter and confused, it willingly left Peter, weak and alone.      
The Rise of Venom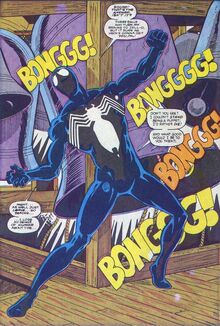 The Symbiote, weak and dying, slithered down into the church where Eddie Brock was, and bonded with him. Eddie dubbed himself "Venom" and waited and watched Peter as Spider-Man to strike at the right time.
Peter returned to his red and blue classic, but Black Cat adore his former black symbiote so she made him a cloth version that Peter could wear and get off easy. 
As Spider-Man, Peter fought crime as he usually does but twice he was almost killed. Waiting for the train, Peter was pushed into the train tracks and while on a building, Peter's foot was grabbed, almost making him fall to his death if he didn't act quick enough. Both times, something got past his Spider-Sense and Peter was unknown who was behind this.
Posing as Peter, Venom finally made a move on Peter by kidnapping Peter's wife, Mary Jane. He awaited the fight with Spider-Man as Eddie wanted to kill him for ruining his life.  Although Venom's twisted sense of morality did not allow him to physically harm Mary Jane, Spider-Man immediately realized the nature of this threat and he got the Sonic Blaster from Reed Richards to use it against Eddie.  

Meeting at the same church where Peter tried to get the symbiote off him, Peter uses the Sonic Blaster on Eddie, only to find out that the symbiote had a stronger bond than ever with Eddie and the Sonic Blaster barely fazed him.
During the battle between the two, Spider-Man escaped webbing that Venom trapped him in and decided to make Eddie use up all his webbing, which the symbiote itself was getting the webbing from, with Venom tired from expelling so much webbing, Spider-Man used this and defeated Venom.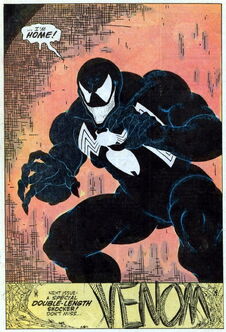 Spider-Man then brought Venom to the Fantastic Four who imprisoned him in a sonic containment cell, which kept the symbiote at bay from Eddie and kept him sleep for a while. The Fantastic Four then shipped Venom to the government super-prison in the Colorado Rockies called the Vault.
A young guard named Hugh Taylor who had just been assigned to the Vault was fooled into thinking that Venom was a fallen colleague and released the gate mechanism, which Eddie used to his advantage to rebond with the symbiote, kill the guard and escape back to New York City, where he confronted Spider-Man for another fight.
This time, Spider-Man used reverse psychology towards Venom, by taunting the alien symbiote to return to him. The alien, wanting to be with Spider-Man again, attempted to leave Eddie and to re-bond with Spider-Man. However, the trauma of trying to detach itself from Brock's nervous system was too much to bear for the symbiote.
The alien costume felt unconscious, as did Eddie, and both were returned to the Vault.
The Continued Clone Saga
Spider-Phoenix
After receiving a letter from Captain Britain at the Daily Bugle asking for Spider-Man's assistance, Peter goes out to ally and help the Excalibur team. 
After seeing Rachel Summers down, the Phoenix Force saw a new host in Spider-Man, as they fuse to become what he called, "Spider-Phoenix" for a short while to attempt to save Captain Britain from what he thought was D'Spayre and Nightmare attacking. 
With his nearly limitless power, Spider-Phoenix killed Nightmare and D'Spayre easily, but they turned out to be robots. The Phoenix Force quickly left Peter, as he becomes normal again. 
The Final Chapter
A New Lease on Life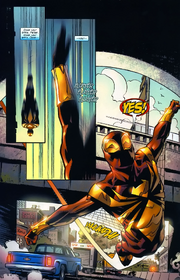 During the events of Civil War, heroes were urged to choose a side. Either give up your secret indetity to the government and work for them and or S.H.I.E.L.D., or be unregistered and be arrested on sight.
At first, Spider-Man chooses Tony Stark's side of Pro-Registration and allies himself with Iron Man among other heroes.
While at a rally, Tony urges Peter to reveal his secret identity, which Peter does saying "My name is Peter Parker. And I've been Spider-Man since I was 15 years old." to which is broadcasts on every news station.
After this, Tony even goes as far as making Peter an entirely new Iron Spider Armor that grants Peter enhanced strength, waldos and the ability to fly, the ability to change his costume by thinking and more.
However, after Tony makes a clone of Thor that kills someone, Peter confronts Tony alone to question how far he will go to prove his point. This leads to a disagreement with Tony and Peter that leads Peter to fight Iron Man in his office. 
The fight goes outside, with Tony seemingly having the upper hand telling Peter what kind of person he would be if he didn't install safeguards in a suit he made. Peter surprises Tony by yelling a passcode that webs up Iron Man's helmet, blinding him.
Using this as an escape, Peter goes underground, only to be found by Frank Castle and brought to Captain America's bunker, where they treat Peter for his injuries.
Spider-Man then dons his classic costume, and joins Captain America's side against Iron Man's forces.
After a final battle in Manhattan, Captain America sees the chaos and destruction that is brought to the city as a result of the superheroes fighting. Captain America tells his side to stand down, as he unmasks to allow the police to arrest him and bring him to trial.
However, as he brought to court, Captain America is shot twice and dies from loss of blood. Just about every Marvel superhero, X-Men, Avenger and Fantastic Four are present at Captain America's funeral to pay respects, including Peter as Spider-Man to bid their farewell to the once great leader of the Avengers.
Back in Black
Deal with the Devil
24/7 Hero
Body Switch
When he discovered he was dying, Doctor Octopus projected his mind into Peter's body, leaving Peter to die in Otto's failing one. Otto, now having Peter's body and powers vowed to destroy Peter's life for all the pain he did to Otto when he was in his dying body.
Peter, now in Otto's body tried to think of plan to switch back bodies with Otto, now in Peter's young body. This included breaking out supervillains to help Peter as Otto gain back his young body.
Peter made a tiny robot that would force switch Otto and Peter into the correct bodies once more, however upon activating this robot, it was revealed that Otto as Peter shielded his head so that another body switch couldn't happen. Otto as Peter sees himself as the victor, finally killing Peter Parker after a fall from a high building. 
Peter as Otto didn't give up, as he forced Otto to see all the past memories, failures, events, success, and death that Peter Parker has dealt with. Otto then feels sorry for all Peter has had to deal with, as he holds Peter in Otto's body in his hands. Peter in Otto's body tell him that he is Spider-Man now as he dies.
Otto in Peter's body changes his mind and vowed to become the "Superior Spider-Man!" and protect the city in a way Peter never could.
As Peter, Otto made himself a modified costume of Peter's classic red and blue costume, now red and black with additional features.
Otto also took it upon himself to get Peter's doctorate, which the original Peter Parker never finished, and tried to improve Peter's life by dropping Mary Jane as a girlfriend and dealing with criminals more brutally then Peter ever did.
This behavior led people and other heroes to question Spider-Man's actions, including the Avengers, which he quit.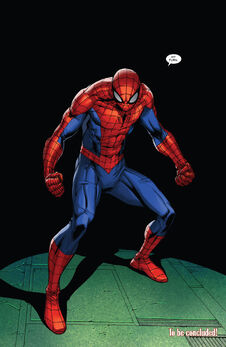 When the Goblin King returned and began taking over NYC, Otto was struggling to fight him because the Goblin was aware that it was Otto In Spider-Man's body. After Peter relived all of Otto's memories, he came out of those memories and ready to take his body back. Otto willingly gave up Peter's body but asked him to save his love Anna Maria.
Peter changes back into his costume and rescues Miguel O'Hara (who was stuck in Peter's time) from the New Spider-Slayers. Peter then calls Aunt May, reassures her he's fine, and goes after the Goblin King. He runs into Liz Allan and her son, along with Dr.Stone. After Stone tries to hurt Peter, Peter tells Miguel to get them out. On the roof of the Alchemax building, Peter fights the Goblin King, who's confused at his return.
In the end, Peter saves Anna Maria, but the Goblin King gets away when Liz shocks Peter with a device. Peter is saddened when he realizes how much Otto and Anna cared about each other, knowing Otto had to die.
During the collapse of the mutiverse, Peter Parker along with other hop onto 616's Reed Richard liferaft to hopefully survive the Earth-616 and Earth-1610 incursion.
The liferaft crashed on Battleworld, a new large stretch of land created by the God of Battleworld, Doctor Doom, who takes various realities and puts them on one stretch of land. This was done by killing the Beyonders, the God's of the mutiverse who planned bombs in every version of Molecule Man to destroy the mutiverse and start new. Doom was tasked to kill all versions of MM, only to round them all up and use them to kill the Beyonders. The Beyonder's powers was then taken by Doctor Doom instead of Doctor Strange, and he used it to become a God and reshape the multiverse by putting various reality onto a new earth, Battleworld.
Strange comes to one of two liferafts on Battleworld, where he finds Miles Morales which he reveals towed away on the Cabal's liferaft to save himself. Miles then tells Strange he remembers his past reality, to Strange's surprise.
Another liferaft was found and opened by a Thor from the Thor Corps with the help of Sheriff Strange, now God Emperor Doom's right hand man and his eye and hears for Battleworld.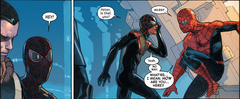 Out the raft appears 616 Peter Parker as Spider-Man, 616 Cyclops with the Phoenix Force, Jane Foster as Thor, 616 Black Panther, 616 Reed Richards, Carol Danvers as Captain Marvel and Star-Lord. Star-Lord believes that it has only been an hour that they have been held up in the raft.
However, Strange tells them that it has been eight years since Doom recreated Battleworld, and that he actually found their liferaft about three years ago, but didn't touch it. He goes on to say that Doctor Doom, now a God, saved them all and that very few, if any people remember their past life and reality, since Doctor Doom had modified their memories upon getting the Beyonder's powers.
Meanwhile, 616 Thanos and the Cabal fight against the Thor Corps, which are the police force in Battleworld and Doom sees this, but doesn't step in. Doctor Strange then teleports all the recently found 616 heroes to the battlefield to step in the battle.
While looking at the battle from his keep, Doomstadt, Doom and Sue Storm sees 616 Reed Richards, while Sue doesn't remember him, Doom says he has been looking for Reed for three years. Doom then teleports to the battlefield, with Scott Summers with the Phoenix Force challenging him. After blasting Thanos when he question's Doom "playing" as God, Cyclops then steps up to insult Doom, telling him he is not fit to rule and how Battleworld is now his. After Cyclops seemingly has the upper hand on Doom, Doom takes Scott by the neck and kills him by snapping his neck with one hand.
After this, Doctor Strange tells Black Panther to "Remember this." before he teleports the 616 heroes, Miles Morales and the Cabal away to random places on Battleworld, thinking that Doom will kill all of them. Strange then boldly tells Doom that he will not teleport them back and that for all the power he has amassed, he is still afraid of Reed Richards. Doom then kills Doctor Strange in one move for saying such words and for teleporting the heroes away.
Miles Morales and Star-Lord end up in a part of Battleworld that mixes both Earth-616's and Earth-1610's Manhattan into one land mass.
Powers and abilities
Powers
Current
Spider Physiology: Due to the Spider bite, Peter received powers similar to those of a common household spider. These include:

Wall-Crawling: Peter has the ability to stick to any surface, no matter how rough or slippery. Although this ability is still a bit of a mystery to him, he believes his molecules somehow bond to the surface of whatever he wills. Once he does cling to a surface, nothing can pull him away unless he releases his bond.

Superhuman Strength: Peter has the proportional strength of a Spider. This allows him to lift approximately ten tons.
Superhuman Speed: Peter is as fast as any Olympic runner, if not faster.
Superhuman Stamina: While perhaps not to the extent of other heroes, Peter possesses exceptional stamina. Being capable of holding his breath for minutes at a time, among other things.
Superhuman Durability: Peter is able to withstand a lot of damage. Most of which would kill any normal human.
Superhuman Agility: Peter is also extremely agile. Not only among human standards, but in the superhero community as well. Being able to contort to dodge bullets, or whatever an villain might use against him.
Superhuman Equilibrium: Peter has near perfect balance and coordination.
Superhuman Reflexes: Partly due to his 'Spider-sense', Peter can usually react quick enough to dodge nearly anything.
'

'Superhuman Jumping: Peter is able to leap multiple stories in a single bound, which is thought to be proportional to a jumping spider.
Regenerative Healing Factor: Peter has an extremely advanced healing factor, being able to recover from injuries in days that would take an average human weeks.
Foreign Chemical Resistance: Peter is extremely resistant to things like poisons and other potentially harmful substances.
Spider-Sense: Peter possesses a precognitive 'spider-sense' that warns him of imminent danger through a buzzing sensation in the back of his head that varies in intensity depending on how imminent and particularly dangerous the threat is. Being able to detect anything from flying bullets to tainted meat, and even the well being of others, this extra sense is also a bit of a mystery. It does, however, seem to be a product of some kind of psychic ability.
Former
Queen's Mutation: Queen

Enhanced Superhuman Strength: During the mutation gained from the queen, Peter was able to lift 20 tons.
Psychic Alignment with Arthropods: Shathra's predation.
Biological/Organic Webbing Generation: The Queen's mutation gave Peter the ability to shoot web out his arm.

The Other Evolution:

Enhanced Superhuman Strength

Enhanced Superhuman Durability, Speed, Agility, and Reflexes: After his evolution, all of Peter's abilties were noticeablely increased.
Psychological Awareness of Environment:
Night Vision: Peter gained the ability to see in the dark.
Vibration and Air Current Sense via Hair and webbing 
Enhanced Regenerative Healing Factor
Hibernation Healing: 
Stingers:
Fangs:
Phoenix Force: While Peter was "Spider-Phoenix" he had all the God-like powers one would have while being a host of the Phoenix.

Captain Universe

Enhanced Superhuman Strength: It is unknown how much Peter could lift, if he had a limit at all. However, he was strong enough to punch the Hulk into space.
Enhanced Superhuman Durability, Speed, Agility, and Reflexes:
Flight: While Captain Universe, Peter could fly at high speed.
Energy Blasts:
Enhanced Spider-Sense:
Superhuman Sight and Hearing:
Molecular Change: While Captain Universe, Peter gained the ability to change anything into anything else by thinking.
Mindwipe after "Brand New Day": Making a deal with the devil to save Aunt May, the entire world's minds were wiped to forget that Peter Parker was Spider-Man, and this included Peter. 
Abilities
Genius-level Intellect: Peter is very smart, shown to think on his feet while in tight spots and has made various inventions and new suits to help him in a given situation.
Skilled Photographer: While he worked for the Daily Bugle, Peter was a photographer that took pictures of Spider-Man that he sold to J. Jonah Jameson.
Master Acrobat: Due to his spider-bite, Peter has shown excellent acrobatic skills over the years.
Skilled Combatant: Peter has much training from Captain America and many other Marvel heroes that give him a fighting style all his own. Peter has bested Spider-Woman, the entire Fantastic Four, Wolverine, Red Hulk and Hulk.
Weaknesses
Current
Spider-Sense Disruption: Not many people can, but certain individuals can get past Peter's Spider-Sense, which makes sneak attacking and fighting Peter much easier.
Ethyl Chloride:
Former
Anti-Venom's Proximity: While Eddie Brock was Anti-Venom, if Spider-Man came into contact with him, his Spider-Powers would start to fade and Peter would get the weak, the more he was around Eddie.
Paraphernalia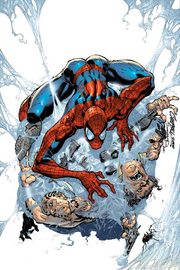 Equipment
Current
Web-Shooters: When he first became Spider-Man, Peter invented web-shooters that allow him to shoot web-balls and web swing through New York City.

Web Fluid: Peter's web is very strong, as it can hold an entire person up by a single string, stick someone onto a wall, stick something together and so on. The fluid melt in an hour.
Utility Belt: Spider-Man keeps a utility belt holding web cartridges and his signature Spider-Signal. Peter later updated his Spider-Signal with a UV light setting for forensic analysis.
Spider-Tracers: Spider-Man owns small Spider-Tracers that he can throw and stick to people. These tracers are linked to Peter's Spider-Sense and is able to find any tagged person with ease.

Classic Costume: After his first victory at wrestling, Peter made himself a red and blue costume and a mask that he could wear to hide his face. The mask Peter wear muffles his voice so people don't know who they are talking to.
Former
[[Black Suit|

Symbiote Suit]]: Marking Spider-Man's change of costume, during the Secret Wars on Battleworld, Peter needed a new costume to replace his ripped red and blue costume. He found a black ball that morphed around his body, making his red and blue costume entirely black with a big white spider and white eye pieces. This costume gave Peter stronger, organic webbing that the suit made for him on the fly and was able to transform into clothes on command. The suit willingly removed itself from Peter after he passed out trying to get it off himself using church bells.
Spider-Armor MK II: Peter created version 2.0 of his Spider-Armor to compensate for the loss of his Spider-Sense, due without this ability he can be easily wounded by bullets.
Future Foundation Costume: Peter's white Future Foundation costume was made by Reed Richards from a new generation of Unstable Molecules that allowed Peter to change his costume to whatever he could think of, by thinking of it.
Spare Fantastic Four Costume: When the Venom symbiote was blasted off Peter, he had to swing home, but could due so naked. The Fantastic Four then gave Peter a spare FF costume that was made from the same Unstable Molecules that all the FF's suits were made of.
Spider-Armor MK I: Only used once, Peter made himself a metal costume to protect from gunfire. This limited his jumping and movement, but made him immune to gunfire.
Iron Spider Armor: During the Civil War event, Tony made Peter a new armor like Spider-Man costume that had made features, and even allowed Peter to fly.
Stealth Suit: Made by Peter himself, the suit had different settings but was mainly used to combat the Hobgoblin's Sonic Scream and was used by Kaine to deal the final blow on the Spider-Queen while protecting against her deadly screams.
Electro Proof Costume: Only used once, when Electro's powers overloaded Peter made a new costume to combat this and so he wouldn't be shocked to death.
Tranportation
Current
Web-Swinging: Spider-Man's main form of transportation is "web slinging" with the aid of his spider-webs. Spider-Man was able to keep pace with Captain Marvel at his best speed, surprising the Kree warrior, although Spidey mentioned it was mostly due to his practice with web slinging over his career.
Former
Spider Mobile: As a deal with a car company to get more money, Spider-Man and Johnny Storm built a car for Spider-Man to drive around and adverise.
Media
Films
Spider-Man/Peter Parker has played been in many live action films to date, and has been played by 4 different actors.
Captain America: Civil War 
Video Games
To date Spider-Man/Peter Parker has been in all Spider-Man related video games.
1980's
1990's
2000's
2010's
Marvel vs. Capcom 3 (2010 video game)
Ultimate Marvel vs. Capcom 3 (2011 video game)
Marvel: Avengers Alliance (2012 facebook video game)
Marvel Avengers: Battle for Earth (2012 video game)
Marvel Heroes (2013 video game)
Lego Marvel Super Heroes (2013 video game)
Spider-Man Unlimited (2014 video game)
Marvel Future Fight (2015 video game)
Television
1970's
1980's
1990's
2000's
2010's
Notes
Spider-Man is a possible Protestant.
Trivia
In White Tiger (Volume 1) #3, Peter says that he hates Star Wars.
In Peter Parker: Spider-Man (Volume 2) #33, Peter says that he is a fan of the Mets baseball team.
In FF (Volume 1) #4, Peter says that he dislikes mayonnaise, at least in sandwiches, and prefers those free-crust.
In his first appearance in Amazing Fantasy #15, the spider that bit Peter was mistakenly called an insect.
There is a Spider-Man costume in the online Disney game, Club Penguin.
Spider-Man was the first Marvel Superhero that appeared in a video game, The Amazing Spider-Man, from 1981 on the Atari 2600.
In Legion of Super-Heroes #300 by DC Comics, Spider-Man is seen among the many heroes in a double page spread.
Spider-Man had a cameo via a kid's t-shirt in the Transformers episode, The Autobot Run.
Peter Parker is smart enough to hack Tony Stark's technology, since once Peter managed to hack a fail-safe program Tony built into the Iron Spider Armor he made for Peter during the Civil War event.
In Avengers (Volume 4) issue #12.1, Peter Parker states and jokes toward Captain America that he plays World of Warcraft (also known as WoW) and is a Level 27 rogue.
Spider-Man was ranked third on IGN's Top 100 Comic Book Heroes in 2011 and 2012.
Spider-Man was ranked number one on IGN's Top 25 Best Marvel Superheroes, the highest ranking of all Marvel characters.
Empire Magazines ranked Spider-Man as the fifth greatest comic book character out of the whole list, ranking as the second highest position of all of the Marvel heroes, only to be topped by Wolverine.
Ever since Peter's Uncle Ben took him to see a science fiction movie when he was little, Peter since then, has always been amazed by and loved science.
The first super-powered villain Spider-Man ever encountered was Supercharger, in Amazing Fantasy #18.
J. Jonah Jameson was the guest speaker at Peter Parker's high school graduation ceremony.
On several occasions, Spider-Man has been mistaken as a mutant. At one point, J. Jonah Jameson actually sent him to the X-Factor for confirmation, and another, he was hunted down by the Hellfire Club until the misunderstanding was corrected. If he was a mutant, Spider-Man would likely have belonged to the mutant sub-species Homo Insectus (that of the Spider-Queen) or a sub-sub species, homo arachnis. In an alternate reality where mutants where the dominant species culturally and demographically, Peter Parker posed as a legitimate mutant to achieve fame.
Spider-Man's famous mantra "with great power, comes great responsibility" is often attributed as a quote from Uncle Ben, however it was originally the concluding lines of narration to his first appearance in Amazing Fantasy #15, the anonymous narrator explaining the moral of the story, not advice from his beloved uncle. As this was the lesson he learned from his uncle's death, it slowly became associated with Uncle Ben, and the 2002 film chose to have the famous phrase come directly from Ben Parker as advice to the newly powered Peter and this is how the origin of the phrase is commonly misunderstood now.
See Also