Spare Fantastic Four Costume
Talk

0
{{{Name}}}
First appearance:
{{{First appearance}}}
Alternate name(s):
{{{Alternate name(s)}}}
Lead Designer(s):
{{{Lead Designer(s)}}}

Additional Designer(s):

{{{Additional Designer(s)}}}

Current Owner(s):

Peter Parker

Previous Owner(s):

None
The Spare Fantasic Four Costume also known as and dubbed "The Bombastic Bagman" or "The Amazing Bag-Man" is a costume Peter Parker (Spider-Man) had to don as a result of being separated from the alien symbiote in the Baxter Building.
History
When Reed Richards first examined the alien symbiote and separated it from Peter, he was left without a costume and could not simply go web-slinging undisguised as it could reveal his true identity.
At the mercy of the Human Torch, he was given a spare, older version of a Fantastic Four costume and a loose brown paper bag as a mask, and a "Kick Me" sign on his back, placed by Johnny, with no footwear.
Features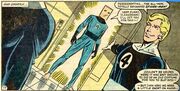 The suit itself was made of
Unstable Molecules
, insulated the wearer from electrical assaults and performed all other functions any of the Fantastic Four's own suits would.
Media
Video Games
In 2000's Spider-Man (video game), the "Bombastic Bagman" costume is wearable once unlocked.
In 2001's Spider-Man 2: Enter Electro, the "Bombastic Bagman" costume is wearable once unlocked again. However, for some unknown reason, the "4" number on the chest is removed, the bag on Spider-Man's head is a silver color instead of brown. The shade of blue for the costume is much lighter as wel.
In 2010's Spider-Man: Shattered Dimensions, the "Bombastic Bagman" costume is only wearable for Amazing Spider-Man levels when unlocked.
In 2011's Spider-Man: Edge of Time, if the player has a saved game file from Spider-Man: Shattered Dimensions on the game system, the costume will be unlockable, and wearable from the start for the Amazing Spider-Man.
In 2011's Marvel Super Hero Squad Online, the "Bag Man" costume is wearable once bought.
In 2013's Marvel Heroes, the Bombastic Bagman is a alternate wearable costume for Spider-Man that can only drop via defeat enemies or a boss.