Spare Fantastic Four Costume
Talk

0
1,299pages on
this wiki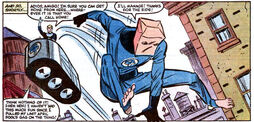 Peter Parker/Spider-Man's Spare Fantasic Four Costume also known as and dubbed "The Bombastic Bagman" is a costume Peter had to dawn as a result of being separted from the alien symbiote.
When Reed Richards first examined the alien symbiote and separated it from Peter, he was left without a costume and could not simply go web-slinging undisguised as it could reveal his identity. At the mercy of the Human Torch, he was given a spare Fantastic Four costume and a paper bag as a mask, temporarily becoming what Johnny dubbed: "The Bombastic Bagman!"
The suit itself was made of unstable molecules, insulated the wearer from electrical assaults and performed all other functions any of the Fantastic Four's own suits would.
In 2000's Spider-Man (video game), the "Bombastic Bagman" costume is wearable once unlocked.
In 2010's Spider-Man: Shattered Dimensions, the "Bombastic Bagman" costume is wearable for Amazing Spider-Man once bought from the upgrade screen.

The Bombastic Bag man suit in Spider-Man: Edge of Time

Added by

Bighead910

In 2011's Spider-Man: Edge of Time, if the player has a saved game file from Spider-Man: Shattered Dimension on the game system, the costume will be unlockable, and wearable from the start for Amazing Spider-Man.