Kron Stone (Earth-96099)
Talk

0
1,308pages on
this wiki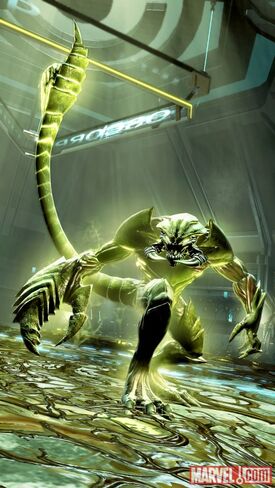 Kron Stone (of Earth-96099) is a major antagonist in the game Spider-Man: Shattered Dimensions.
In 2099, Spider-Man knowns Kron Stone as the Scorpion, a hulking monstrosity whose mere presence causes anyone to rightfully fear for their lives. But back in high school, Miguel O'Hara knew Kron as an entirely different type of monster - a rich, pampered creep who bullied just for kicks.
Son to Alchemax president Tyler Stone, Kron would get away with all kinds of illegal, immoral, and sadistic behavior, a quick call from daddy usually freeing him of any trouble... Well, ALMOST any trouble.
One day, Kron was goofing around in an Alchemax-owned school laboratory, using the equipment to torment some of the lab animals - including a scorpion. As Kron fooled with a gene splicer, a random surge of energy caused an explosion, fusing the arachnid's DNA with his own. The accident transformed Kron into one of the worst, most fearsome freakers around... and possibly the most pitiable enemy Spider-Man has ever faced.
Spider-Man: Shattered Dimensions
Edit
Prior to the start of the Game a woman who he himself discribed as a "Very pretty woman with a yellow and green suit, with many shiny arms" and a "Very scary dude who is covered in fire" who promised him they could return him to his human form if he collects a fragment of the Tablet of Order and Chaos. With this he eagerly set out on his task unaware, and unconcerned, that Spider-Man 2099 and the Public Eye Patrol is also searching for the tablet Fragment.
Use of the Tablet further mutated his already contorted DNA and gave him the abillity to spray acid and turn it into eggs from which hatches smaller but dangerous versions of himself. Kron was chased through the mall district of Neuvo York in the process attacking the Subway set up in the mall and harrassed by the Public Eye and Spider-Man 2099.
He was chased to, Much to Spider-Man 2099's surprise, his layer set up in a abandoned building. There feeling pitty for his quarry Spider-Man 2099 tried to reach his foe one last time, unfortunately after giving a short discription of his employers Scorpion became enraged by his constant harrassment by Spider-Man and tried to kill him. After a long brutal fight he was defeated when the remains of the Public Eye soldiers equipment fell on him pinning him down. Spider-Man, despite getting the Fragment, felt it was a hollow victory since he couldn't do anything to help his foe.
Powers and Abilities
Edit
Superhuman Strength: Scorpion has strength that exceeds his foe Spider-Man 2099, easily able to destroy several armored Public eye patrol Vehicles.
Agillity: Scorpion is agile for his size, able to leap from and land on sparsly spaced public eye vehicles.
Extreme durabillity: Scorpion can survive several hits from Spider-Man, gun fire from the Public eye patrol, and finally having a armored patrol vehicle dropped on him.
Acid spray: Scorpion can fire acid from his tail and mouth from which can melt most metals.
Egg laying: After absorbing a Tablet of Order and Chaos fragment Scorpion can convert his acid spray into eggs from which hatches smaller versions of himself which acts as foot soldiers.