Peter Parker (Earth-616)
Talk

3
1,310pages on
this wiki

So, as someone once said, --- Up --- Up --- and AWAY!

-Peter Parker (Earth-616)

This article is plagiarized. It seems another editor of the Spider-Man Wiki has added information directly copied from another website/database. Please edit this article to make it more original.
Please users, remove this template ONLY if the article has updated with original content.
| | |
| --- | --- |
| | This article is about the original Spider-Man from the comics. For alternative versions of this character, click here. |
Spider-Man
Real name:
Peter Benjamin Parker
First Appearance:
Amazing Fantasy 15
Created by:
Stan Lee and Steve Ditko
Universe:
Earth-616
Alignment:
Good
Status:
Presumed alive
Place of Birth:
Queens, New York
Citizenship:
American
Base:
New York City
Affiliations:
Avengers, New Avengers, New Fantastic Four, Defenders, Future Foundation
Abilities:
Wall crawling, spider-sense, spider-jump, proportional strength, speed, agility, and reflexes of a spider.
Height:
5'10"
Weight:
167 lbs
Hair Color:
Brown
Eye Color:
Hazel
Unique Features:
None
"You can live every day of your life trying to think of something more profound or more on the nose... but for us, for people like us, who suddenly find themselves looking out at a crazy world and not knowing what the hell we're supposed to be doing in it... I can tell you that just remembering that with great power comes great responsibility... can completely define you."
— Peter Parker
Peter Benjamin Parker (of Earth-616), also known by his superhero alter-ego Spider-Man, is a fictional comic book character who has appeared in all forms of Spider-Man media, and other comic books series published by Marvel Comics.
He was created by writer-editor Stan Lee and writer-artist Steve Ditko. He first appeared in the Amazing Fantasy #15 in August of 1962.
History
Early life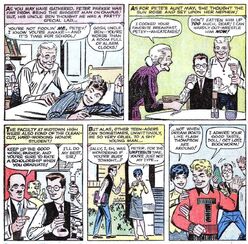 Peter Parker was only six years old when his parents,
Richard
and
Mary Parker
, died in a plane crash. With no guardian to take of him, he was forced moved in with his father's older brother and his wife,
Ben
and
May Parker
in Forest Hills,
New York
.
They were an elderly couple with no children of their own, and they raised Peter as if he were their son. They rarely spoke about Peter's real parents, so Peter became convinced that his parents had left him because of something he had done. Afraid of being left alone again, Peter worked hard to gain his uncle's and aunt's approval and love. However, Ben and May loved their nephew with all their heart.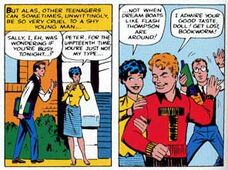 High School Outcast
Peter Parker was an extremely intelligent teenager and became a honors student at Midtown High School. Peter's timidness and interest in his school work often made him a social outcast, and give him no time to hangout, go to parties, and have more of a social life, like other kids, such as his bully Flash Thompson had.
Becoming Spider-Man
In Amazing Fantasy #15, Peter's life changes while he is bitten by an escaped radioactive spider while at a science exhibit about spiders. Peter gains the agility and proportionate strength of an arachnid. Along with super strength, he gains the ability to crawl on dry walls and ceilings.
After seeing his on abilities in action, develops a gadget that lets him fire adhesive webbing of his own through small, wrist-mounted barrels. Initially seeking to capitalize on his new abilities, he dons a costume and, becomes the "Spider-Man", seeking to be a television star.
One day, after he gets paid from winning a wrestling match, Peter ignores the chance to stop a fleeing thief in the place he got paid. Later that day, the criminal ironically catches up with him when the same criminal later robs and kills his Uncle Ben. After seeing the death of his Uncle Ben, Peter vows to never let a another person get hurt if he help it. He quits being a television star, and starts fighting for the greater good of humanity.
College Student
Peter Parker graduated from Midtown High with the highest scholastic average in the school's history, but he almost missed the ceremony due to a battle with a new villian, Molten Man. After barely making the ceremony, he was thrilled to discover that he had won a full scholarship to Empire State University.
At college, he meets new classmates such as Harry Osborn and Gwen Stacy.
Even though he got off to a bad start with them, finally Peter became friends with them, as well as his old high school bully, Flash Thompson. Harry Osborn's father, Norman Osborn, as the Green Goblin, came back after a period of absence and discovered Spider-Man's identity, kidnapping him and revealing his own alter-ego to him. In a furious battle the villain lost all memories of his time as a criminal. Peter moves into an apartment and even bought a motorcycle. Spider-Man ruined Peter's college graduation. In the week before the ceremony, Spidey was battling the Green Goblin and the Rocket Racer. He couldn't graduate with the rest of his class since he'd missed a required gym class. After Peter gets his degree from Empire State University, he continues his studies as a graduate student, and took a job as a teaching assistant. After awhile, Peter decided he needed time to rest with being Spider-Man and all, and he withdrew from the graduate program. Taking Aunt May's advice, he returned to college and continued working toward his master's degree.
Spider-Man: No More!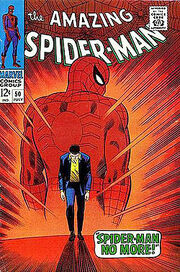 In
Amazing Spider-Man #50
, In his career as Spider-Man, Peter Parker has always been torn between his sense of duty and the mixed feelings he gets from the public. This reception has varied from praise to booing him, and it has left the Peter confused as a hero. It has even driven him to throw away his costume and renounce his alter ego.
But in the end, Peter's dedication to using his powers responsibly has always led to Peter donning the mask again in the hope that some day the world will learn to appreciate Spider-Man.
Lost Loved Ones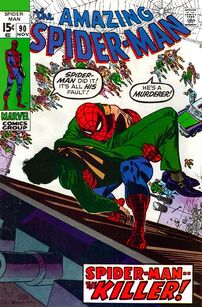 After awhile,
Doctor Octopus
managed to get his six metallic arms again and broke free from prison. After Spider-Man stopped his attempt to hijack a plane, he started attacking the city's main power plant. Although Spider-Man escaped from Doc Ock that day, the next day, Spider-Man was attacked by Doc Ock again. While battling on a rooftop,
Captain George Stacy
died when saving a child from falling debris. Before dying, George revealed to Peter that he knew that he was Spider-Man all along, and asked him to take good care of Gwen.
Being accused for Captain George Stacy's death, Spider-Man faced some heroes who wanted to take him to authorities, such as the X-Men's Iceman, and The Prowler. Peter even went to London to prevent Gwen's departure forever, after her father's death.
Afterwards, Peter Parker's best friend Harry Osborn fell to LSD drug addiction and Peter, along with Gwen and Mary Jane, took care of him. This problem made Norman Osborn remember his Green Goblin persona and returned as him, battling Spider-Man, and declining his alter-ego after seeing the status of his son.
The Six Arms Saga and The Night Gwen Stacy Died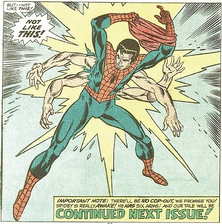 At one point Peter tried to give up being Spider-Man and created a "cure" for his powers that accelarated the spider gene within Peter and made him grow four extra arms. Although it give him more strength, Peter found it hard to adjust to life with these arms, and came to see that life as Spider-Man is not as bad as it seems.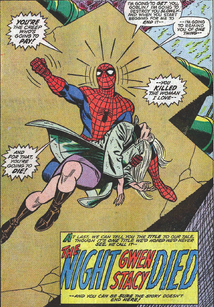 With the help of Dr. Curt Connors, he found a cure that got rid of Peter's extras arms, and returned him to normal.
After, Norman Osborn's self problems began resurfacing, he became the Green Goblin again, and kidnapped Gwen Stacy. Spider-Man found them at the Brooklyn Bridge, where they fought and Gwen was dropped from the bridge. When Spider-Man attempted to reach her with a web-line, he accidentally snapped her neck, and instantly killed her. The Green Goblin escaped, and furious, Spider-Man searched for him and fought him again, this time almost beating him to death out of anger. Norman Osborn came to his senses he tried to impale Peter with his own Goblin glider, forgetting about Peter's Spider-Sense, he himself was impaled and was killed.
With Peter affected by Gwen's death, Mary Jane tried to get near Peter to calm him. Being accused for the death of both Stacy's, Spider-Man was confronted by heroes such as Power Man and The Punisher. After finding the Green Goblin, Peter as Spider-Man almost beats him to death, before seeing that if he were to kill him, he would not only be as bad as him killing Gwen, but be as bad as the public claims he is.
Later, Harry took the Green Goblin mantle and kidnapped Flash Thompson, Mary Jane Watson and Aunt May. Spider-Man managed to find him at his father's old home and defeated him, leaving him to the authorities and Harry was sent to an asylum.
The First Clone Saga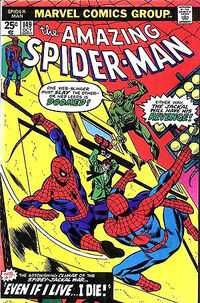 After returning from a trip to France, Peter found himself with Gwen Stacy again. Confused, and with the help of Ned Leeds, Spider-Man found out that this Gwen Stacy was actually a clone created by the
Jackal
, who after defeating Spider-Man with the help of Tarantula, was revealed to be Peter's college professor Miles Warren.
After kidnapping Ned Leeds and Spider-Man, Warren explained to the hero that he loved Gwen and blamed Spider-Man for her death. And after managing to clone a frog, he used a blood example from Gwen to do the same.
Soon, Spider-Man was later unconscious in a stadium, where he battled a clone of himself to save Ned from a bomb. Then, Gwen's clone made Jackal realize everything was wrong and freed Ned, while the bomb exploded, apparently killing him and the Spider-Clone. Spider-Man took the corpse of his clone and buried it at an industrial chimney, while the clone of Gwen Stacy left New York. Later, Betty Brant married Ned Leeds. Spider-Man faced Harry's psychologist, Bart Hamilton, who became the third Green Goblin and, after various encounters, died at the hands of Harry.
Peter then proposed marriage to Mary Jane, but she wouldn't accept, making their relationship falter. MJ went to Florida with her Aunt Anna.
While Spider-Man managed to clear his name of the Stacy's deaths, Peter Parker graduated from ESU.
Awhile later, Spencer Smythe, the creator of the Spider-Slayers, died from illness after trying to kill Spider-Man and J. Jonah Jameson, the men he blamed for ruining his life.
Secret Wars and the Alien Costume
Secret Wars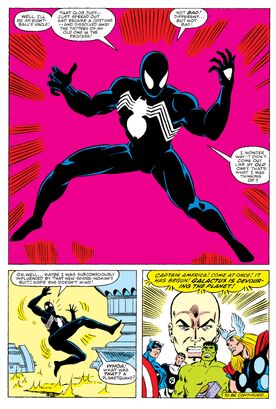 Peter as Spider-Man soon found himself on a satellite in a galaxy far from Earth. Along with other superheroes and group, such as some
Avengers
, the entire
Fantastic Four
and some
X-Men
and other. As well as supervillains, including Dr. Doom, Spider-Man was brought to the satellite by a near god like being called the "Beyonder". The Beyonder wanted heroes and villains to fight a war on a planet called Battleworld.
The Symbiote
When his costume was damaged in battle, Peter used the futuristic technology on the Beyonder's planet to repair it which transformed into a black version of Spider-Man's costume. After returning to earth, Peter discovered that his new suit was capable of transforming into street clothing as well as generate stronger webs right from the costume. After the discovery of the symbiote, Mary Jane Watson returned to Peter's life.
After a battle with a male villian named "Puma" he dislocated Spider-Man arm. Spider-Man passed out pushing it back into place.
Black Cat
 saved Peter from Puma and left Peter at home. At home, Mary Jane came over to visit, because she thought Peter felt let down by something. But Peter shoved Mary Jane out of the door when his Spider-Sense went off. Just as Peter shut the door, Puma crashed in. During the battle in another building Puma confirmed that Spidey's web was organic. After the battle Peter returned home and Mary Jane told him that she knew he was Spider-Man. Peter tried to convince her that she was wrong, but Black Cat came in and Mary Jane left. Black Cat said Mary Jane is nobody, and Peter yelled at her. When she started to leave, Peter's hand webbed her hand, and Felicia (thinking he'd done this on purpose) decided to stay.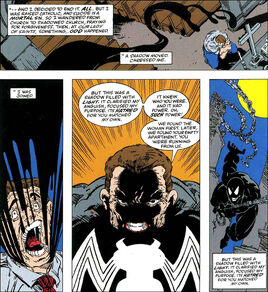 Peter had soon noticed that the costume behaved strangely, he asked for help via the Fantastic Four's Reed Richards, who discovered the costume was a living alien organism. He helped remove the living organism by force, and kept it at the Fantastic Four's headquarters. After a power outage, the symbiote would later escaped, plaguing the life of Parker again by trying to merge with Peter for good. Peter then took the symbiote to the chruch to remove it via the sonic vibrations from the chruch bell. After leaving Peter Parker it started to merge with Eddie Brock, who was in the same chruch.
Eddie Brock dubbed himself as "Venom" being the poison to Spider-Man since the symbiote learned of Peter Parker's alter-ego as Spider-Man and passed the infomation on to Eddie when they became one. Eddie would always refer to himself as "us" whenever he was merged with what was dubbed as the "Venom Symbiote"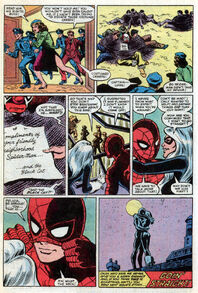 At one point, Peter Parker began a romantic relationship and heroic partnership with the Black Cat, developing feelings for her and even starting to love her, although Parker later broke it off due to the Black Cat's disdain for Peter Parker's life apart from being Spider-Man.
After fighting along side the Avengers multiple times, Spider-Man even tried to join them. However, he membership was denied due to either his annoying sense of humor, lone nature, or lack of superhero experience. He was later put as reserve member, then full access much later in his life. Spider-Man then met Silver Stable whom he partnered up, and worked with from time to time.
The Marriage! and Captain Universe host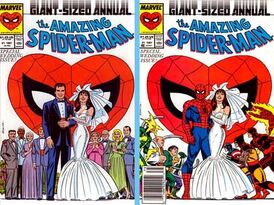 Soon after, Peter Parker and Mary Jane got married, and Venom again battled Spider-Man and was defeated once more. Peter's old friend Harry Osborn leased the couple a loft in the condo that Harry and his family were also living in. Mary Jane's cousin Kristy also temporarily moved in with the Parkers at one point. Eventually, however, the Parkers had to move into a room in Aunt May's house due to financial problems.
Spider-Man once again fought along side the Avengers to stop the alien Nebula from destroying reality with her Infinity Union. After the battle, Peter was told again that Spider-Man might not be suited for Avengers membership, although later he was inducted into their number on a provisional basis. Peter later returned to his studies and postgraduate work as a lab assistant at Empire State University.
Around this time, Peter was briefly endowed with the powers of Captain Universe, in order to stop a series of robots, including the mutant-killing Sentinels. Once the menace was defeated, the extra powers left him.
The Second Clone Saga
Peter Parker soon met Ben Reilly, a clone of Peter whom he fought against in the first clone saga. Ben Reilly created a similar spider-costume, and was dubbed the Scarlet Spider by the Daily Bugle. At times he helped the Peter Parker Spider-Man in his adventures.Shortly afterward, Mary Jane became pregnant. Peter and Mary Jane briefly moved to Portland, as Peter Parker considered retiring from being Spider-Man in order to start a family.
Ben Reilly eventually assumed the identity of Spider-Man himself, since Doctor Octopus tarnished the reputation of the Scarlet Spider. Mary Jane, meanwhile, was to give birth to her and Peter's baby May Parker, but was rushed to the hospital under the pretense of a medical emergency. The original Green Goblin stole the baby, unbeknownst to the Parkers, who were told the baby died in a miscarriage. When the Green Goblin tried to kill Peter Parker in a fight, Ben Reilly jumped in front of the Goblin's glider, sacrificing himself to save Parker. He turned to dust in Peter's arms, while Peter tells him to "Rest easy brother." He has not reappeared since.
Identity Crisis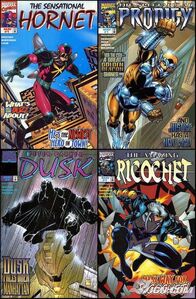 After many more months of adventuring, Norman Osborn returned to take control of the Daily Bugle. This angered Peter, which caused Spider-Man to brutally beat Norman, which was all caught on a hidden camera in his house. The recording was shown to the media which made the actual Spider-Man a criminal and increased pressure was placed on capturing him.
However, in order to continue his crime-fighting career and investigate the fake claims towards Spider-Man, Peter Parker relinquished his Spider-Man identity while creating four unique and separate ones: Dusk, Hornet, Prodigy, and Ricochet. As these heroes publicly exonerate Spider-Man, at which point he resumed his Spider-Man identity after proving the footage was fake and Norman Osborn was lying.
Later, the Golden Age hero Black Marvel acquired the four costumes and gave them to four teenagers, forming a team he named the Slingers. When the Avengers were attempting to reform their number after disbanding for a year after the crisis known as Onslaught, Spider-Man was contacted due to his past affiliation with them. However, by his own choice, Parker decided to dissolve ties with the Avengers.
The Death of Mary Jane?
Peter Parker, Mary Jane, and Aunt May moved to an apartment in Manhattan. Parker had promised Mary Jane to give up his Spider-Man identity, but he would continually sneak out at night as Spider-Man. Their marriage began to strain, in part because of Mary Jane's new modeling career and in part because she rediscovered Parker's secret. Before they could reconcile, however, Mary Jane was supposedly killed when her airplane exploded.
For a long time, Parker refused to believe her dead, but eventually grew to accept it. Parker discovered Mary Jane was alive, captured by a villain who had been stalking her prior to her airplane flight. After a brief reconciliation, Mary Jane requested to leave Parker once more, saying that she needed time to adjust by herself.
Death and Rebirth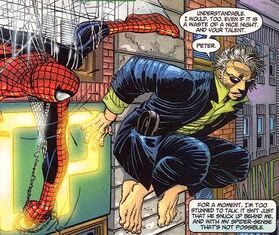 Peter soon took a job as a teacher at his old high school, Midtown High. After getting the job, he encountered a strange old man named Ezekiel who possessed powers very similar to his. He knew Peter's secret identity and talked to him about things about his powers he had never thought of, like, "Did the radiation enable the spider to give you these powers? Or was the spider trying to give you those powers before it died?" After many questions, telling Spider-Man his powers were 'totemistic' in nature, and showing Peter what he could have done had he stayed in showbiz, Ezekiel warned Peter about a totemistic predator named Morlun, who would try to kill him. After ignoring the warnings of Ezekiel, and being defeated by Morlun, Spider-Man attempted to get Ezekiel to help him. With Ezekiel refusing to do so, Spider-Man went after Morlun again after Spider-Man found him terrorizing innocent people.
After being nearly beaten again, Ezekiel helped Spide-Man, but seemingly perished.
Peter then injected himself with radiation at a nuclear plant, to hurt Morlun, thus enabling Spider-Man to defeat him. However, after the brutal battle, Spider-Man returned to his apartment, and fell into deep sleep. Aunt May came by, only to find that Peter had severe wounds and scars, and a tattered Spider-Man costume on the floor. After a day of coming to grips with the fact that her nephew was Spider-Man, Aunt May revealed that she knew. Now their relationship was stronger than ever, and eventually, Mary Jane and Peter reunited as a couple for good. After a breakout at the Raft Security Prison, Spider-Man joined the New Avengers. May, Peter, and Mary Jane moved into Avengers Tower after an enemy destroyed both Peter's and May's places. Changes resulting from a confrontation with Morlun caused Peter to try and reconcile 'the man and the spider' within himself. He then gained greater speed; poisonous, razor-sharp stingers located within his arms; night vision; increased sensory awareness via vibratory patterns transmitted through the hairs on his body and through his weblines; a greater clinging ability; and equal superhuman strength in order to carry heavy objects on his back.
Civil War event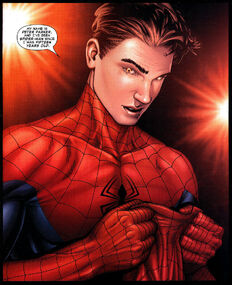 Despite misgivings and with the support of his family, Peter initially sided with Iron Man in support of superhero registration. Convinced by Tony Stark that the other superheroes needed to see commitment from the pro-registration side, Peter even went as far as to unmask himself on live television (right).
However, fighting against the fugitive heroes and the existence of the Thor clone left a poor taste in his mouth, causing him to switch sides and instead join Captain America's side. Spider-Man was one of the few heroes who did not accept the general amnesty after the arrest of Captain America, continuing to work with the underground Avengers.
Back in Black arc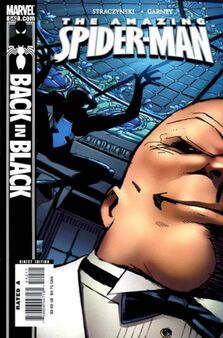 Peter's now-public identity allowed the Kingpin to put a hit on Parker's family. An assassin critically injured Aunt May and Peter donned a black suit to track down those who were responsible. Realizing he could not afford for his identity to be public knowledge, Peter agreed to aid the
Scarlet Spiders
 in return for their help in re-establishing his secret identity.
One More Day
Peter grew increasingly desperate to save the life of his Aunt May. After appealing to Tony Stark, Jarvis was sent with $2 million to pay the hospital fees and give her the best care possible. At one point, Eddie Brock was found in Aunt May's room; he attempted to commit suicide by jumping out of the window. Mephisto offered Peter to save Aunt May in exchange of Peter's and MJ's love. As part of Mephisto's deal, everyone would forget Peter's identity as Spider-Man. Then Mephisto re-arranged history to make it so that Peter unwittingly wouldn't show up to his wedding day, but stayed with Mary Jane as a long time couple. But this re-arrangement also caused it to be Doctor Strange who erased people's memories about Parker's secret identity (except Mary Jane) and protected Peter with a "psychic blind spot".
Brand New Day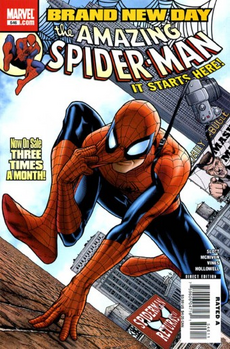 But Mary Jane was bitterly hurt from having knowledge of a time of great emotional pain that no one else on the planet remembered. She and Peter agreed that they were still in love with each other but they had to accept that their relationship put everyone they cared about in danger and that it was best for them to remain as friends.
Back from five years in a European rehab center was Harry Osborn. While searching for a job, Peter joined the Daily Bugle again which was now bought out by Dexter Bennett, and began to work as a paparazzi reporter, which was something that neither his Aunt May or Harry approved of.
However, after his photographs of the celebrity Bobby Carr resulted in the deaths of women by a crazed supervillain stalker who was obsessed with him, Peter decided to destroy the new photos he took resulting in Bennett firing him. Peter soon learned that Bennett had blacklisted him to nearly every news source in town preventing Peter from finding work. However, Harry suggested that Peter find a job at a news source that was Bennett's enemy, which he did by joining the Front Line as it was not under Bennett's influence.
Dark Reign and American Son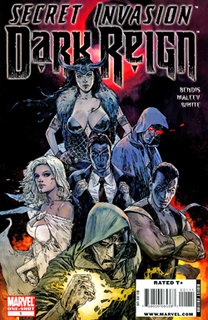 Norman Osborn transformed Venom to look more like Spider-Man joined Osborn's Dark Avengers. During this time, Peter had to reveal his secret identity to the
New Avengers
, in order to get the team's trust.
During a trip to the Macroverse, Spider-Man re-revealed to the Fantastic Four his identity, and after coming back two months later in standard time, J. J. Jameson become the new mayor of New York City. Spider-Man knew he must act against Norman Osborn and his Dark Reign. With help of the Fantastic Four's Unstable Molecules, Spider-Man infiltrated Norman Osborn's Avengers as Venom and discovered how Norman Osborn wanted to make his son a new hero called American Son.
After being captured by Norman Osborn, Harry confronted him after knowing the truth about his father's relationship with Lily Hollister (Harry's girlfriend), and Spider-Man prevented Harry from killing Norman. After the wedding of Aunt May and J. Jonah Jameson, Spider-Man saved Jameson from Doctor Octopus with the help of the Human Torch, Mary Jane returns to New York City. Also, he re-started a relationship with Black Cat and battled a man who wanted to kill Ben Reilly, also, with the return of Peter's living clone Kaine. Despite his problems Spider-Man helped the original Jackpot start fighting crime, and overcame the corruptive control of Mister Negative's energy.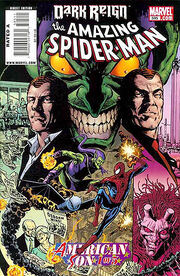 The Kravin off family started a vengeance scheme on Spider-Man, kidnapping Madame Web and Mattie Franklin, one of the Spider-Women. Spider-Man also managed to get a videotape of Osborn practicing illegal experiments to damage his reputation.
Spider-Man faces repowered villains such as Electro, who destroys the DB! building. Sandman, who became obsessed with taking care of his "daughter" Keemia; Rhino, who left reformation to kill a new Rhino who murdered his wife. The Lizard, who evolved and "killed" his alter-ego. Many of them where helped by Sasha Kravinoff, who wanted revenge on Spider-Man. The Kravinoffs killed Spider-Woman to resurrect Grim Hunter, and finally hunts Spider-Man and kills him to revive Kraven, but it's revealed the corpse is Kaine's, who previously knocked out Peter and replaced him to save him. After a fight between the Kravinoff family in which Madame Web died, the hunters leave New York. Aracne becomes the new Madame Web meanwhile Kaine resurrects from his grave mutated into a more man-spider creature.
Joining the Future Foundation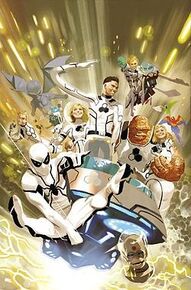 After the death of Johnny Storm (the Human Torch), Peter joined the Reed Richards in a new group he created called the
Future Foundation
He was a founding member and he helped them to fight an interdimensional version of Reed Richards, and the Sinister Six, who managed to steal advanced technology from the Baxter Building.
Their third mission was in the Caribbean, on Earth. There, Reed located the epicenter of the dimensional anomalies the Future Foundation had been fixing. As the team explored the island, they were attacked by zombie pirates. It was revealed it was all a fake created by the Sinister Six, of whom only Mysterio and Chameleon were really present there - the other four members being robots. Meanwhile, Doctor Octopus and the others infiltrated the Baxter Building, stealing technology for Doc Ock's further plans.
Spider-Island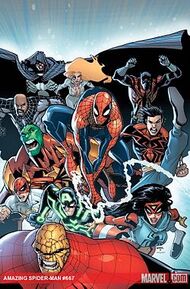 After helping Anti-Venom to reveal Mr. Negative's identity and help the Avengers Academy (as well as learning that Aunt May was moving to Boston with Jay), The Jackal returned and gave the majority of New Yorkers spider-powers, starting to spread chaos.
Spider-Queen was revealed as the true mastermind, who wanted to turn the whole human race into spiders. Mr. Fantastic created a cure using the Anti-Venom Symbiote, also, after battling Peter (under Jackal's influence), Peter's clone Kaine was accidentally cured from his mutations, turning him into a perfect clone. Kaine killed the Spider-Queen in Central Park along other heroes, and Peter managed to get the cure to every citizen via Doc Ock's (mentally controlled) octobots. Also, because of revealing he had spider-powers during the Spider-Island event, Peter's psychic blind spot was weakened, letting Carlie know he's Spider-Man, which caused her to break up with him.
Ends of the Earth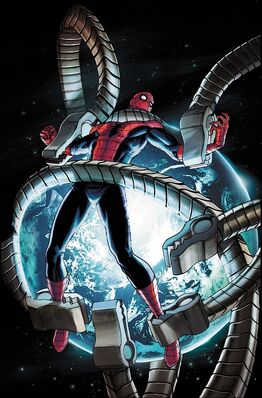 Doctor Octopus wanted to be remembered as the man who saved Earth by offering the chance to stop the Greenhouse Effect, as well as speed it up. Equipped with a anti-sinister, Spider-Man rejoined the Avengers to stop Octavius and his Sinister Six.
After every Avenger was bested by Octavius, Silver Sable, followed Spider-Man to his battle, saved him and Black Widow. When they tried to get to one of Octavius' manufacturing plants of satellites, they defeated Sandman, but Octavius asked for help to all nations, due to his position in the matter, to capture Spider-Man.
Otto Octavius called on many villains to hunt down Spider-Man and his allies. Spider-Man then called on the heroes that were still on Earth to destroy the facilities of Octavius. When he and his allies arrived at the main base in Romania, Doc Ock stated that Spider-Man was right and he activated his satellites. This caused a huge explosion in the areas that were facing the sun. When the trio exited the base they saw what happened. Sable then asks if that is Symkaria to which Peter answers it's half of the world and Spider-Man said, "We failed". But this is revealed to be a trick made by Mysterio (only burning a small portion of a city in Skymaria, while Chameleon uses a robot to fight Spider-Man, after they are defeated, Mysterio is convinced by Spider-Man to help him to catch the Octopus in his base in Guatemala, but Octavius used the mind-controlled Avengers as his new Sinister Six.
Spider-Man, Sable and Widow managed to defeat the Avengers, then he and Sable headed to Octavius underwater base. They are faced by Rhino while the base starts to flood, he trapped Sable and left Spider-Man with two choices, to continue to fight him in order to save Sable from drowning (but the Octavius would activate the lenses) or let him drown himself and Sable but stop Octopus. After leaving Sable to her death at her request, Spidey managed to destroy Octavius's arms and equipment before taking his foe away to a doctor.
Avengers vs. X-Men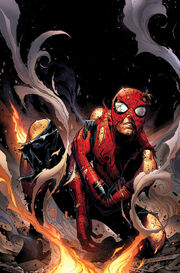 Spider-Man sides with his fellow Avengers against the X-Men. He is present during the Siege of Utopia and together with Wolverine they attempt to take Hope away. They fail however as Hope's Phoenix powers manifest and incapacitate them.
Spider-Man is later seen among one of the teams searching for Hope across the world, and comes into conflict with several X-Men, most notably the new Juggernaut. After the Phoenix force is split into five pieces and possesses Cyclops, Emma Frost, Magik, Namor and Colossus as its hosts, Spider-Man is brought to the mythical city of K'un-Lun due to a prophecy that predicted that he would train Hope Summers.
She is initially unresponsive to him as a teacher, due to him being clueless about what to teach her, but after telling her what his Uncle Ben told him. After saying "With great power comes great responsibility", she quickly takes to him, starts to train her powers.
Spider-Men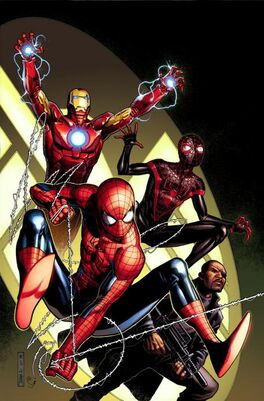 While out web-swinging, Spider-Man came across a differently costumed Mysterio in a warehouse. After a brief skirmish, he was almost shot by Mysterio and sent through a dimensional rift into another dimension, where he encountered the Spider-Man of that reality,
Miles Morales
. Though he initially gained the upper hand, Peter was ultimately subdued by Miles and taken into S.H.I.E.L.D. custody.
Upon regaining consciousness, Peter was interrogated by Nick Fury, who believed his story of coming from another universe and sent him off with Miles to learn this world's history. During their conversation, however, Peter and Miles were attacked by a robotic avatar of Mysterio, which self-destructed after a brief battle and knocked Miles unconscious. Peter subsequently went off on his own to investigate, and was shocked and horrified to discover that his counterpart in this world died in battle, and that not only was the city still mourning his loss, but his identity is now public knowledge.
Making his way to Queens, he came across May Parker and Gwen Stacy. Initially furious at what they believed to be a disrespect of their Peter's memory, the two were taken aback when a distraught Peter unmasked himself before their eyes. Still, the two attacked Peter until Miles vouched for him, leading to Aunt May passing out.
When May awakened, she went upstairs and heard Peter exchanging stories with Gwen. When Gwen asked what happened to her in his dimension, Peter became uncomfortable and changed the topic. Aunt May and Peter had a tearful reunion and Peter was very surprised to find out he had a relationship with Kitty Pryde. Nick Fury came to pick him and Miles up, and for a quick second, Peter saw Mary Jane's Ultimate counterpart before she ran away. He was taken over to meet Iron Man, where the two began to work on a time-space formula until Miles pointed out a familiar building in a video of a previous fight against Mysterio.
Peter led the charge to Mysterio's headquarters, where they quickly subdued him before he could destroy the portal and trap Peter on Earth-1610 forever. Giving a satisfied Miles his blessing as the new Spider-Man, Peter returned to his world, subsequently running an online search to see if his world had a Miles Morales counterpart, he was shocked to see what he found, as the comic ends.
Alpha
After a visit to Horizon Labs, a teenager, Andrew Maigure gets shocked with Peter Parker's "Peter Particles" and gains energy like superpowers. Peter thought that since it was his fault Andy was given powers, he would take him under his wing as a sidekick, fighting along side the Avengers and Spider-Man from time to time. After his powers started overloading and he starting doing more harm then good, Andy and Spider-Man fight, followed by Peter "turning off" Andy's powers. And Andy becoming powerless once again.
Dying Wish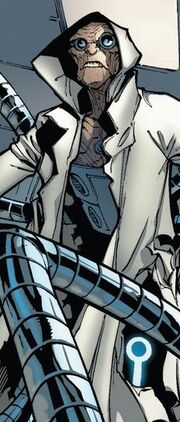 After building a mind-swapping Octobot, Otto Octavius managed to switch minds and bodies with Peter Parker, putting himself in Spider-Man's body and trapping Peter in his Otto's, dying body.
As Otto now has access to Peter's memories and vice versa, Peter discovered that Otto used an Octobot to switch brain patterns in order to perform his plan.
After building new a set of tentacles, Peter as Otto went looking for the Octobot that did the mind switch. He went to Tony Stark for help, however, Otto as Spider-Man released many Octobot's to battle Peter in Otto's body and the Avengers. After a big battle on Stark Tower, Peter as Otto and Otto as Spider-Man fell, with Peter being wounded almost until the point of death when he hit the ground.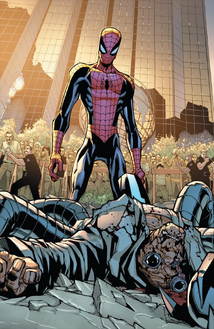 When Peter as Otto tried to use the brain swapping Octobot that he captured, Otto as Peter told him that he was using a Carbonadium helmet, making his brain totally inaccessible for changing brains once again. Otto in Peter's body declared his final victory against Peter by giving him a hard punch to the face.
Both then discovered that the Octobot, in addition to swapping their minds, it also connected them as one. With this, Peter forced Otto to relive and see his most suffering experiences and memories both as Spider-Man and Peter Parker. From his Uncle's death, to Gwen Stacy's death to all the hero actions Peter has done in the many years as Spider-Man, Peter made Otto see the responsibility his power came with by being Spider-Man. Otto held Peter and told him that he did not want this, but they could not change bodies back, even if he wanted to. Finally, as Peter dies in Otto's body, Otto promises Peter to continue his legacy both as Spider-Man and Peter Parker, claiming to become a "Superior Spider-Man!".
Superior Spider-Man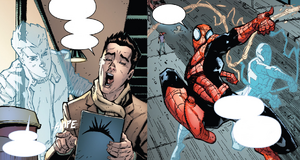 In Superior Spider-Man #1, after making his new costume, during Otto Octavius' battles with the newest incarnation of the
Sinister Six
, Otto protected a police officer with his body and stopped midway in his attempt to beat
Boomerang
to death, but did not know why. Peter's "ghost" appeared beside Otto and stated that he was the one who made him do those things because he won't let Otto stand by and let someone die or use his powers to kill someone.
However, neither Otto or the people watching can hear or see him, making his point mute. Peter later stated that he wasn't sure how he survived his supposed death in the Dying Wish storyline, but swore that he would find a way to regain control of his body. Many issues in, Peter tries to gain control again doing little things such as writing notes using Otto's hand, but to no help since Otto does not know Peter is still apart of him.
As Otto does many things Peter would not do. Including going out with Mary Jane again, making nice with J. Jonah Jameson, giving Alpha, his ex-sidekick his powers back, and even fighting some of the Avengers. The Avengers barely notice anything off about "Peter", but Peter's ex-girlfriend, Carlie Cooper notices something is very wrong and wants to get to the bottom of it.
In Superior Spider-Man #8, one day, in his lab, Otto tries to use his own techology  to determine the source of many spasms happening to his body that he was experiencing. Otto then realized he could now hear Peter inside his mind, he was the one controlling Otto's movement from time to time. Otto then decides to put an end to him once and for all, and prepares for a "Parker-Ectomy".
Parker-Ectomy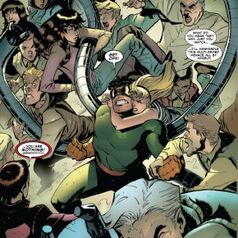 After Otto finds the source of the trouble, he dives in his and Peter's mind to destory all of Peter Parker's memories, Peter then appears and states that Otto will not do that and begins to fight back. Peter summons versions of his friends and family to attack Otto to defeat him. However, coming prepared, Otto summons the many villians that Peter has fought in his days as Spider-Man. They start to kill Peter's friends and family, which also makes Peter forget about them entirely as they are erased from his mind. After calling Otto a monster, he rips off his outer skin to reveal the original Spider-Man costume, claiming he is the true, "Amazing Spider-Man!", Otto replies with a grin saying the world need a "Superior Spider-Man" and rips off his outer skin to reveal his Superior Spider-Man costume. They fight questioning each other, who deserves to be the true Spider-Man.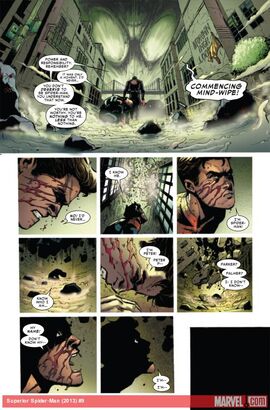 Peter blames Otto for his brutality on criminals, causing other heroes to doubt and not trust him. Otto comes back by telling Peter for attempting to be a "friendly neighborhood Spider-Man", and trying hard to make everyone love him, and tells of the Vulture using children as his minions as a consequence, all because Peter took it easy on him. And that because Peter let Massacre live, he killed over 30 innocent people. Otto tells Peter that due to his interference, he failed to operate on Amy and save her life.
Finally, Otto tells Peter that he is not worthy of being Spider-Man and that he is nothing. He resumes his mind wipe and destory every memory of Peter Parker.
The rest of Peter's memories are destroyed, with Peter crying and struggling to hold on to his own identity, but even that is lost he struggles to remember even his own name, darkness envelops him.
Otto rejoices in the real world and says "He's gone. And I? I... Am... Free!".
Supporting characters
Spider-Man/Peter Parker has a large range of supporting characters introduced in the comics that are essential in the issues and storylines that star him. After both his parents died, Peter Parker was raised by his loving aunt, May Parker, and his uncle and father figure, Ben Parker. After Uncle Ben is murdered by a burglar, Aunt May is virtually Peter's only family member, and she and Peter have a extremely close relationship.
J. Jonah Jameson: The publisher of the Daily Bugle and is Peter Parker's boss and as a harsh critic of Spider-Man, always saying negative things about the superhero in the newspaper, although his publishing editor and confidant Robbie Robertson is always depicted as a supporter of both Peter Parker and Spider-Man. He is currently the Mayor of New York City.
Eddie Brock:  First a friend of Peter's, and long time fan of Spider-Man until Spider-Man kept destroying his camera. Eventually, Peter Parker made him lose his job by exposing a fake story he made up for the Bugle.
Eugene "Flash" Thompson: is commonly depicted as Parker's high school tormentor and bully but in some comic issues as a friend as well.
Harry Osborn: Son of Norman Osborn, can be recognized as Peter's best friend, but has also been depicted sometimes as his rival.
Recurring Villians
Over the years, Spider-Man has fought many villains, and the majority of these villains' powers originate with scientific accidents or the misuse of scientific technology for personal gain. Many of these villians also have animal-themed costumes or powers and are as follows:
​Love interests
Powers and abilities
A bite from a radioactive spider on a school field trip causes a variety of changes in the body of Peter Parker and gives him superpowers.
Wall Crawling: Peter has the ability to stick any part of his body to any surface at will. How he does this is still a mystery to him, although he has stated that it could be that his molecules bond with the molecules of the surface. 
Superhuman Strength: Peter has the propotionet Strength of a spider, meaning he can lift 10 tons or more.
Superhuman Speed and Agility: Peter's agility and balance is rivaled by no one. He can move fluidly, and gracefully around the New York Skys effortlessly.
Spider-Sense: Peter has the uncanny ability to sense danger before it happens, through an unusual tingling sensation in the back of his skull. Whether it is a flying bullet, tainted meat, someone consealing a weapon, or many other things.
Skilled Acrobat: Peter can jump the width of a highway, about 30 feet in the air by standing alone.
Reaction Time: Peter's reflexes operate at about 40 times faster that of a normal human.
Equipment
Web-Shooters: This mechanism ejects an advanced adhesive, releasing web-fluid in a variety of configurations, including a single rope-like strand to swing from, a net to bind enemies, a single strand for yanking opponents into objects, strands for whipping foreign objects at enemies, and a simple "web-ball" glob to foul machinery or blind an opponent. He can also weave the web material into simple forms like a shield barrier.
Other equipment include spider-tracers (spider-shaped adhesive homing beacons keyed to his own spider-sense), a digital camera, and A "spider-signal".
Costumes: Over the course of his long career as Spider-Man, Peter has, on occasion, had to create alternative versions of his costume to assist in besting his foes.
Weaknesses
Unlike many superheroes, as Spider-Man, Peter does not have a weakness he is automatically vulnerable to, but in recent years, methods have been created to weaken some of his spider powers.
Spider-Sense Disruption: Peter's Spider Sense can lose it's power if it is blocked or weakened by specialized equipment. Peter's Spider Sense does not trigger if it detects something that is not registered as a threat like the Spider-Man clones or the Venom symbiote, it's offspring and Anti-Venom. When Peter has no spider-sense, he becomes much more vulnerable to sneak attacks.
Anti-Venom's Proximity: Anti-Venom's failed attempt to cure Peter Parker of his radioactive blood resulted in Peter's powers slowly canceling out whenever Anti-Venom is close to him.

This weakness no longer applies due to Eddie Brock sacrificing the Anti-Venom Symbiote to cure the population of New York during the Spider-Island storyline.

Ethyl Chloride: As a side effect of his spider powers, Spider-Man is susceptible to the pesticide ethyl chloride chemcial.
Media
Films
Spider-Man/Peter Parker has played been in 5 live action films to date, and has been played by 3 different actors.
Video Games
To date Spider-Man/Peter Parker has been in all Spider-Man related video games.
1980's
1990's
Marvel Super Heroes: War of the Gems (1996 video game)
Marvel Super Heroes (1997 video game)
Marvel Super Heroes vs. Street Fighter (1997 video game)
Marvel vs. Capcom: Clash of Super Heroes (1999 video game)
2000's
Marvel vs. Capcom 2: New Age of Heroes (2000 video game)
Marvel Nemesis: Rise of the Imperfects (2005 video game)
Marvel: Ultimate Alliance (2006 video game)
Marvel: Ultimate Alliance 2 (2009 video game)
2010's
Marvel vs. Capcom 3 (2010 video game)
Ultimate Marvel vs. Capcom 3 (2011 video game)
Marvel: Avengers Alliance (2012 facebook video game)
Marvel Avengers: Battle for Earth (2012 video game)
In Television
1970's
1980's
1990's
2000's
2010's
Storylines
Trivia
Peter Parker plays World of Warcraft (WoW) and is a Level 27 rogue.
Spider-Man was ranked 3rd on IGN's Top 100 Comic Book Heroes in 2011, the highest ranking of all Marvel characters.
Ever since Peter's Uncle Ben took him to see a science fiction movie when he was little, Peter since then, has always been amazed by and loved science.
The first super-powered villain Spider-Man ever encountered was Supercharger in Amazing Fantasy #18.
J. Jonah Jameson was the guest speaker at Peter Parker's high school graduation ceremony.