Peter Parker (Earth-1610)
Talk

0
1,293pages on
this wiki

So, as someone once said, --- Up --- Up --- and AWAY!

-Peter Parker (Earth-616)

This article is plagiarized. It seems another editor of the Spider-Man Wiki has added information directly copied from another website/database. Please edit this article to make it more original.
Please users, remove this template ONLY if the article has updated with original content.
| | |
| --- | --- |
| | This article is about the original Spider-Man from Earth-1610. For alternative versions of this character, click here. |
Spider-Man
Real name:
Peter Parker
First Appearance:
Ultimate Spider-Man #1
Created by:
Brian Michael Bendis, Mark Bagley, Bill Jemas
Universe:
Earth-1610
Alignment:
Good
Status:
Deceased
Place of Birth:
Citizenship:
American
Base:
New York City, New York
Affiliations:
Formerly Norman Osborn's Six, Knights
Abilities:
Peter is a prodigy bio-chemist, completing his father's research on adhesives at age 15. His uncle said he was "as smart as they come." He possesses an IQ of 145. Thanks to the spider venom that courses in his veins, it makes him immune to vampire bites.
Height:
5' 5"
Weight:
140 lbs (64 kg)
Hair Color:
Brown
Eye Color:
Brown
Unique Features:
"Any chance I'm dreaming all of this? Maybe when I got bit by that spider that gave me my powers I went into a coma and this is all just some big hallucination. How great would that be?"
— Spider-Man
Peter Parker (of Earth-1610) is a alternate, younger version of the original Peter Parker.
His first appearance was in Ultimate Spider-Man (Volume 1) #1.
He has since been killed in his final battle with the Green Goblin, and has been replaced by Miles Morales as the new Spider-Man in New York.
Appearance
Edit
This version of Peter Parker is noticeably scarwnier than his Earth-616 counterpart. His hair is also slightly different as he seems to have two bangs coming out from the left and right.
His costume is largely the same, with the only difference being the noticeably bigger eye pieces on the mask.
Early Years
Edit
Richard Parker (Peter's dad) was a scientist who was working with S.H.I.E.L.D. He was researching with Dr. Henry Pym, Dr. Bruce Banner, and Dr. Franklin Storm to reverse-engineer the Super Soldier formula for S.H.I.E.L.D. (based on Nick Fury's genetic sample). Banner mistakenly believed he solved the formula and tested on himself for credit, however the process mutated his DNA and created green monster, known as the Incredible Hulk.
At the time, Richard Parker went to see his wife and baby Peter outside the research facility; Hulk destroyed the facility, resulting in the deaths of Peter's parents. Hulk's humanity only awakened after seeing baby Peter Parker and reverted back to Banner. Fury had Banner arrested and had Peter sent to his Aunt May and Uncle Ben. As a cover story, Peter was told (since he was a child) that his parents and the Brocks all died in a plane crash incident. Aunt May and Uncle Ben raised Peter as if he were their own child. Alongside his neighbor Mary Jane Watson and tutoring subject Harry Osborn, Parker found few friends in high school and was often the butt of jokes by bullies Flash Thompson and Kong.
Becoming Spider-Man
Edit
While on a high school field trip to Osborn Industries, Inc, Peter he was bitten by a spider exposed to the Oz Compound, a prototype Super Soldier serum. Giving him the powers of a spider, Peter Parker gained superhuman strength, speed, agility and stamina and the ability to stick to and crawl surfaces. Soon after, Peter put his new found abilities to fight and won a local wrestling challenge.
The promoter of the fight gave Peter a new costume and Peter was given the name Spider-Man. His wrestling career ended when he was accused of stealing the promoter's money. In a bad mood, Peter allowed a burglar he encountered on his way home to escape from a robbery. When Peter returned home, he learned that the same burglar from the robbery had murdered Uncle Ben in his absence. Feeling so guilty over his inaction which had led to the death of a loved one, Parker vowed that as long as he was capable he would serve and protect others.
Peter took a job at the Daily Bugle working as a web designer. He eventually told his secret alter-ego to Mary Jane Watson, and the pair had a relationship as boyfriend and girlfriend.
Villians Rise
Edit
Since gaining his new powers and a new aim in life, Peter defeated the self-created Green Goblin. Spider-Man learned of a new man, called the Kingpin of crime Wilson Fisk, and tried continuously to bring him down. He battled Electro and the Enforcers in the process.

Spider-Man also fought Doctor Octopus, witnessed the return of the 'Oz' addicted Norman Osborn, and faced Rhino. Soon after, Nick Fury visited to Peter and informed him that S.H.I.E.L.D. knew everything about him. Spidey then faced Sandman, helped the Ultimates battle the 'Ultimate Six' (Green Goblin, Electro, Doc Ock, Sandman, Kraven, and (supposedly) Spider-Man), met the incredibly illusive Black Cat; Felicia Hardy, re-battled Doc Ock, had a movie made about him (from which he didn't get a penny), fought the Punisher and Boomerang.
During a big fight with Gladiator, Spider-Man was badly hurt, and had to go to Dr. Curt Conners for medical treatment. This left Conners with a sample of Peter's mutated blood. Over the course of several months, Dr. Conners and his assistant, Ben Reilly, created a clone, combining Peter's DNA with his own, that escaped early in its incubation process. "Little Ben" started feeding off people to grow quickly in strength and size, consuming it's victims while showing a small child-like face to the victim. The creature mimicked the moves of Spider-Man to swing to the Parker house, where it found and consumed Gwen Stacy. Peter soon confronted Dr. Conners outside his home, where he confessed to the DNA splicing. Peter fought what was known as "Carnage" throughout the city, and when it consumed two more victims, it formed into an almost human form, looking incredibly like Peter's own father. The fighting continued, and Peter finally tricked the creature into jumping down an industrial chimney.
Supporting Characters
Edit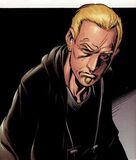 The arrival of Gwen Stacy at Midtown High School put pressure on his relationship with MJ but it survived.
Spider-Man was impersonated by an imposter and then hunted by the police. Spider-Man battled the imposter, who had killed Gwen Stacy's father, Captain Stacy.
Peter then met his long-lost childhood friend, Eddie Brock, after discovering boxes of old documents and video tapes in a hidden room in his basement, indicating both their fathers worked on the 'Venom Project'. Eddie was a student at ESU, and showed Peter 'their inheritance', A biological "suit" that could enhance and heal a sick person. Peter took a sample of the suit, but spilled some onto him, which formed into a black costume.
When Peter raced after an armed robber, the suit took a turn for the worse. Recollecting the death of Uncle Ben, Peter lost control and fell off a building onto some electricity cables. Peter returned to ESU where he confronted Eddie and revealed his identity. He destroyed the rest of the formula. Eddie then pulled another flask from storage, and transformed into Venom. He tracked Peter down to Midtown High and the two battled. Eddie stepped on a loose power cable, vaporizing him instantly. After Peter defeated Eddie, Peter confronted Nick Fury about the death of his parents. Fury lied and denied having to do anything with Richard's and Mary Parker's deaths.
Meeting other heroes
Edit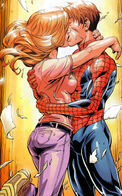 After a storyline in which Peter 'mind-swapped' with the X-Men's
Wolverine
, he met
Johnny Storm
; The Human Torch, encountered
Doctor Strange
, fought
Harry Osborn
who had become the Hobgoblin, discovered the Black Cat (Felicia Hardy) was still alive, and battled Hammerhead, Elektra, Moon Knight, Iron Fist and Shang Chi.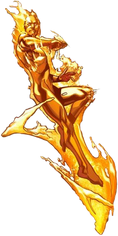 Fearing her safety and constantly at odds with her placing herself in danger, Peter broke off his relationship with
Mary Jane
. Peter began "dating" Kitty Pryde from the X-Men. One night in the Bronx, they took down the Screamers, who were using the drug Banshee. Wolverine took out the last one, who came for Peter's help in figuring out why he was positive for Banshee. Peter was able to determine that Logan's DNA was used as a basis for Banshee.
Soon after, Norman Osborn and many other inmates escapee from the Trikskellion. S.H.I.E.L.D. Agent Carol Danvers tried using Peter as bait to draw out Osborn. In a ploy to attract Osborn to the Helicarrier, S.H.I.E.L.D. had Harry Osborn expose the truth about his father on television. Harry transformed into the Hobgoblin and battled his father along with Peter and S.H.I.E.L.D. After beating Harry to death, Osborn told Danvers to kill him which she gladly did. The next day, Peter informed his class of Harry's demise, revealing that Harry was a hero.
"It's okay... I did it. Don't you see... it's okay. I did it. I couldn't save him. Uncle Ben. I couldn't save him... no matter what I did. But I saved you. I did it. I did..."
— Peter Parker
Shortly after his sixteenth birthday, Peter learned that Norman Osborn and his Six had escaped prison and that they were likely heading toward his family. While searching for Norman Osborn and his team, he saw The Punisher aiming his sniper rifle at Captain America. Peter bravely swung down and pushed Cap out of the way, taking the bullet instead.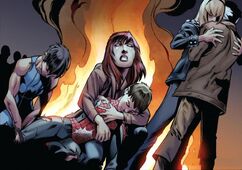 After managing to regain conscienceness and dress his wound with webbing, Peter fought Norman Osborn and the Six. When Electro was about to deliver the final blow, he was shot by Aunt May with a revolver. Electro died and short circuited, knocking out the most of the Six. Peter swung Gwen and May away from the fight so he could fight Norman Osborn. Norman proved to be too strong and was about to deliver the final blow when Mary Jane rammed a truck into him, saving Peter. After Peter kissed Mary Jane, he literally threw her out of harms way and lifted the truck and smashed it onto Osborn.
The truck exploded in front of Peter's face, further wounding him. Mary Jane, Johnny, Gwen, and Aunt May all gathered around a mortally wounded Peter, who told May that while he could not save Uncle Ben, but he was able to save her. Johnny then checks Peter for a pulse and shakes his head no. Aunt May begins crying uncontrollably and MJ begins weeping while cradling his lifeless body. Peter then finally closed his eyes and died. Mary Jane cradled his lifeless body while Johnny, Gwen, and May all cried uncontrollably. Norman Osborn died with a smirk, knowing he had succeeded in killing Spider-Man.
Aftermath
Edit
Shortly after Peter's death, the public was now well aware Peter Parker was Spider-Man. The Daily Bugle was one of the first newspapers that announced Spider-Man's death and his true identity. J. Jonah Jameson was about to publish a report saying that he knew Peter was Spider-Man, but he couldn't come up with the right way to say it. Mary Jane was positive that Nick Fury was responsible for Peter's death and became determined to find the evidence to prove it and put Fury behind bars.
All of New York City mourned Spider-Man, and Tony Stark planned a large funeral for Peter at Saint Patrick's Cathedral. Aunt May almost couldn't bare coming to Peter's public funeral, but she managed to come and meet a little girl Peter saved from a fire. Before the funeral began, Steve Rogers confronted Aunt May, who told her that he feels responsible for Peter's death.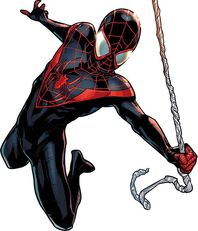 While May and Gwen moved to France with the help of Tony Stark, Mary Jane continued her search to prove Fury's involvement in Peter's death. He visted her in her home and told her that he loved Peter like a son.
Shortly after Peter's death, a new Spider-Man began fighting crime in his stead, revealed to be the young Miles Morales.
Spider-Men
Edit
Much after Miles becomes Spider-Man, through means of Ultimate Mysterio dressed as Earth-616 Mysterio in the most recent crossover, "Spider-Men" Peter Parker of Earth-616 travels to Earth-1610 to meet Miles Morales as the current Spider-Man and to find out the Peter Parker of that reality is dead.
Video Games
Edit
In 2005, a game called Ultimate Spider-Man was released starring Peter Parker (Spider-Man) and Venom (Eddie Brock) as playable characters.
In 2010, Spider-Man: Shattered Dimensions was released, starring four different Spider-Men with Ultimate Spider-Man as playable character in the fourth dimension with the symbiote suit on. His original red and blue costume is wearable as an alternate when unlocked.
Television
Edit
In 2012, a television show premiered on Disney XD called, Ultimate Spider-Man.  Based around the ultimate universe, starring Drake Bell as Spider-Man teaming up with four other heroes Nova, Luke Cage (Power Man), White Tiger, and Iron Fist along side Nick Fury to become the "Ultimate Spider-Man".