Negative Zone Costume
Talk

0
1,293pages on
this wiki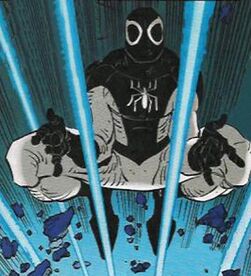 The Negative Zone Costume is a costume Spider-Man gained while traveling to the Negative Zone to rescue three children.
During his visit to the Negative Zone, Spider-Man's suit transformed into a white and black suit. Being that the Negative Zone has no color, the suit made Spider-Man seem almost invisible.
When Spider-Man was framed by Norman Osborn a few weeks after Spider-Man's first Negative Zone visit, he used the costume to become the dark, mysterious Dusk (one of his four new superhero identities during the Identity Crisis story arc). A few months later, after Spider-Man's name was cleared, Cassie St. Commons was given the guise of Dusk, and the Negative Zone costume  and joined the Slingers.
Video Games
Edit
  *Cletus Kasady also visited the Negative Zone, finding an exact replica of the Carnage symbiote there, the original one which he had lost when Venom absorbed it into his own symbiote.