Miguel O'Hara (Earth-928)
Talk

0
1,310pages on
this wiki
Miguel O'Hara
(of Earth-928) is a alternate version of Spider-Man that became a hero many years after the end of what his people's history calls the "Heroic Age", which is the modern day era of Marvel heroes.
Early life
He grows up with his mother Conchata, his younger brother Gabriel, and the abusive father George O'Hara. A rebellious boy with prodigy-level intelligence, Miguel is an adolescent when he is awarded enrollment into the Alchemax School for Gifted Youngsters, a renovated version of the X-Men's headquarters, in Westchester, owned by the powerful Alchemax megacorporation which also controls local law enforcement agencies. Here, he befriends Xina Kwan, a girl of similar intelligence who specializes in computers. Xina helps Miguel defend himself against the bully Kron Stone, son of Tyler Stone, Vice President of R&D for Alchemax. As adults, Miguel and Xina date seriously until Miguel cheats on her with Dana D'Angelo, who originally is the girlfriend of Miguel's brother Gabe. Later on, Miguel and Dana are engaged. Though seemingly arrogant and confident in all walks of life, Miguel is a very private man and trusts almost no one save for his apartment's holographic aid Lyla, an artificial intelligence programmed by Xina.
Working at Alchemax
Miguel eventually becomes head of the genetics program of Alchemax, intended to create new corporation-controlled super-powered soldiers called "corporate raiders." Miguel is specifically inspired by surviving records concerning Spider-Man and hopes to one day create a similarly powered person.
But after a human test subject dies during an early experiment, Miguel tells Tyler Stone he wishes to resign from Alchemax and discontinue his genetics research. Rather than let Miguel leave, Tyler Stone tricks him into taking Rapture, an addictive drug that genetically bonds to the user.
Tyler reminds Miguel that only Alchemax is allowed to legally distribute this drug, so if O'Hara does not remain with the corporation then Tyler must assume he is getting the drug from the black market and will be forced to tell the police. Not wishing to be a blackmailed addict, Miguel recalls that he entered his own genetic code into his machine's databanks during initial experiments, using it as a human DNA test sample. Intending to use this older template of his pure genetic code to write over his current biology and free himself from the Rapture, Miguel sneaks into Alchemax and uses the gene alteration machines on himself.
Becoming Spider-Man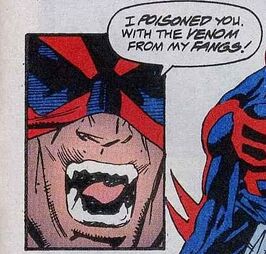 After Miguel turns on the machine to rewrite his DNA, his jealous subordinate Aaron Delgado sabotages the machines, causing them to alter Miguel's genetic code to be "50% Spider DNA." Miguel survives the process, but realizes he now has spider-abilities. Realizing that there is now a person with abilities similar to Spider-Man, Tyler Stone sends agents to hunt this person. To conceal his identity while he fights his pursuers, Miguel dons a bodysuit with a mask that he once wore for the Mexican Day of the Dead festival. Miguel chooses this costume in particular because it is the only clothing he has that is made from Unstable Molecule Fabric, meaning it is the only clothing he owns that will not be torn or shred by the spider-talons that now occupy his hands and feet. After seeing him operate in public, a group of Thorites (worshipers of the Marvel hero Thor) come to believe that Miguel is the legendary Spider-Man back from the dead and that he is the harbinger of Thor's eventual return.
Originally focused with finding a cure for his condition, Miguel's further adventures as Spider-Man 2099 cause him to realize how ignorant of the world he was and how he had turned a blind eye to the oppression and pain the corporations of the world have caused. He is also surprised at the effect his presence has on the people who have been oppressed for so long, particularly his own mother, who ironically also hates the man her eldest son has become, admires the exploits of Spider-Man 2099. After this, Miguel decides to embrace his identity as Spider-Man. Donning his costume, he publicly proclaims himself to be an enemy to all the megacorps, saying he will use his powers to fight for ordinary people against those in power who abuse their influence and authority.
Later on, Miguel discovers that an arrogant scientist at Alchemax called Jordan Boone is conducting "Virtual Unreality" experiments to create a doorway into another dimension. These experiments lead to the release of two mysterious figures: the Net Prophet, called "the prophet of Thor" by the Thorites, and a powerful megalomaniac called Thanatos. The Net Prophet becomes a new ally to Miguel. Since the Net Prophet is believed to be Thor's prophet, his association with Spider-Man 2099 leads more people to believe that Miguel's alter ego is the harbinger of Thor. After his holographic aid Lyla suffers a serious malfunction, Miguel asks for repairs from his ex-girlfriend Xina. Dana later accuses Miguel of cheating on her with Xina and Miguel becomes angry about this and about Dana's noticeably increasing interest in Tyler Stone. The two break up and Xina and Miguel become companions again.
Powers & Abilities
Accelerated Vision: Miguel O'Hara's visual acuity is considerably beyond that of a normal human. O'Hara can see objects at much greater distances, with perfect clarity, relative to an ordinary human. O'Hara possesses this same level of clarity at night, enabling him to see in near-complete darkness. It is possible that he is able to see into the infra-red end of the electromagnetic spectrum, enabling him to see a person's body heat. What appears as a blur to most people, he can see perfectly.
Rapid Healing: O'Hara's accelerated metabolism affords him a rapid healing ability that lets him regenerate damaged bodily tissue faster and more extensively than a normal human is capable of. Injuries such as slashes or puncture woulds can heal completely within a matter of hours. It isn't known if O'Hara's healing powers afford him greater resistance to toxins or diseases; nor if they grant him an extended lifespan. O'Hara healing factor isn't sufficiently enhanced to regenerate severed limbs or missing organs. although he heals at a greater rate than a normal human, he doesn't possess an actual superhuman healing factor.
Talons and Fangs: O'Hara possesses elongated canine teeth that secrete a paralyzing, though non-toxic, venom. He also possesses short, retractable talons at the tips of his fingers and toes that he uses to dig into surfaced, enabling him to crawl along them as a spider might. The talons are also razor sharp and, coupled with his great strength, are able to rend materials as durable as cinder block.
Spinnerets: Both of O'Hara's forearms contain a set of spinnerets that release a very strong and sticky web-like substance from the back of his wrists. O'Hara can use this webbing to swing from building to building with or as a means of restraining an individual. Unlike the original spider-man, O'Hara's webs are organic and are chemically identical to real spider silk.
Enhanced Resilience: O'Hara has a level of resilience far greater than most humans. he once fell off a building and effortlessly walked to a hospital, where a doctor said that with broken ribs and massive fractures, it was amazing that he could even stand up.
Abilities
Much like Peter Parker, Miguel O'Hara is a skilled and gifted geneticist. He is also a formidable hand to hand combat, despite the fact that he's had little formal training. He uses a special freestyle of fighting that allows him to make full use of his strength, speed, and agility.
In media
Spider-Man 2099 was an unlockable costume for Spider-Man in the first of Activision's Spider-Man games for Sony PlayStation, Sega Dreamcast, Nintendo 64, and the Windows/PC platform.

The unlockable character returned in the game's sequel, Enter Electro, produced for PlayStation.

Spider-Man 2099 is also a Wii exclusive unlockable costume for Spider-Man: Web of Shadows by completing 50 city events.
Spider-Man 2099 is a playable character in the Marvel Super Hero Squad video game.
Spider-Man 2099 is a playable character in Marvel Super Hero Squad Online.
Spider-Man 2099 is one of four versions of Spider-Man featured as playable protagonists in Spider-Man: Shattered Dimensions, voiced by Dan Gilvezan, who played the role of Peter Parker in the 1980s cartoon series Spider-Man and His Amazing Friends.
Spider-Man 2099 is a playable character in Spider-Man: Edge of Time, voiced by Christopher Daniel Barnes, who provided the voice of Spider-Man in the 1994 TV series. In the game, he is trying to stop Sloan from rewriting history by allowing Alchemax to be founded ahead of schedule. He makes a chronal link with Peter Parker to help him out, but is annoyed by his attitude. He travels back into the past to help Peter survive being killed by Anti-Venom and helps defeat an evil version of Peter (who is now Alchamax's CEO, having lived off of anti-aging pills) along with an Atrocity created from a mixture of Anti-Venom, Doctor Octopus, and Sloan.
Trivia
Originally O'Hara did not possess a Spider-Sense as the original Spider-Man did. However, in Spider-Man: Shattered Dimensions, Madame Web passed on this power to him to aid him. Note that this ability has not appeared outside of Shattered Dimensions.
A television series for Miguel O'Hara/Spider-Man 2099 was considered in the late 1990's however the series was turned down in favor for Spider-Man: Unlimited.