Mary Parker (Earth-616)
Talk

0
1,306pages on
this wiki

So, as someone once said, --- Up --- Up --- and AWAY!

-Peter Parker (Earth-616)

This article is plagiarized. It seems another editor of the Spider-Man Wiki has added information directly copied from another website/database. Please edit this article to make it more original.
Please users, remove this template ONLY if the article has updated with original content.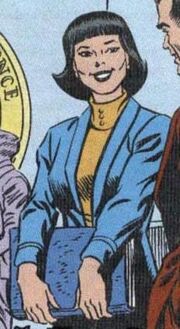 Mary Parker
is a fictional character in Marvel Comics. She was the mother of
Peter Parker
, the boy who one day would become Spider-Man. Prior to
Amazing Spider-Man Annual
#5 (published in 1968), there had been no explanation of why Peter Parker was an orphan and was raised by his
aunt
and
uncle
. That issue finally answered the question.
Richard
and Mary Parker only appeared in brief flashbacks in the story
Captain Richard Parker, a decorated soldier of the United States Army, was recruited by Nick Fury. Mary Slattery was the daughter of O.S.S agent "Wild Will" Slattery. She attended the best schools and eventually followed in her father's footsteps, becoming a C.I.A. translator and data analyst.
Richard and Mary met on the job, fell in love, and married. Originally they elope, but they had a more elaborate service later, fooling many. Mary became a field agent like Richard, giving them both an easy cover as a married couple. They were assigned to investigate Baroness Adelicia Von Krupp, who had captured an agent of a "friendly power" (who turned out to be Wolverine, then a Canadian operative, then called Weapon X). They rescued Logan from the Baroness. After that mission, they discovered that Mary was pregnant; Logan was actually the first person to congratulate the Parker's, commenting later that he never saw an agent as tough as Richard Parker go quite that fast. Their son Peter Benjamin Parker was born some months later. However, Richard and Mary were frequently away from him on missions. While they were away, he was left in the care of Richard's older brother Ben and his wife May.
While on a mission to investigate the Red Skull, they posed as traitors and double agents to infiltrate his criminal organization in Algeria. Unfortunately they were discovered. Malik framed them and brought in an assassin called the Finisher to kill the two. Finisher sabotaged their airplane and caused it to crash. However it was later revealed that the Richard Parker that died in the crash with Mary was actually an android that was capable of mimicing human lifesigns and that had been implanted with a copy of his brain waves. The real Richard Parker had actullay volunteered for genetic alteration. The experiment killed him.
After Death
Edit
Richard and Mary's son, Peter grew up to become Spider-Man. Although he has no memory of his parents or their militaristic history, his aunt and uncle share photographs and happy memories with him... but not their belief that they had been traitors to their country. When Peter discovers this, he travels to Russia. Spider-Man returns to America with evidence and clears his parents' names.