Marvel: Avengers Alliance
Talk

0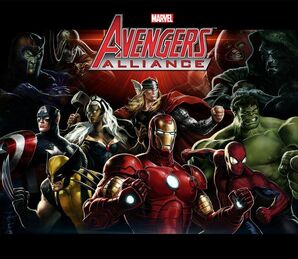 Marvel: Avengers Alliance
is a turn-based RPG social network game developed by Playdom.
The game is a turn-based RPG with characters from Marvel Comics. The game is accessible via social-networking website Facebook, Playdom's official website and mobile platforms.
Release
The social network game has been released on Facebook at March 1, 2012, and on Playdom's Official website at July 10, 2012, and June 13, 2013 on iOS devices via Apple's App Store.
Playable Characters
Spider-Man and Black Cat are playable characters, among others.
Spider-Man
Spider-Man cost 90 Command Points to unlock. He has the following abilities:
Web Shot (already unlocked)
Effect
Causes "Webbed" which lowers attack and defense.
Spider Sense (unlocked at level 2)
Effects 
Greatly increases evasion.
Gains extra turn when attacked.
Web Slingshot (unlocked at level 6)
Effect
Deals critical damage if target is "Webbed".
Web Swing (unlocked at level 9)
Effect
Black Cat
Cat Scratch (already unlocked)
Effects 
Causes one stack of bleeding (three if Cat costume is equipped)
Unlucky Strike (unlocked at level 2)
Effect
Reduces accuracy by 30% and evasion by 35%
Stroke of Luck (unlocked at level 6)
Effect
Greatly increases stats for the following turn
Nerve Chop (unlocked at level 9)
Effect 
Deals extra damage against Bleeding targets
Bosses
There are many Spider-Man villains as bosses in the game such as:
Alternate Costumes
Spider-Man has three different alternate costumes, his Symbiote costume, his Future Foundation costume and his costume based off the Classic Red and Blue from The Amazing Spider-Man 2.
Black Cat has one alternate costume, her "Claws" costume.
Team Up Bonuses
Heroes can get bonuses based on who they are paired with for battle.
Spider-Man
Black Cat
Trivia
Unlike Classic Spider-Man which starts with Great Responsibility, Symbiote Suited Spider-Man starts with Great Power instead.
See Also