Hands off! Construction in progress!


This article is under going major reconstruction changes by another user to slowly become a better article. If you want to take over or have ideas, ask the person working on the page, or request to reconstruct a page via the forums, a blog, chat or the articles talk page.
Remember users, remove the template

ONLY

if the article has been fixed. If you are unsure, ask in the Spider-Man chat or the talk page of said article.

Aracely (of Earth-616) is a fictional character in the Marvel Comics universe.
Early life
Edit
Next to nothing is known of Aracely's life before she met Kaine.
With Kaine
Edit
Although very little is known about her past due to memory loss, Kaine saved her from human trafficking at a fairly young age. After leaving her at a hospital, she was kidnapped once again by the Salamander. After being saved once again by Kaine, she was put under his protection. Her original kidnappers later found her, and explained to her that she was believed to be an incarnation of the Aztec god Huitzilopochtli. Aracely would eventually work alongside kaine as Hummingbird.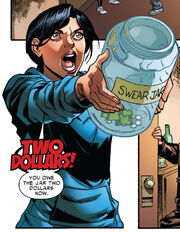 Ad blocker interference detected!
Wikia is a free-to-use site that makes money from advertising. We have a modified experience for viewers using ad blockers

Wikia is not accessible if you've made further modifications. Remove the custom ad blocker rule(s) and the page will load as expected.