MacDonald "Mac" Gargan (Earth-616)
Talk

0
1,292pages on
this wiki

This has got to be the worst alternate universe ever.

-Peter Parker (Earth-616)

This article is a stub. This means that it is short and needs more information, or should be expanded with up to date information. You can help the Spider-Man Wiki by expanding it. Thanks!
Remember users, remove this template ONLY if the article has been expanded enough.
Scorpion
Real name:
MacDonald Gargan
First Appearance:
Amazing Spider-Man #19 (as MacDonald Gargan), Amazing Spider-Man #20 (as Scorpion), Marvel Knights: Spider-Man #10 (as Venom), Dark Avengers #1 (as Spider-Man)
Created by:
Stan Lee; Steve Ditko
Universe:
Earth-616
Alignment:
Bad
Status:
Deceased
Place of Birth:
Citizenship:
American
Base:
Formerly Avengers Tower, Thunderbolts Mountain
Affiliations:
Formerly Dark Avengers, Thunderbolts, Sinister Six, Sinister Twelve, Masters of Evil, former partner of Mister Hyde
Abilities:
Investigative Prowess, Formidable Opponent
Height:
6' 2"
Weight:
220 lbs (100 kg)
Hair Color:
Brown (shaved bald)
Eye Color:
Brown
Unique Features:
Scorpion-like armor and tail attached to his body

MacDonald Gargan (of Earth-616), also known as Scorpion, was originally a private investigator initially hired by J. Jonah Jameson to find out how Peter Parker is able to obtain his incredible pictures of Spider-Man.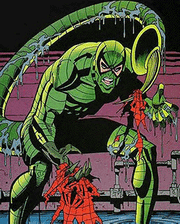 Gargan's efforts set off Peter's Spider-Sense and he is able to easily evade the detective. Jameson then decided to hire Gargan as the subject of a barely tested process that would endow him with the useful characteristics of a particular animal with the help of Dr. Farley Stillwell. In this case, a scorpion was the base for the purposes of creating a powerful agent capable of defeating Spider-Man. Scorpion proved to be more than a match for the wall-crawler, defeating him twice, but the mutagenic treatment seriously affected Gargan's mind, driving him insane. He promptly turned on his benefactor, but Spider-Man intervened, and managed to finally defeat Scorpion in their third battle.
Jameson was struck with the irony that he was saved by the man he tried to destroy from the thing he created to destroy him. Scorpion would return again to attack Jameson but was once again defeated by Spider-Man. Since then, the Scorpion became a professional criminal and has repeatedly attempted to indulge in his deadly vendetta against Spider-Man and Jameson, only to be defeated each time.
Scorpion, through the course of his career, acquired a few items (a new costume, and several new tails). He also fought Ms. Marvel after a botched revenge attempt against Jameson. Scorpion became more psychotic than usual after his battle with Ms. Marvel, resulting in his being dumped in acid. In the sewers, his sanity deteriorating, Scorpion came to believe that his costume couldn't come off. However, after a quick encounter, Spider-Man proved to him that his belief of being a monster was in his mind. He formed an extortion racket to sabotage the Daily Bugle, but was thwarted by Spider-Man and Captain America. He was freed from prison by agents of Wilson Fisk, who wanted him as a member of the third Masters of Evil. The team fought The New Avengers and were defeated.
Scorpio-Venom Mac Gargan purchased the Venom Symbiote from Edward Brock at a super villain auction, in an attempt to substantially increase his powers. It was a success, with the Symbiote bonded over his Scorpion suit, Gargan retained complete control over the suit for some time. However, during a fight with Spider-Man, the Symbiote finally managed to secrete enough acid onto Gargan's Scorpion suit to completely dissolve it.
Becoming Venom

Edit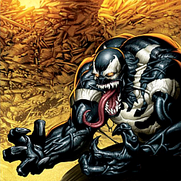 Once Gargan's Scorpion suit was dissolved, the Symbiote rapidly altered his brain chemistry, and muscle mass, transforming him into a new Venom, even more psychotic and bloodthirsty than the original, and also willing to cannabalize humans to keep the Symbiote happy. The Venom Symbiote was removed from Gargan during the seige of Asgard, and later bonded to
Eugene Thompson
to create the heroic Venom. Gargan currently resides in Ryker's Island prison for the criminally insane. He is no longer bonded to the Venom Symbiote , and does not currently possess a Scorpion suit or any
Superhuman
powers.
Powers and Abilities
Edit
As Scorpion
Edit
MacDonald Gargan, as Scorpion possesses superhuman strength, he is able to lift approximately 15 tons, and as such, he can easily overpower normal humans, can lift extremely heavy objects, and uproot trees to use them as weapons. Gargan can run and or exercise as well as operate at superhuman speeds hence his overall body equilibrium is also heightened although he isn't nearly as fast as speedsters. With his speed, he can outrun vehicles. As Scorpion Gargan has superhuman durability. The scorpion suit was capable of shiedling Gargan from bullets from small-arms weapons firing conventional ammunition. Gargan was also able to survive heavy impacts and blunt force trauma without sustaining injury. Gargan's agility, balance, and bodily coordination are enhanced to levels that are beyond the natural physical limits of even the finest human athlete. Gargan's reflexes are similarly enhanced and are superior to those of the finest human athlete. Though he typically punches holes in walls to use as hand-and-footholds, Gargan is capable of adhering to solid surfaces much like Spider-Man. However, he is not Superhuman, as his Scorpion suit grants him all of his abilities.
As Scorpio-Venom
Edit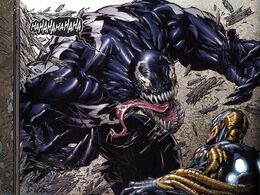 Due to the time the Symbiote spent bonded to Spider-Man, the Symbiote grants Gargan all of Peter's Superhuman powers (except for his Spider-Sense), and cannot be detected by his Spider-Sense (as it was bonded to Peter for so long, that his Spider-Sense no longer registers it as a threat). Since Spider-Man's fighting style is partly dependent on his Spider-Sense, his effectiveness is somewhat hampered when he battles Mac, allowing the less experienced Gargan to keep up with him. It, coupled with the enhancements provided by his Scorpion suit, have endowed Gargan with enhanced Superhuman strength, enabling him to lift 60 tons or 120,000 Pounds, and contains a small "Dimensional Aperture", allowing him to carry up to 5 tons of items without adding weight or mass to the Symbiote. The Symbiote is able to transform to mimic any human being or article of clothing imaginable. It communicates with telepathy and does not require physical contact to influence the minds of others. The Symbiote can also blend with any background, using an optic-camouflage type of effect.