Kaine Parker (Earth-616)
Talk

0
1,292pages on
this wiki
Hey! This article is not at all how a regular article should look like!
This article is either too long, or is not finished. It is under construction, and therefore needs fixing. Please help the Spider-Man Wiki by and fix this mess. Thanks!
Remember users, remove the template

ONLY

if the article has been fixed.
Scarlet Spider
Real name:
Kaine Parker
First Appearance:
Web of Spider-Man #119 (Dec, 1993)
Created by:
Terry Kavanagh, Steven Butler
Universe:
Earth-616
Alignment:
Good
Status:
Alive
Place of Birth:
N/A
Citizenship:
American
Base:
Houston, Texas
Affiliations:
Spider-Man
Abilities:
Proportional strength, speed, agility, and reflexes of a spider
Height:
6' 4"
Weight:
250 lbs
Hair Color:
Brown
Eye Color:
Brown
Unique Features:
Tattoo on left arm
"The scars are gone. The degeneration is gone. But for the first time in my life... I'm not dying. For the first time in my life, I realize I don't have to be the man I see in the mirror. I may not be able to forget my past... But I can be someone better. For the first time in my life... I'm alive."
— Scarlet Spider
Kaine Parker (of Earth-616) is the first of five clones created by Jackal in hope to create a perfect version of Peter Parker. He is currently the only surviving clone and has taken up the mantle of the Scarlet Spider.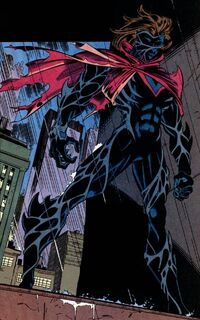 Kaine was created by Miles Warren in his first attempts to clone the hero Spider-Man. Though initially appearing to be a success, flaws in the cloning process led to him quickly becoming deformed and mentally unstable. Warren, hoping to glean more information from the failure, did not destroy him, wondering how long he would survive the degeneration process. Feeling rejected by Warren only seeing him as an object, Kaine left the mad professor, and soon discovered that his degeneration had gifted him with powers his genetic template lacked. His physical abilities had been boosted beyond Spider-Man's, and he had developed a limited precognitive ability (apparently stemming from his Spider-Sense). He also developed what came to be called the "Mark of Kaine", an acidic touch that burned a distinctive mark on his victims' faces.
Warren continued to create clones of Spider-Man, eventually creating one that would come to be known as Ben Reilly. Warren set Reilly against Spider-Man, and the battle ended with both Reilly and Warren assumed dead. In reality, Warren had created a clone of himself that had died in his stead while he remained in stasis in a cloning pod, whereas Reilly had fled New York after realizing he was a clone.
However, unbeknownst to anyone, Norman Osborn switched Warren's files around, making it appear that Peter Parker was the clone, and Ben Reilly was the original. When Kaine came across these files, he believed them, and began to stalk Ben. During this time, he became romantically involved with detective Louise Kennedy in Salt Lake City, though he killed her when he discovered that she was working for criminals. This event weakened his already tenuous grasp on his sanity, leading him to make it appear that Janine Godbe, a woman Ben was romantically involved with, had killed herself. Not content to leave it at that, he then framed Ben for various murders, as they had the same fingerprints. In his deranged state, he reasoned that doing this would allow the other "clone" (Peter) to have the life that he was robbed of. 
Return to New York
Edit
When Ben eventually returned to New York, to visit the ill Aunt May, Kaine followed. Kaine had, by now, become a mob hitman, and was more than willing to use his lethal skills to keep Ben out of Peter's life. At this point, his precognitive Spider-Sense alerted him that Mary Jane's life was in danger. Kaine went on a killing spree, desperate to prevent this. He murdered any villain he deemed a potential threat, such as Doctor Octopus or Grim Hunter. Both would later learn to fear the mad clone, and took steps to prevent future encounters from ending as the last. Kaine's brutal attacks brought him to the attention of both Peter and Ben, who now used the superhero alias of Scarlet Spider. To further complicate matters, Kaine's killing spree was placed on police bulletin boards across the nation, and when the news reached Salt Lake City, Louise's former partner recognized Kaine's MO. They left for New York, eager to bring the killer to justice.