Iron Spider Armor
Talk

0
1,310pages on
this wiki

The Iron Spider Armor is an armor created by Tony Stark for Spider-Man.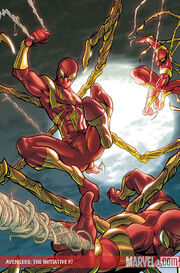 The Iron Spider Armor was given to
Peter Parker
by
Tony Stark
during the Spider-Man: The Other storyline.
Peter Parker primarally during the Civil War while he was on the side of the Initiative.
The armor was abandoned when Parker joined the Secret Avengers.
Three duplicates of the armor were created for the members of the Scarlet Spiders. Only one of these duplicate armors escaped destruction during the Skrull Invasion.
Following the deaths of Michael and Van, Patrick is now the only individual to currently use this armor.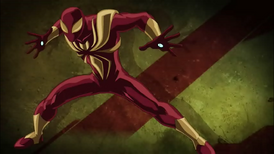 Iron Man
created the armor, based of of his own armor's specs, for
Spider-Man
after being impressed by the way he battled the
Living Laser
.
Spider-Man had a hard time using the armor at first due to it being designed for Iron Man's fightig style not his. Spider-Man then tweecked the armors specs to fit his stlye and had better success in subsiquinte battles against the Living Laser and Doctor Octopus.
Currently, Spider-Man only uses the armor when Nick Fury has given him permission to use it or during emergencies.
Television
Edit

Video Games
Edit
In 2009's Marvel: Ultimate Alliance 2, the Iron Spider Armor is only wearable when you join Captain America's side of the Civil War.
In 2010's Spider-Man: Shattered Dimensions, the Iron Spider Armor was unlockable for the Spider-Man of the year 2099, Miguel O'Hara.
In 2011's Spider-Man: Edge of Time, the costume is when unlockable, and wearable for Miguel O'Hara only.
In 2011's Ultimate Marvel vs. Capcom 3, the Iron Spider Armor is a already unlocked alternate for Spider-Man.