Gwendolyne Stacy (Earth-616)
Talk

0
1,308pages on
this wiki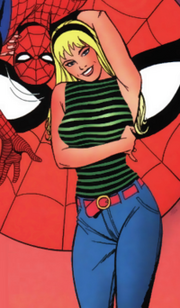 This has got to be the worst alternate universe ever.

-Peter Parker (Earth-616)

This article is a stub. This means that it is short and needs more information, or should be expanded with up to date information. You can help the Spider-Man Wiki by expanding it. Thanks!
Remember users, remove this template ONLY if the article has been expanded enough.
Gwendolyne Stacy was the first love of Peter Parker and a close friend of Mary Jane Watson. She met Peter when they were undergraduates together, so her interest in science was a defining aspect of her character.
Origin
Gwen Stacy is the daughter of police chief George Stacy, who was killed by falling debris during a battle between Spider-Man and Doctor Octopus. This drove a wedge between Peter Parker and Gwen. She left to go to Europe to grieve for her father, and ideally wanted Peter to propose marriage to her and go with her, but his guilt prevented him from doing so.
The death of Gwen Stacy
Gwen Stacy was finally killed by The Green Goblin. The goblin dropped her off a bridge and Spider-Man caught her by webbing her leg to catch her, but the fast catch snapped her neck, and killed her. Soon after Spider-Man became so angry he almost killed the Green Goblin, but then decided not to. This made the Green Goblin Spider-Man's number one enemy, replacing Doctor Octopus. She later made an appearance as a clone of herself, created by Jackal.