Future Foundation Costume
Talk

0
1,297pages on
this wiki
The Future Foundation costume is a costume given to Spider-Man upon joining the Future Foundation as part of Johnny Storm's last request before dying.
The costume has a white and black color scheme costume and is made from third generation unstable molecules.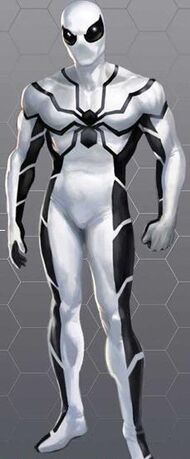 This suit never gets dirty, as it is made of a new generation of "Unstable Molecules" and it is this technology that allows him to change this costume to his classic red and blue or in civilian clothes with just a thought.
However, in other Marvel titles (such as "The Avengers" or "The New Avengers") he uses always the white and black scheme. Because of this, now Peter uses this costume regularly, being the first change of regular suit since the Symbiote Costume.
Video Games
Edit
In 2011's Spider-Man: Edge of Time, The Future Foundation Costume appeared as a wearable costume when unlocked.
In 2011's Ultimate Marvel vs. Capcom 3, the Future Foundation costume appeared as a an unlocked alternate for Spider-Man.
In 2012's The Amazing Spider-Man (video game), the Future Foundation suit appeared when unlocked, but with its colors reversed.