Eugene "Flash" Thompson (Earth-616)
Talk

0
1,308pages on
this wiki
Venom
Real name:
Eugene "Flash" Thompson
First Appearance:
Created by:
Stan Lee; Steve Ditko
Universe:
Earth-616
Alignment:
Good
Status:
Single
Place of Birth:
Forest Hills, Queens, New York
Citizenship:
American
Base:
Mobile
Affiliations:
Secret Avengers
Abilities:
Bonded with Venom Symbiote
Height:
4' 1" (formerly 6' 2")
Weight:
160 lbs (formerly 185 lbs)
Hair Color:
Reddish blonde
Eye Color:
Blue
Unique Features:
Missing legs from below the knee (regrown as Venom)
Eugene "Flash" Thompson was a former classmate of Peter Parker at Midtown High School. Friction between the two was a common occurrence, especially due to their competition for the affection of Liz Allen. Ironically, Flash became an ardent supporter of Spider-Man, despite popular opinion against him. Flash tried to play a trick on Peter by dressing in a Spider-Man costume and attempting to frighten him. Before Flash could surprise Peter, he was abducted by Doctor Doom, who mistakenly believed he was the real Spider-Man. Peter was forced to save his own worst rival. He was in a comatose state until for a time. When he came out he had forgotten much of what had happened between him and Peter after High School. He was given the position as Coach by the new Principal Roger Harrington at Midtown High School, where Peter was working as a teacher. Due to his memory loss, he was confused over how to think about Peter, but after an attack by Mysterio, he realized that he and Peter were on good terms and they became friends again. He later lost both of his legs in a grenade explosion, after being deployed to Iraq.
Venom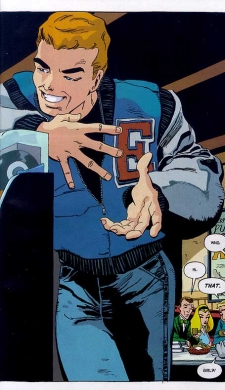 Flash became the new Venom, when he was enlisted as part of Project Rebirth by S.H.I.E.L.D agent Maria Hill. Flash was bonded with the Venom Symbiote, recently acquired by the U.S. government. Flash had 26 individual "control nodes" surgically impanted on the surface of his skin, before bonding with the Venom Symbiote, allowing him to use all of the Superhuman powers it grants him, without having his brain chemistry and personality altered by the Symbiote. Flash's first mission was in the European Eastern country Nrosvekistan, where he has to find the Doctor Ekmecic, who is specialist in making weapons from Vibranium. While on a mission in the Savage Land, trying to destroy an Vibranium shipment of the Kingpin's, Flash finds himself being hunted by Kraven the Hunter, who mistakes him for Spider-Man.
Flash is eventually able to find the shipment and destroy it. After taking control of an helicopter of his enemies, Flash is contacted by Kingpin, saying that he knows his identity and that he kidnapped Betty Brant. After encountering Kingpin, who tells him Betty's location, Flash runs to her aid, at the docks. But he finds himself against Spider-Man, who is also searching for Betty, after finding her apartament in a total chaos. In the middle of the battle between Peter, Flash tells him where Betty is, thinking the may help him, instead of thinking of Peter thinking that Flash had kidnapped Betty. Both Heroes continues the search for Betty, but as soon as Flash locates the warehouse where Betty is, it explodes. Then Peter leaves the destruction with Betty, who is unharmed in the ensuing explosion. Back at S.H.I.E.L.D, Flash lies to his superiors about Kingpin knowing his identity and him losing his control over the Symbiote while in the Savage Land. So that he is allowed to keep the Symbiote. Later, Flash discovers that his father is extremely ill and may not live much longer.
Spider-Island
During the events of Spider Island, Flash gets to a bridge, where Spider-King is trying to get out New York to spread The Queen's Spider-Virus (which was engineered by Jackal, from Peter's DNA, and designed to make any non-Superhuman individual mutate into a Man-Spider Creature over the course of 48 hours). Flash manages to defeat him and bring him into S.H.I.E.L.D custody, where is revealed that Spider-King is actually Steven Rogers, who has been mutated with a concentrated injection of Spider-Virus, and is now capable of laying eggs that hatch miniature Man-Spider Creatures. Flash is then ordered to infiltrate The Queen's hive disguised as Spider-King. At Horizon Labs, Reed Richards is developing a cure, and asks S.H.I.E.L.D to help him capture Anti-Venom, who might be the key for developing a cure for the Spider-Virus, at the same time Flash (who has disguised himself as Spider-King, is ordered by Queen to kill Anti-Venom, who is using his powers to cure citizens of her Spider-Virus.
This caused the Venom Symbiote to try and convince Flash to kill Anti-Venom, but Flash ultimately overpower's the Symbiote's consciousness. After subduing Anti-Venom at Our Lady of Saints Church, Flash delivers him to Reed Richards at Horizon Labs. Later, Flash gets back to the hospital where his father is being cared for, to see him for the last time before he died. At Horizon Labs, Eddie volunteers to undergo a procedure which will drain all of the Anti-Bodies in the Anti-Venom suit, thus allowing Reed to synthesize enough Spider-Virus Cure to treat everyone in the city. This renders Eddie completely Human, as he can no longer turn into Anti-Venom. Meanwhile, Peter finds himself fighting a ressurrected Kaine, who (like Steven Rogers) was mutated with a concentrated injection of Spider-Virus.
The ensuing battle eventually leads Peter and Kaine to Horizon Labs, where the vat of Spider-Virus Cure is being completed. At one point, Peter throws Kaine into the vat of Spider-Virus Cure. At first he was believed to have been killed, but a few minutes later, Kaine emerged from the vat. He now had the appearance of a 16 year old version of Peter, and no longer suffered from any cellular degeneration. Back in action, Flash rendevous with Peter and the cured Kaine (who has now donned Peter's stealth suit and taken on the alias of Scarlet Spider). They infiltrate The Queen's lair with the help of the de-mutated Steve Rogers, and the group attempts to kill her. Flash stabs The Queen with Rogers' shield, but she mutates herslef with a concentrated injection of Spider-Virus, and changes into a giant Man-Spider Creature. Kaine finally manages to kill The Queen, while Spider-Man distributes the cure around the city with the help of Otto Octavius' Octobots.
Powers & Abilities
Due to the time the Symbiote spent bonded to Spider-Man, the
Symbiote
grants Flash all of Peter's Superhuman powers (except for his Spider-Sense), and cannot be detected by his Spider-Sense (as it was bonded to Peter for so long, that his Spider-Sense no longer registers it as a threat).
It has also endowed Flash with enhanced Superhuman strength, enabling him to lift 40 tons or 80,000 Pounds, and contains a small "Dimensional Aperture", allowing him to carry up to 5 tons of items without adding weight or mass to the Symbiote. The Symbiote is able to transform to mimic any human being or article of clothing imaginable. It communicates with telepathy and does not require physical contact to influence the minds of others. The Symbiote can also blend with any background, using an optic-camouflage type of effect. The downside to having being bonded to the Venom Symbiote, is that the control nodes are not entirely foolproof. When they malfunction, Flash transforms into the creature known only as "Savage Venom", in this form, the Symbiote completely takes control of his mind.