Edward Brock (Earth-616)
Talk

5
1,306pages on
this wiki

So, as someone once said, --- Up --- Up --- and AWAY!

-Peter Parker (Earth-616)

This article is plagiarized. It seems another editor of the Spider-Man Wiki has added information directly copied from another website/database. Please edit this article to make it more original.
Please users, remove this template ONLY if the article has updated with original content.
Toxin
Real name:
Edward Charles Allan Brock
First Appearance:
Web of Spider-Man #18 (as Eddie Brock), Amazing Spider-Man #299 (as Venom), Amazing Spider-Man #569 (as Anti-Venom), Venom Vol 2 #17 (as Toxin)
Created by:
David Michelinie, Todd MacFarlane
Universe:
Earth-616
Alignment:
Neutral
Status:
Alive
Place of Birth:
San Francisco, California
Citizenship:
American
Base:
New York, New York
Affiliations:
None; formerly Savage Six, Sinister Six, Revengers, former partner of Vengeance, Spider-Man, Scarlet Spider.
Abilities:
Expert Reporter, Skilled Symbiote Hunter
Height:
6' 3" (as Eddie Brock), Variable (as Toxin)
Weight:
260 lbs (as Eddie Brock), Variable (as Toxin)
Hair Color:
Blond (as Eddie Brock), Bald (as Toxin)
Eye Color:
Blue (as Eddie Brock), Black (as Toxin)
Unique Features:
Fangs and green tongue as Toxin
Edward Brock (of Earth-616) was originally a rival photographer of Peter Parker's at the Daily Bugle. Since his debut, Eddie has treaded the line between hero and villain, sometimes working to destroy Spider-Man, other times working with him.
He is currently alive and as of Venom (Volume 2) #17, he is the currrent host to the Toxin symbiote.
Early life
Edit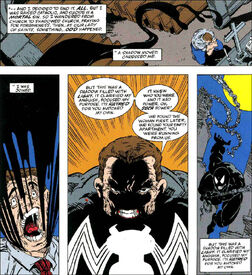 At the time of his job at the Daily Bugle, he idolizes
Spider-Man
(not knowing that he and Peter are one in the same), who breaks his cameras frequently to prevent Brock from stealing his pay check. Eddie, having lost his job (to Peter), wife, and apartment, is beginning to have thoughts of suicide at an empty church.
Disgusted with the person the Venom symbiote is turning him into, Spider-Man goes to the top of the bell tower of a church and uses the sonic vibrations from the bell to remove the symbiote. Unknown to Peter at the time, Eddie Brock was in that very same church and the Symbiote Later bonded with Eddie Brock due to sensing his anger at Spiderman and Peter Parker. Peter later found that since the symbiote was previously bonded with him, that his Spider-Sense no longer registered it as a threat. Peter has succeeded many times in separating Eddie from the Symbiote, once even sending it to the far reaches of outer space, but eventually, it always finds its way back to him.
The Lethal Protector
Edit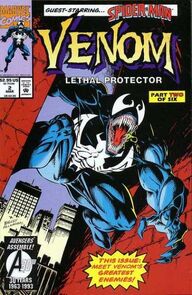 After dealing a truce with Spider-Man, Venom relocated to his home town of San Francisco. Some cops recognize Eddie Brock and try to bring him in, but he turned into Venom and resisted arrest, incapacitating them. Peter reads about how Venom's beating up police officers and breaks the truce by going to find him. Venom saved a handful of homeless people from being abused by criminals, and in gratitude revealed their underground society descended from survivors of the 1906 San Francisco Earthquake. He was taken prisoner by the Life Foundation, and forcefully made to spawn five more symbiotes. With the help of Spider-Man, he escaped the prison and managed to incapacitate the other symbiotes.
Return to Crime
Edit
Venom was recruited via an ultimatum by the government to be a special operations counter-terrorist agent. Venom agreed, but one stipulation of the deal did not sit too well with him. A bomb was planted in his chest to assure complete and utter obedience. After a few missions, Venom became tired of the situation and had the
Symbiote
perform surgery on him and extracted the bomb. The end result was Eddie Brock lying unconscious and the symbiote "dead," only to return later on and re-join with Eddie. Thus Venom was whole again and looking to square things with Spider-Man once again. He had lost his memory and no longer knew the secret identity of Spider-Man, but knew that a deep seated hatred resided within him.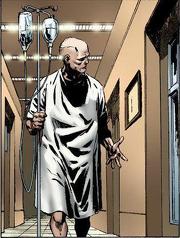 Shortly after the reunion, Venom joined the Sinister Six for a brief period in order to get at Spider-Man. After being scorned by the group, he hunted down certain members of the team for revenge (including Electro, Sandman, and Kraven the Hunter).
After a while, Eddie resurfaced with cancer. Since Eddie would not feed the symbiote's craving for human brains, it did not want him as its host any longer. Eddie decided to sell his Symbiote off in an auction, swearing off his life of vigilantism. The winner of the auction was Mac Gargan, who planned to use the symbiote as a means of finally removing his Scorpion suit.
Anti-Venom
Edit
Main article: Anti-Venom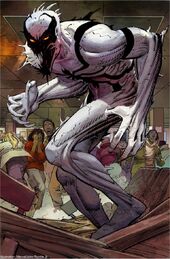 Eddie started working for Aunt May at the F.E.A.S.T. center. There he worked serving food to the homeless. Thanks to a mysterious man named "Mr. Li'", Eddie was cured of his cancer. Unfortunately, Mac Gargan, having gone on a homicidal rampage, due to being unable to control the Venom Symbiote, entered the F.E.A.S.T. center looking for Spider-Man. He found Eddie and the symbiote began to crawl onto him again. However, Mr. Li's mystical treatment that Eddie had received caused his body to reject the Symbiote, and mutated the remnants the Symbiote had left in Eddie's blood cells, forming a white, Symbiote-like costume on the surface of his skin. Eddie now dubbed himself Anti-Venom and used his new suit to defeat Gargan, nearly killing him. Gargan escaped the battle, and Eddie once again had superhuman abilities.
He no longer had a hatred for Spider-Man, and no longer needlessly endangered innocent lives, in fact he instead developed a "craving" for viruses, illnesses, and diseases and thus he has a desire to "cure" people of any type of radiation poisoning. Unfortunately for Peter, he can make no distinction between radiation poisoning, and radiation-based superhuman powers, and thus Peter's powers are significantly weakened when he is in close proximity to Eddie/Anti-Venom.
Depowered
Edit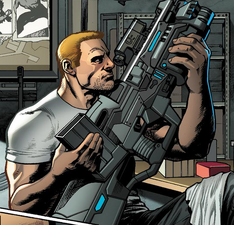 Eddie voluntarily gave up his powers in the events of Spider-Island in order to create a cure for the Spider-Virus that had been developed by Queen & Jackal that was turning the entire population of Manhattan (excluding superhumans) into giant Spider-Monsters. All of his suit's Anti-Bodies were extracted, duplicated, and processed into an injectable serum to treat the Spider-Virus. Eddie has lost his ability to transform into Anti-Venom and with it, his powers. He now works as a symbiote hunter who hunts down the Flash Thompson Venom.
Not being bonded to a symbiote anymore, Eddie used an obtained arsenal to hunt down Carnage, Venom, Toxin and the other symbiotes, starting with Hybrid and Scream. Despite helping to save New York, Eddie was homeless and poor, and his arsenal were the only things he had.
Not being bonded to a symbiote anymore, Eddie used an obtained arsenal to hunt down Carnage, Venom, Toxin and the other symbiotes, starting with Hybrid and Scream. Despite helping to save New York, Eddie was homeless and poor, and his arsenal was the only thing he had.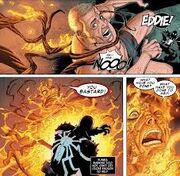 When he was trying to kill the new Venom, he was knocked out in battle and forced by Crime-Master to become the host of the Toxin Symbiote to serve him in his Savage Six.
Toxin tracked down Venom in order to kill him but was incapacitated by a sonic weapon and webbed up by Venom. He later recovered and returned to Crime-Master's hideout. When Venom arrived there searching for Betty Brant, Toxin and Megatak faced him, but finally both battled against each other to kill Venom. Finally, Thompson burned Toxin and tried to remove Eddie from it, but the symbiote recovered its host to die with him.
It is later revealed that both Eddie and the symbiote survived. They continue to fight crime together.
Powers & Abilities
Edit
Super Strength: It has also endowed Eddie with enhanced superhuman strength, enabling him to lift 40 tons or 80,000 Pounds, and contains a small "Dimensional Aperture", allowing him to carry up to 5 tons of items without adding weight or mass to the Symbiote.
The Symbiote is able to transform to mimic any human being or article of clothing imaginable. It communicates with telepathy and does not require physical contact to influence the minds of others. The Symbiote can also blend with any background, using an optic-camouflage type of effect.
As ​Anti-Venom
Edit
​Eddie still retains all of the same abilities that the Venom Symbiote formerly granted him.
Enhanced Limbs: In addtion, Eddie's skin is caustic to his former Symbiote, which means the Anti-Venom suit has the ability to reject the bond of any alien Symbiote. He can manipulate his matter to enlarge or stretch his body in order to augment his attacks. For example, he enlarged his fist and slammed it into Mac Gargan creating more of an impact.
Detoxing: Anti-Venom also has the ability to "cure" a person of all illness or radiation poisoning on contact. He once attempted to rid Peter of his Superhuman powers (as they are technically a form of radiation poisoning), but the process was interupted half way through. As a result of this, Eddie can no longer rid Peter of his Superhuman powers (but is still able to rid others of their radiation based Superhuman powers). Also, the closer Peter is to Eddie, the more his powers are weakened. However, this weakening of his powers is not permanant, and can be negated by getting far enough away from Eddie.
As Toxin, Eddie has all of the powers that Carnage has plus additional new powers.
Tracking: Unlike the others, Toxin can track anyone, not just other symbiotes, as long as he has something to begin from, within the entire city of New York and possibly further.
Growing Strength: When he becomes upset or aggressive, he grows into his much bigger form and he gets even stronger, with vicious fangs and long curving claws .
Poison Fangs: Toxin's fangs not only intimidate foes but deliver a powerful, toxic bite.
Symbiote Sense: The symbiote is also capable of psychically detecting its off-spring.
Eddie Brock first appeared as himself in Web of Spider-Man #18; as Venom in Amazing Spider-Man #299; as Anti-Venom in Amazing Spider-Man #569; and as Toxin in Venom Vol 2 #17.
Eddie is the only character in Earth-616 to bond to 3 symbiotes, the Venom symbiote, the Anti-Venom symbiote, and the Toxin symbiote.