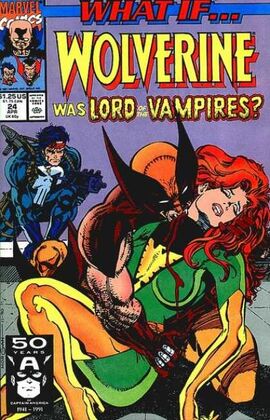 Earth-9140 is an alternate reality where Wolverine becomes Lord of Vampires after killing Dracula. 
First appeared in [If? (Volume 2) #24].
Unlike in Earth-616, Count Dracula actually was successful in killing all of the X-Men in their attempt to free Storm from his control. After most of the X-Men became his minons, after while, Wolverine proved strong minded enough to resist Dracula's brainwash, and he killed him, becoming Lord of the Vampires himself.
His inner savageness was roused by the blood of Varnae and Wolverine directed a team of X-Men into a ruthless killing spree, converting friends and enemies alike into vampires and killing many Marvel heroes, such as Spider-Man. Wolverine was soon finally killed by a version of Frank Castle, the Punisher.
The Punisher, Captain America and Iron Man were among the few known heroes left after the killing of the Avengers, Fantastic Four and many others.
Ad blocker interference detected!
Wikia is a free-to-use site that makes money from advertising. We have a modified experience for viewers using ad blockers

Wikia is not accessible if you've made further modifications. Remove the custom ad blocker rule(s) and the page will load as expected.