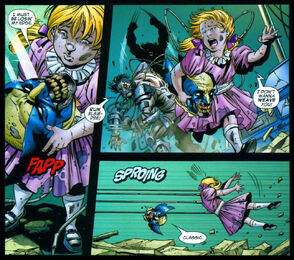 Earth-6195 is an alternate reality zombieverse in which a zombified Wolverine was recruited in the Exiles replacement team after they had been fired by Timebreakers.
Wolverine of this reality was recruited to be in an Exiles team prior to becoming empowered by Galactus as in the original zombiverse. He was later decapitated.
Ad blocker interference detected!
Wikia is a free-to-use site that makes money from advertising. We have a modified experience for viewers using ad blockers

Wikia is not accessible if you've made further modifications. Remove the custom ad blocker rule(s) and the page will load as expected.