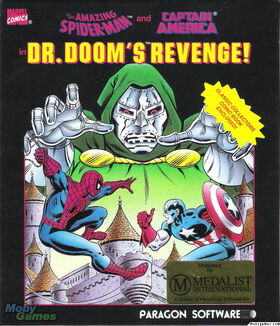 Spider-Man and Captain America in Doctor Doom's Revenge (the full name) was a side-scrolling computer game starring Marvel Comics' superheroes Spider-Man and Captain America battling a host of supervillains led by Doctor Doom.
Characters
The game featured an assortment of Marvel Comics supervillains through the course of the game, many of whom are relatively minor characters in the comic books: Eduardo Lobo, Grey Gargoyle, Machete, Boomerang, Oddball, Electro, Hobgoblin, Rhino, Batroc the Leaper, Rattan (who was created specifically for the game), and finally Doctor Doom himself.
Reception
Computer Gaming World gave the game a mixed review, praising the graphics but noting the game loaded and played very slowly. The review also noted the game was extremely linear, and controls were unresponsive.
Trivia
Marvel Comics also released a comic book that was only available in the game package. It illustrated the plot leading up to Spider-Man and Captain America's mission to stop Dr. Doom.
Ad blocker interference detected!
Wikia is a free-to-use site that makes money from advertising. We have a modified experience for viewers using ad blockers

Wikia is not accessible if you've made further modifications. Remove the custom ad blocker rule(s) and the page will load as expected.