Captain Universe (Earth-616)
Talk

0
1,298pages on
this wiki

This has got to be the worst alternate universe ever.

-Peter Parker (Earth-616)

This article is a stub. This means that it is short and needs more information, or should be expanded with up to date information. You can help the Spider-Man Wiki by expanding it. Thanks!
Remember users, remove this template ONLY if the article has been expanded enough.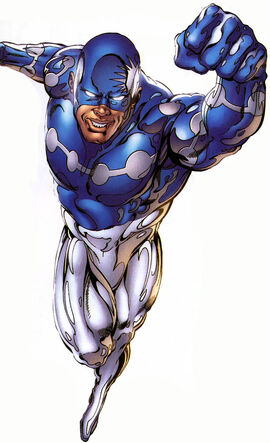 Captain Universe (of Earth-616) is an identity assumed by those chosen by the "Uni-Power".
Captain Universe is endowed with the Uni-Power, a sentient energy field that seeks out people in great peril and bonds with them. In another sense, it is every person--it is the potential for heroism that lives in each of us.
When the Uni-Power chooses a partner, it endows that person (or, rarely, persons) with the powers, memories, and costume of Captain Universe. The partner can use the powers of Captain Universe until the peril is surmounted. However, if the partner tries to use those powers for personal gain or for evil, the Uni-Power immediately deserts them.
Spider-Man
Edit
When a lab accident granted Spider-Man the Uni-Power, his costume was cosmically changed into the Captain Universe outfit by the Uni-Power. This form gave him incredibly enhanced senses, strength, speed, flight, a new costume and limited telekinesis.
Powers and Abilities
Edit
Captain Universe's powers and power levels vary from partner to partner, presumably to meet the demands of the job at hand. The Uni-Power also enhances the powers and abilities of a host who already has such powers and abilities.
Uni-Vision: a sort of cosmic consciousness. Captain Universe can sense things on a subatomic level or at great distances. This power can also force someone to tell the truth.
Matter/Energy Manipulation: Captain Universe can divert an energy flow in a different direction or convert it into a different type of energy. Diverting the flow of gravitons, for example, allows flight. Captain Universe can also change matter at the atomic level, for instance, to transmute one substance into another or to change an object's shape.
Costume: The costume (or the Uni-Power itself) protects against extremes in temperature.
Strength level
Edit
As Captain Universe, Spider-Man's strength is variable. However, it is seen that he has enough power to punch Hulk into orbit.
Video Games
Edit
In 2000's Spider-Man (video game) "Cosmic Spider-Man" outfit is unlockable and wearable.
2010's Spider-Man: Shattered Dimensions, as Downloadable Content, Activision made the Cosmic Spider-Man outfit wearable for all four Spider-Men as long as player purchase the content from the Xbox Live Marketplace, or PSN Store.
In 2011's Spider-Man: Edge of Time, if the player has brought the Cosmic Spider-Man DLC for Spider-Man: Shattered Dimensions, the Cosmic Spider-Man alternate is unlocked from the start.