Elizabeth Brant (Earth-616)
Talk

0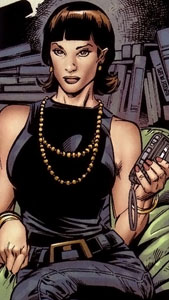 Betty Brant is a fictional character in the marvel universe. She is a former co-worker, love, and current loyal friend to Peter Parker.
Early Life
Not too much is known about Betty's life as a child. She dropped out of High School in Philadelphia, to come to New York and work as a secretary to the publisher of the daily Bugle, J. Jonah Jameson.
Appearance
She has always had brown hair and brown eyes. However, her hairstyle changes constantly. Her cloths have also changed with the times.
History
Betty and Peter began their relationsip shortly after his employment began. He was impressed that Betty stood up to Jameson for slandering Spider-Man, and She admired the way Peter cared for his sick Aunt. Their relationship grew fast, and She became Peter's first serious girlfriend.
Betty dropped out of High School to move to New York, and help her brother, Bennett Brant, pay off some of his gambling debt. He aquired these debts trying to pay off his mother's medical bills. Both Betty and Bennet were captured by Doctor Octopus, in order to prevent anyone from foiling his attempt at leaving the country, and her brother was shot and killed during a battle between Ock, Spider-Man, and Blackie Gaxton (the man whom Bennett owed his debts). Betty blamed Spider-Man, and proclaimed that she never wanted to see him again. Her and Peter's romantic relationship however, was growing even stronger.