Avenging Spider-Man (Volume 1)
Talk

0
1,306pages on
this wiki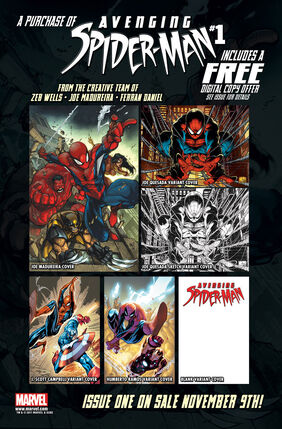 Avenging Spider-Man is an American comic book series published monthly by Marvel Comics, featuring the adventures of the fictional superhero Spider-Man.
Plot
The format of the series is very similar to the Marvel Team-Up comic book where Spider-Man teams up with another character in every issue. The first and second volumes of Marvel Team-Up primarily (but not exclusively) featured Spider-Man whereas Avenging Spider-Man exclusively features Spider-Man.
Trivia
The events in the story take place in the primary continuity of the mainstream Marvel Universe along with the events of The Amazing Spider-Man.
This is the first ongoing series to feature Spider-Man as the main character besides The Amazing Spider-Man since the cancellation of Friendly Neighborhood Spider-Man and the second volume of Sensational Spider-Man in December 2008 following the conclusion of the "One More Day" storyline.
Avenging Spider-Man has also been instrumental in Marvel's shift towards including codes to receive free digital copies of the comic with purchased print comic books.